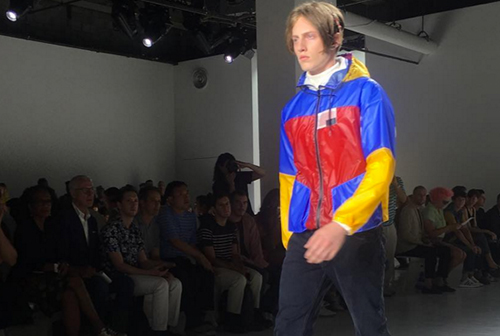 From Our View – New York Fashion Week Men's Spring/Summer 2018
An exclusive front row invitation.
With so many runways on the roster, the season's fashion schedule can be just a tad bit daunting. That is why we put together this invite-only rundown of the very best from New York Fashion Week Men's. Let EH be your eyes so you can focus on those exclusive after-hours parties instead.
Raf Simons
With suspending Chinese lanterns and illuminated neon lights on display, Raf Simons' Spring/Summer 2018 collection was a bold fusion of Asian culture and Western fashion, ranging from graphic tees to sweatshirts to trench coats.
Teddy Ondo Ella
Inspired by the energy of New York, Teddy Ondo Ella's Spring/Summer 2018 collection, Heritage, fused the cosmopolitan city with Gabonese culture, the designer's home. Showcasing a series of vibrant silk shirts, denim jackets, and beaded accessories, the label also featured traditional Gabonese dances and acrobatic performances.
Linder
New York-based label Linder's showcase takes inspiration from early-2000s music videos, featuring a series of cargo pants, trench coats, and bomber jackets, topped with attention-arresting accessories.
BOSS
For its Spring/Summer 2018 collection, Hugo Boss gave its unique take on wardrobe classics, showcasing a line of graphic tops and oversized outerwear to underscore the brand's sophisticated approach to menswear.
Ovadia & Sons
Ovadia & Sons' Spring/Summer 2018 collection was a reflection of youth and childhood in the form of leather jackets, suits, and coats. Taking elements from the late '90s, the brand also collaborated with Ukrainian street-art collective Interesni Kazki, crafting a series of animated illustrations and designs.
Patrik Ervell
Reminiscing his hometown of San Francisco, Patrik Ervell incorporated hiking and outdoor accents for Spring/Summer 2018's nylon-centric collection. Sporting a series of reinterpreted activewear, including parkas, camp shirts, and windbreakers, the brand showcased a palette of bright, vibrant colors.
Follow ESSENTIAL HOMME on Instagram at @EssentialHomme.