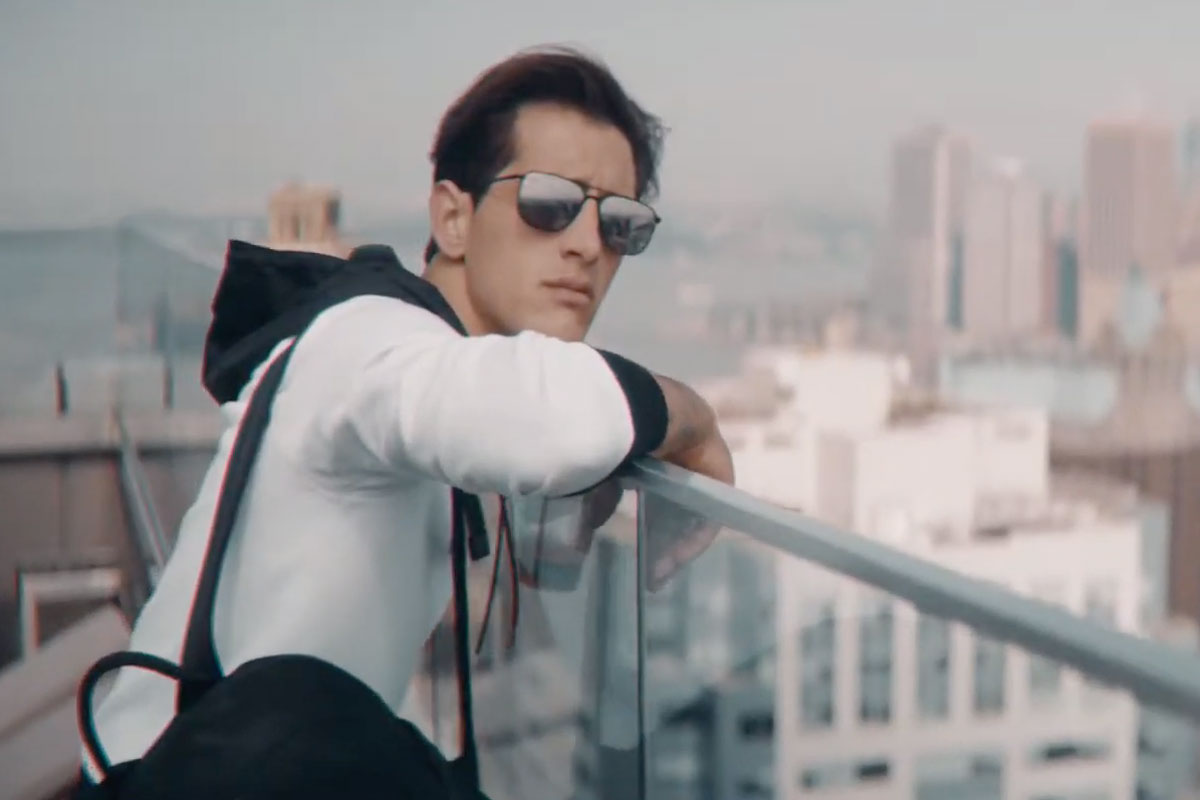 Exclusive: 10 Minutes with Austin Augie, the Face of Kors x Tech
Kors x Tech, the latest travel-oriented technical wear by Michael Kors, has launched today. Included in the capsule is a range of menswear, including jackets, blazers, printed sweaters, sweatpants, and trousers all tech-enhanced for maximum mobility. True to form, the collection is equipped with plenty of handy functions, including charging pockets, UV protection, and full wrinkle resistance.
To celebrate the new launch, the designer pulled video maker Matt Komo and BMX pro Austin Augie to create a compelling visual to echo the jet-set nature of the collection. Check out the video below and learn more about Augie in an exclusive Q + A.
HOMETOWN: Indiana, a small town outside of Indianapolis.
CURRENT RESIDENCE: Brooklyn, New York.
WHAT I WANTED TO BE WHEN I WAS 10 YEARS OLD: Either an astronomer or a marine biologist.
MY FIRST BMX BIKE: I bought it after selling my Xbox at a garage sale. My mom was pissed.
WHAT MAKES A GOOD BMX RIDER: Not caring about what people think.
TRICK I'M STILL TRYING TO MASTER: A tail-whip. It's where your bike spins around and you catch it with your feet.
SCARIEST MOMENT: Snapping my leg while trying a wallride in Arizona. I was out for seven months. I didn't have health insurance, so I signed up for a test trial to get some really crazy surgery.
WHEN I'M RIDING, I LISTEN TO: Jazz—either Chet Baker, Oscar Peterson or a Spotify playlist.
GO-TO JAZZ CLUB: Smalls in the West Village.
DRINK ORDER: Either a nice glass of Chardonnay or blonde ale.
FIRST MODELING GIG: My agent sent me to a casting for Timberland, and they booked me right away. I didn't have a passport at the time, so the next day I had to go to the passport office and stand in line for eight hours in order to catch my flight out at 11pm that night. I met a stylist there who told me I should move to New York and make a go of it, so I did.
MODELING TIP: Just try to have fun.
FUNNIEST MODEL MOMENT: Doing the Zoolander face at my first model casting to try and get a laugh.
MOST EMBARRASSING MOMENT: I don't embarrass easily!
SOMETHING I DISLIKE: The term "YouTuber." I first got into YouTube organically. After getting the paycheck from my first modeling gig, I bought a camera because I wanted to learn how to use one. Then it turned into a thing.
TYPICAL DAY: There isn't one. I don't want to live a typical life. If my days were typical, then what am I doing?
BIGGEST FEAR: Working in an office again.
MORNING RITUAL: Coffee. When I wake up, all I want to do is sit at a coffee shop and read the newspaper or a book while sipping a nice pour-over. It starts my day off right.
SOMETHING I LEARNED THE HARD WAY: Not to play with fire. When I was young, I used to go back behind my family's barn and light wood on fire. My dad found my matches one night, and the next day he made me sit on the dock outside our house from six in the morning until six at night lighting matches and throwing them out in a bucket of water. I never did it again.
IF THERE WAS A FIRE, THESE ARE THE THREE THINGS I'D GRAB: My guitar, my camera, and one of my favorite jackets.
HIDDEN TALENT: I can yo-yo!
THE THING I SPLURGE ON: Food.
LAST MEAL: 24 Kumamoto oysters, a lobster roll, and chipotle chips from Maison Premiere in Brooklyn. You have to get the chips, or else you're not doing it right.
MOST OVERUSED EMOJI: The raising hands emoji. I just feel like it can fit into any situation.
PET PEEVE: When people talk and talk about things they want to do, but don't do them—they just talk about it.
CURRENTLY COVETING: A golden retriever.
LAST SHOW I BINGE-WATCHED: The Handmaid's Tale and Game of Thrones. I also couldn't stop watching Chernobyl.
I GET EMOTIONAL WHEN: I watch movies on airplanes. There's just something about being 30,000 feet in the air and drunk on wine.
SOURCE OF INSPIRATION: Instagram. People are constantly doing good things.
BEST VACATION I EVER TOOK: Thailand. I went to Phuket, Koh Lanta, Krabi and Bangkok. I visited a Buddhist temple and got a Sak Yant tattoo by monks!
NEXT PLACE I WANT TO GO: Dominica. There's a National Geographic photographer there who takes incredible photos of humpback whales. Before I die, I want to either swim with whales or travel to space.
PERSONAL MANTRA: Stop caring about things that don't matter. Just do you, full time.