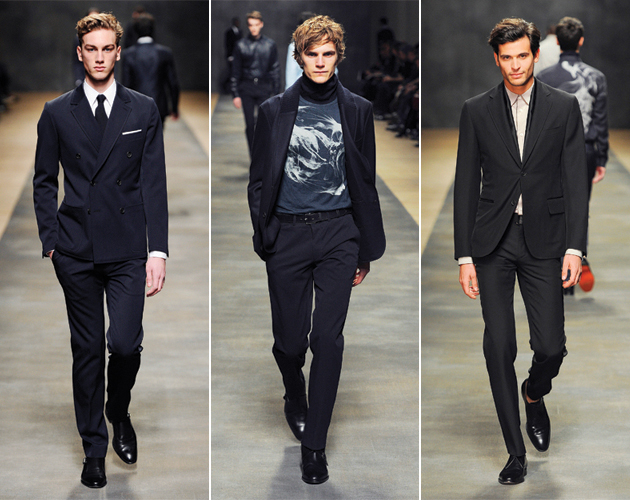 Why This October Will Be Chic: Hermès Gives Us "Mens Universe"
Men of good taste are attracted to Hermès for its clean and tailored fits, classic silhouettes, luxurious fabrics and, of course, quality craftsmanship. Actually, Men's Artistic Director and Designer, Veronique Nichanian, has really stepped up the brand's mens offerings over the past few seasons, filling out their ready to wear —from their wool and cashmere sweaters down to the cotton polos and bermuda shorts—and accessories—gorgeous ties, shoes, cufflinks—with the kind of options that've really connected the French heritage brand (founded in 1837) to an expanding group of fashionable gentleman. Because the guys have been paying so much attention to all the goodies, they've decided it was time to celebrate. And how? With Hermès Mens Universe—a series of in-store events around the USA for the entire month of October that offer up some limited run must-haves, artfully interpret the individual personality of their American locations and give you a chance to connect with the brand of Hermes though more than just your shiny, plastic card. (Details after the jump)
At New York City's Madison Avenue Men's Boutique (the only Hermes store in the US offering both Demi-Measure and Sur Measure service) from October 5th and 6th, they'll be focusing on made to measure and citywear. You'll be able to choose from an impressive array of exclusive fabrics, with personal measurements taken to craft clothing to perfectly fit each client. Shirts, suits, leather goods and other special order products'll be designed to your very whim and a special presentation of rare and limited items will be on display through the end of Fall.
In San Francisco, from October 19th to the 24th, a more casual yet atmospheric presentation will capture the spirit of  the Fall 2012 runway collection, which employed the symbolic motif of a graphic smoke print and palate of deep, dark color including plum, graphite and inky blue. The San Francisco event will feature a week long transformation of the entire Boutique dedicated to a unique and extensive display of menswear and accessories. A dramatic presentation of mannequins will be accented with live models wearing the collection. A by invitation only evening will include a quirky, decidedly very "San Francisco" demonstration by World Champion Fingerskaters, .
Lastly, from October 31st to November 6th, in Seattle, a public exhibition of an interactive art installation by renowned digital projection artist Miguel Chevalier will explore the inventive designs of a new collection of eight Heavy Twill silk ties. Each design takes its inspiration from modern technology and cultural symbols such as the recycling logo, on/off switch, electrical cabling, qwerty keyboard, USB ports and other icons. The immersive installation will allow guests to interact and manipulate their environment. An event in the presence of the artist aims to engage Seattle's cultural scene while connecting with the city's high tech business community.
For more information visit Hermes.com