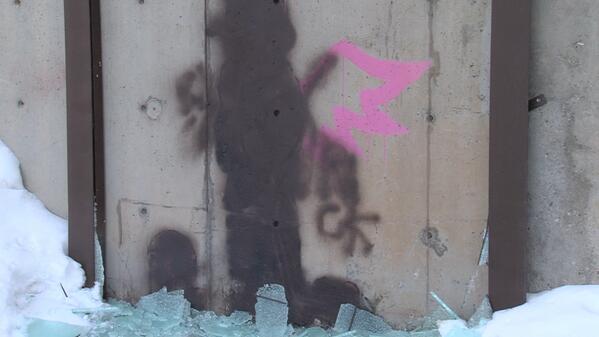 You Do Not F**K With Banksy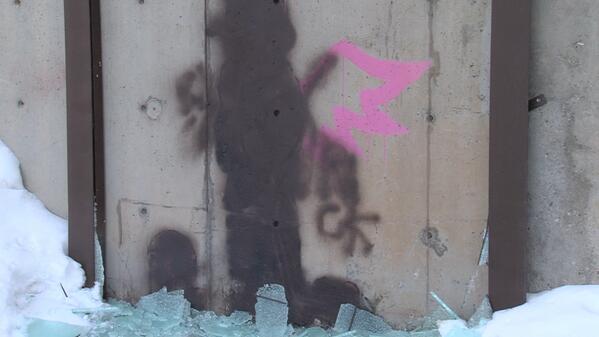 We're finally entering that period beyond "How was your New Year's," "What did you do," and "Can you believe it's 2014?" And while most of us are in a comfortable lull knowing that the first week back to work is an abbreviated one, our dear Banksy, the famous masked graffiti artist, is in dire spirits (no) thanks to a seedy vandal. Park City, Utah, home of the Sundance Film Festival, played host to a still-at-large vandal who desecrated two Banksy works of art.
Brown spray paint covered one mural depicting a boy with a pink halo and angel wings kneeling to pray behind a can of pink paint. The clear protective covering over the image = shattered. The second piece, that of a cameraman stooped down shooting video footage of a flower, now has a cracked cover. Surveillance footage captured a male suspect tampering with the art around 2AM Tuesday, but his identity remains unknown. According to police Stgt. Jay Randall, authorities expect to release images of the man today to aid their search.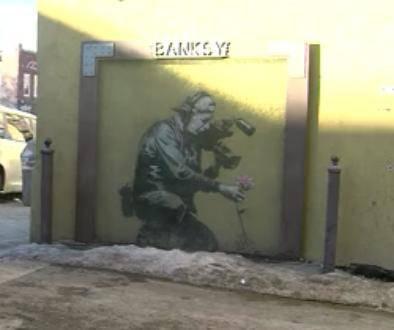 Two town staples since their appearance in 2010 while Banksy was in town promoting his documentary Exit Through the Gift Shop, it remains unknown whether the murals can be repaired.
Images courtesy of Steve Landeen.