WHO WAS THE WOLFMAN AT OUR MAY/JUNE RELEASE PARTY?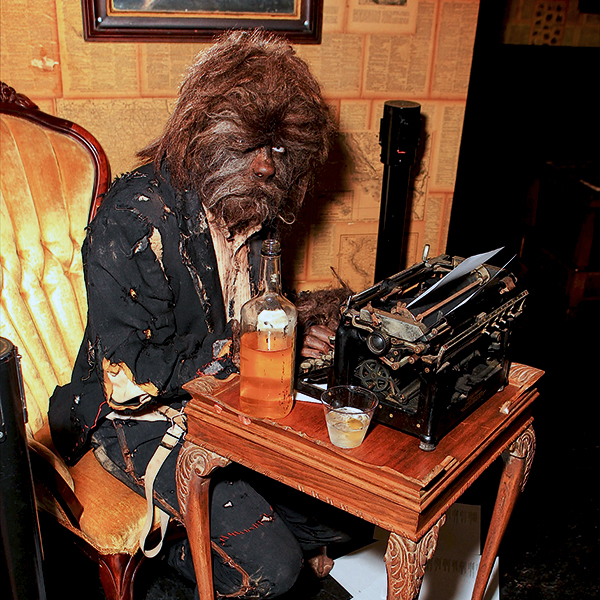 There's really two answers to that question. The wolfman's name is Craig and he is a regular character of critically acclaimed visual artist, performer and director Rob Roth who has been written about in The New York Times and works as a regular creative collaborator with Debbie Harry. His work has been exhibited at a variety of venues including the the Whitney Museum of American Art, New Museum for Contemporary Art, Performance Space122, Abrons Art Center, Galapagos Art Space, Museum of Arts and Design and Deitch Projects. But to downtown New Yorker's he's better known as a founding member of Click + Drag—the now infamous Saturday night at renowned NYC club Mother. With such an awesome career under his belt, we were more than honored when Rob agreed to bring his wolfy creation, Craig, to the launch of our May/June issue. After the party, we sat down with Rob to find out a little more about what causes a man to don full on wolfman make up, what the statement behind it really means and also got a sweet tip about a possible upcoming collaboration with one of our fave brands, Costume National!



Essential Homme: When did you conceive of the wolf character? What is his name? Where is he from?
Rob Roth: The wolf character was something I envisioned years ago but only brought to life and started developing in the last few.  He is a representation of the past, mostly from my teenage years but also a creature from an imaginary world with its own mythology and poetry. I had started performing as this character singing New Wave songs with a cellist as well as some other durational ambient performances.  Then I added him to another theater project I had been directing for a few years called The Mystery of Clayoman, where the writer Michael Cavadias named him Craig.  Now Craig is part of several projects in photography, musical performance and film. He keeps evolving.
Essential Homme: How long does it take to put all that, uh, make up on?
RR: About 1 or 2 hours. I've got it down to a science now!
What inspires his poetry? Why is it written in French?
RR: The poem was Mes petites amoureuses (My Little Loves) by Rimbaud. It was the right essence for the character and the performance. Also, I had recently had an interesting run in with Patti Smith in Paris so I had been thinking of her book Just Kids and her love of Rimbaud.
Does he like wearing clothes or is it more of a burden placed on him by human society?
RR: It's interesting that you ask this; in my next performance Craig actually changes clothes. I won't say anymore.
Is he a were wolf?
RR: He is more of a wounded creature in a constant state of emotional malaise.
Where can we find more Wolf? Will there be any future performances? Where can people check in on you to learn more?
RR: I just completed collaboration with the photographer Matthu Placek for OutThere Magazine. It's a photo essay called 'Craig's Dream' that will be published in the next issue. I will also be opening for Vangeline Theater at Wild Project along with Cellist Chad Hammer and Guitarist Dave Yang on July 12th and 13th and I'll have a new costume by Todd Thomas too!   I'm also in talks with Costume National to do something in their new space on Mercer St. in Soho.
For more Rob Roth and Craig, put your paws here.