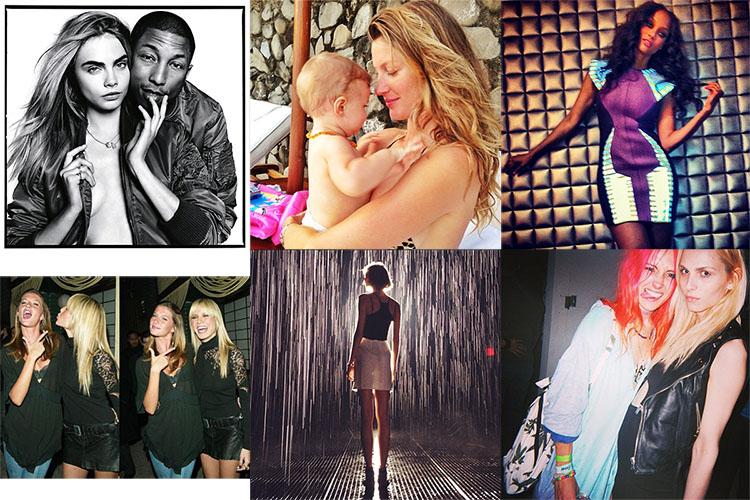 What The Ladies of Fashion Are Up To This Summer On Instagram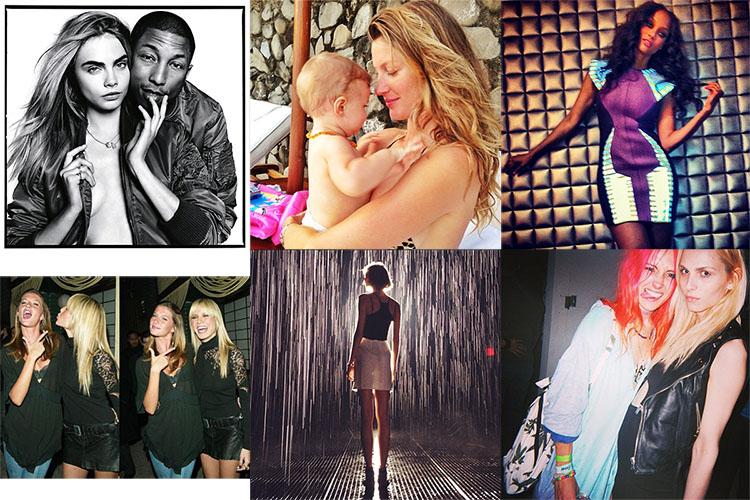 The first ladies of fashion are a globe-trotting flock of elegance and zest, traveling far and wide, and making sure that their legions of fans don't miss a beat. We take a look at six of our favorite female models on Instagram to find out where they're travelling, what they're eating, and most of all what they're wearing, or in most cases, not wearing.
Gisele
The leggy beaut has kept herself busy all Summer long, embracing her role as mother, model, and goodwill ambassador. She's shown us how to practice yoga with daughter Vivian Lake chilling on some floor pillows by her side, shown off the veggies she grows in her garden, snapped pictures of puppies, chickens, kittens, and even a bear outside her window. Then there's her version of the 'ole ball and chain, Tom Brady, who she refers to as her "best husband, father, and friend." Highlight: Gisele getting fastened into a boobalicious bodypiece asking, "How about this Versace suit?"
Karlie

Admiring Valentino's garden with bestie Derek Blasberg, date nate with dad at the Home Run Derby, Alicia Keys concerts, and a trip to Space mountain are just a few of the many adventures this Victoria's Secret Angel has gotten herself into this Summer. Highlight: The time she took her phone into a hot spring in Iceland, fusing the beauty of nature with the beauty that is Ms. Karlie Kloss.
Cara

If one thing can be said about Cara Delevingne — and it should never be just one thing with a girl like her — it's that she knows how to suss out the good times. Cases in point: The time she went sailing in Monte Carlo, or her trip to Glastonbury Festival, or the time her boo Rihanna kept her bum cheek warm (yep), or the time she and Georgia May Jagger wore eggs and bacon get-ups. Highlight: Delevingne gets "Snoopified".
Heidi

Klum joined the Instagram arena on July 4th, not so quietly, posing in a bikini and waving her American flags. Since then, she's kept the clothing spare, showing off her sandy bum, beautiful sunsets in paradise, cleavage galore (understatement), behind-the-scenes Runway, and serving up chocolate bread (for everyone, she promises). Highlight: Klum and Tim Gunn give pouty face, waiting for Rankin to snap their Victorian-inspired photoshoot.
Chloe

An arts 'n crafts-ist first and model second (gypsy third; lover fourth), Chloe Norgaard might be having the best Summer of them all. Whether she's checking out The Rolling Stones at Glastonbury (hey Cara!), having Barbie parties in Berlin, embracing flower power in Stockholm, enjoying "the necessary things in life," over in Denmark (Fransk Hotdogs & Cocio, yes please), a little body paint action over at Coachella, or throwing back to the days of her "normal hair," Norgaard's star burns bright. Highlight: Sifting through the evolution of her many hair colors.
Tyra

Tyra Mail arrives daily from this model/mogul/one-time singer, who's fast become a social media staple (named one of Twitter's Top 140 feeds in 2013). Whether she's laying out her weave, trying to convince vegan's to try bacon, or spreading her beacon of fierceness via shoe doodles ("If you don't like the road you're walking, start paving another one."), Banks continues to slay with her signature band of coo-coo crazy paired with layers of self-awareness and the all-important ability to not take oneself too seriously. Highlight: Everything she posts.
Stay tuned for The Men of Fashion!