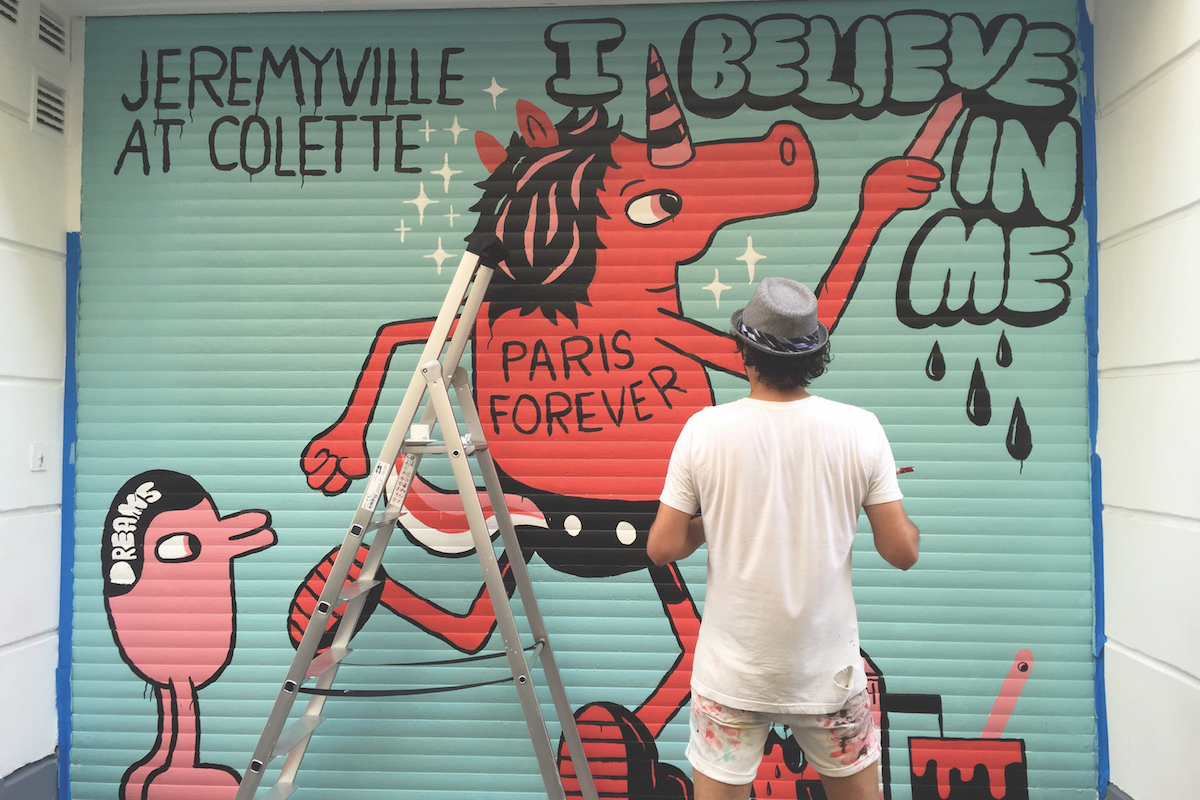 Welcome to Jeremyville
Images courtesy of the artist.
The buoyancy of Jeremyville's work is absolutely contagious. The Australian artist has already made a mark around the world with his lighthearted pieces— including murals that dominate entire building facades and dynamic sculptures that became instant social media attractions—effortlessly capturing the mundane of the every day with a universal optimism.
"Nothing of truly great importance comes easily," he says over e-mail. "I love the struggle."
His penchant for embracing a challenge has led to several high-profile collaborations. In 2016, he crafted an installation in the historic and endlessly influential Colette boutique in Paris, before it shuttered its doors last December. The exhibition featured new screenprints, inflatable sculptures, a mural, and temporary redesign of the store's Water Bar. Later that year, he presented another installation at the Standard Hotel in Miami Beach as part of Art Basel: a bright yellow character named Raymundo Diaz who would become the unofficial mascot of the festival, appearing across the hotel and on merchandise.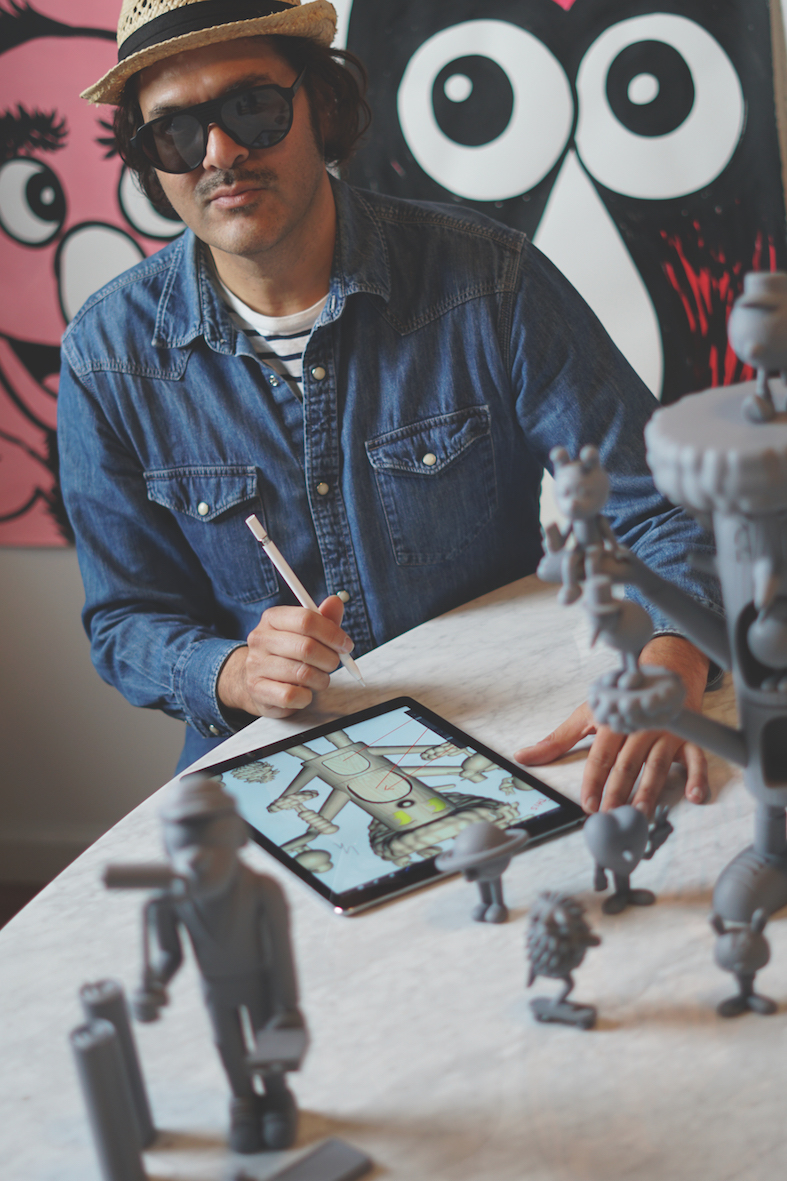 Most recently, he released a holiday collection with BOSS. The range, which features accessories, homewares, and other knick-knacks, includes a new generation of characters ripe for the season.
"The project centers around deconstructed characters in a series of sculptural totems, and various geometric patterns that form a landscape for the characters to populate," he explains. "We don't see them as characters as such, more like the spirit of a season, or a moment in time. Totems to the holidays. That is more of a feeling than anything else."
Jeremyville's pieces are meant to be interactive rather than simply observed—something that seems appropriate given his architectural background. He received no formal art training. "While studying architecture, I edited the student newspaper at Sydney University, and began drawing there to fill in gaps in the articles I wrote. After I graduated, I already had a lot of work as an artist, so I decided to continue on that road, rather than practice as an architect."
His Community Service Announcements series sums up his whole goal as an artist. Launched in 2010 as one of his first artistic ventures, the daily series remains one of his most popular outlets—with new pieces released every day via his Facebook page. "My Community Service Announcements project, in particular, offers a quiet moment of reflection during our busy day," he says. And although the simplicity of his work has earned him legions of fans, his work is far from effortless.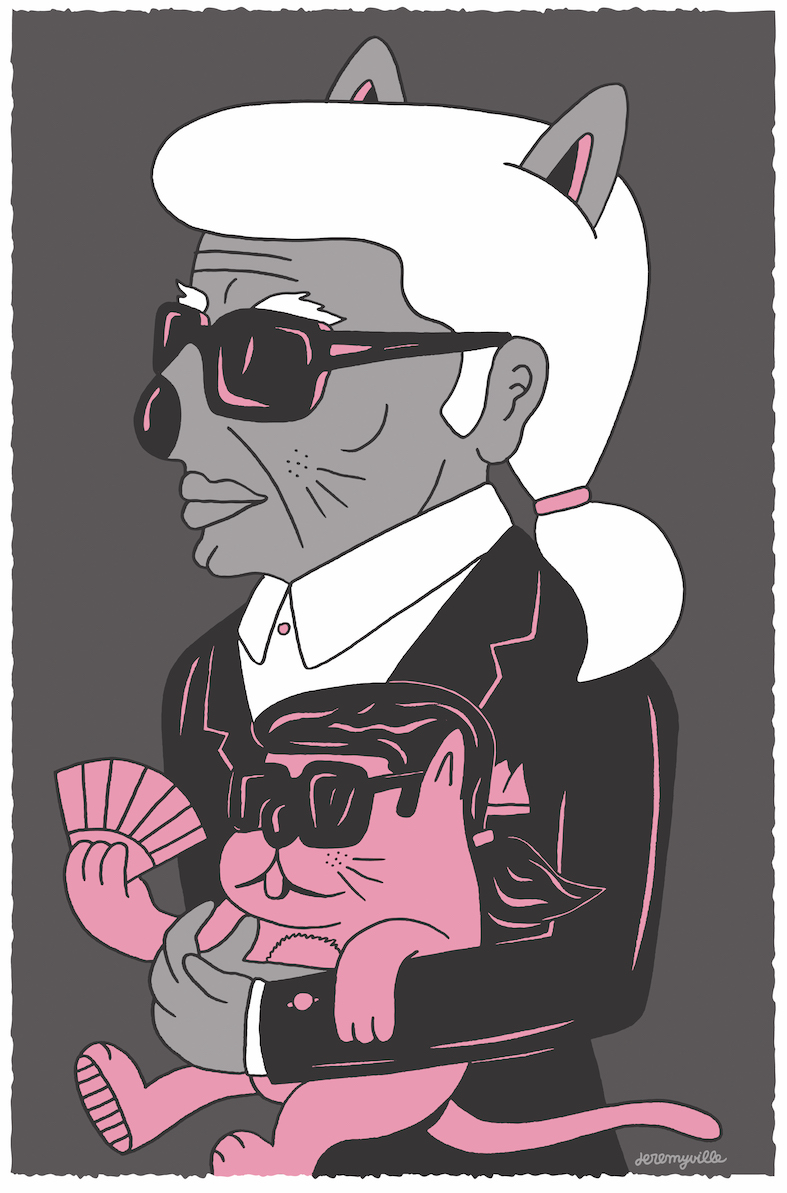 "The rigorous discipline of architecture still applies to my work practise, and I approach each project with the same precision, hard work, and discipline as would as an architect. The end medium is of course different, but a lot of similarities exist within both disciplines, such as the way an idea is finessed from inception to built form."
While he cites the complexities of architecture as quintessential to his designs, when it comes down to it, his approach is pretty straightforward. "Every project starts with a drawing in my sketchbook at a cafe, and it grows from there," he says. "The challenge, and our studio's aim, is to always try and hold on to the spirit of that initial idea."
His style is wholesome without veering into saccharine or cheesy. There's a lucid sincerity that prevents it from coming across as phony. His polished cartoon characters can easily be distinguished by the combination of literal and metaphorical meanings. The effect is simple, with an overall tone that seems to say "Things will be alright," which seems to be his ultimate goal.
"A genuine, meaningful and lasting connection with every person on earth," he says. "That's my life's mission."