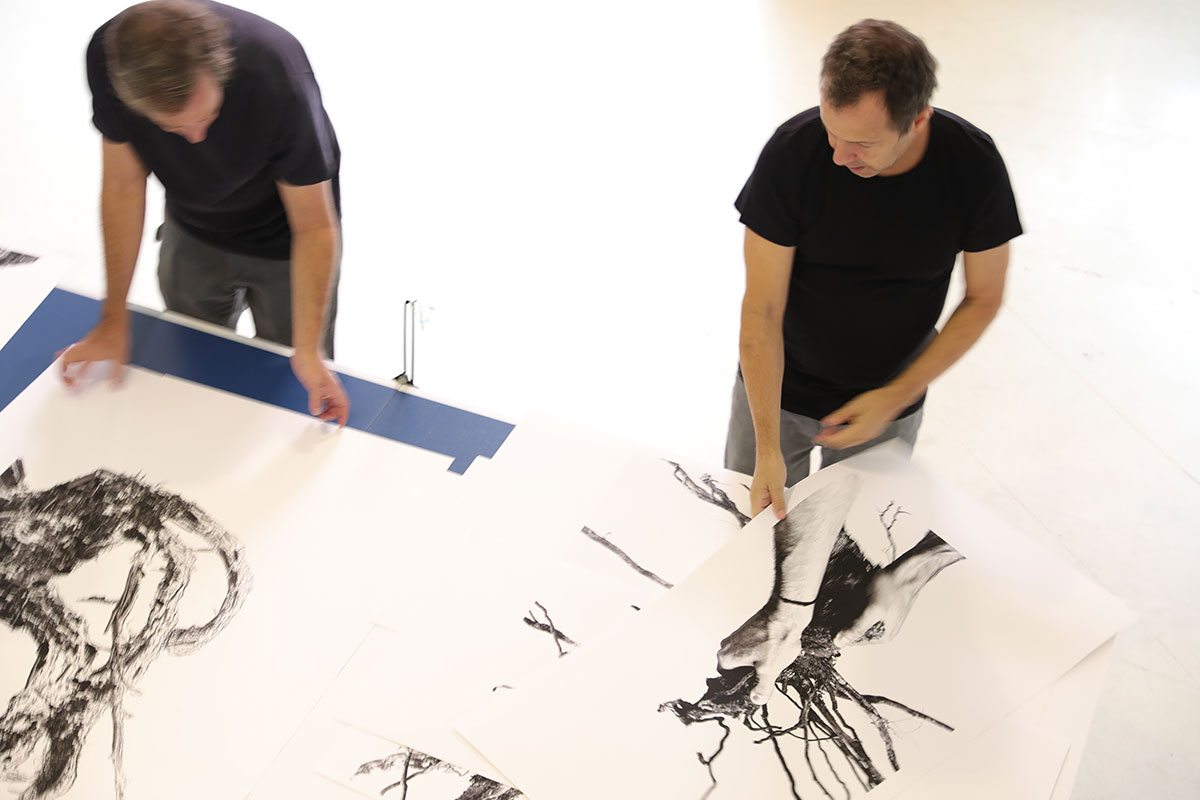 Vik Muniz Photographs Wine Vines for Frieze Art Fair
As part of Ruinart's annual artistic initiative, Brazilian artist Vik Muniz worked on a project named "Shared Roots" which debuted at Frieze New York. Muniz took a metaphoric trip to the origins — the origins of the bubbly wine and of the vignerons who shape the vines to ultimately produce the sweetest juice.
Muniz initially became known for his portraits made out of garbage in the movie Waste Land, which chronicled his mission to find materials from the world's largest landfill.  In 10 years he has circled the globe, collaborated with a multitude of brands on more social issues, and experimented with new mediums. The enthusiastic man, with a glass of golden Ruinart in hand, remains a proper social butterfly, especially when Brazilian friends approach when we meet at the Frieze Art Fair. "I think I have the best job in the world," he remarks.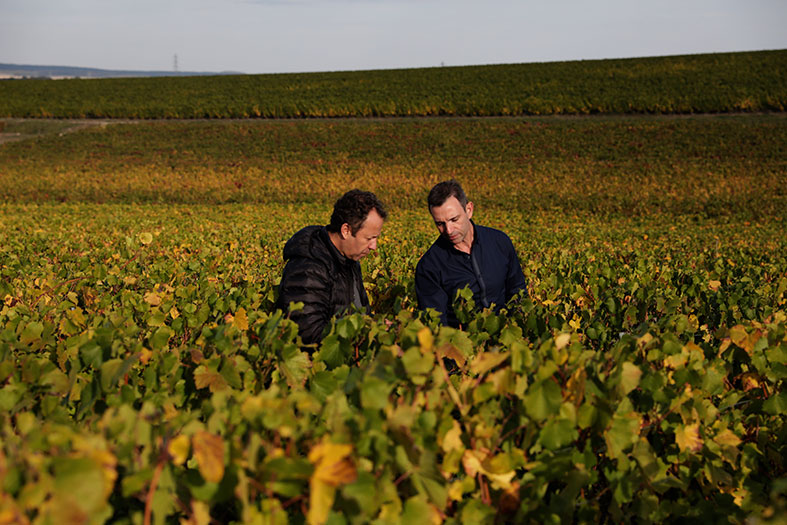 Images: Courtesy of Ruinart
"If you work with pencil or oil paint, you stay in the studio your whole entire life," Muniz explains. Instead, he works with known materials, objects, and things that inspire him, whether found somewhere in the middle of Central Brazil or Reims, France. With so many unknown components in paints (like mummy powder and rabbit goop,) his unorthodox material approach may actually be more orthodox.
Working with Ruinart, Muniz was immediately attracted to trees, vines, and dead tree stumps which he had wanted to photograph for a while. "These vines tell a story of curiosity and suffering at the same time. They are very resilient — stoic. Vines are storytellers," he explains why he chose to focus on vines for his project.  "In a way, it's a little bit of the dance because their form is a gesture that is being done together with human beings," Muniz added another human element to this relationship: his own as an onlooker and artist conveying their secrets. He finally compiled 11 images into 5 different photographs, a time-lapse, and an art installation in Reims adding up to seven artworks altogether. 
Muniz created a giant chardonnay leaf time-lapse out of actual chardonnay leaves found in the Ruinart vineyards.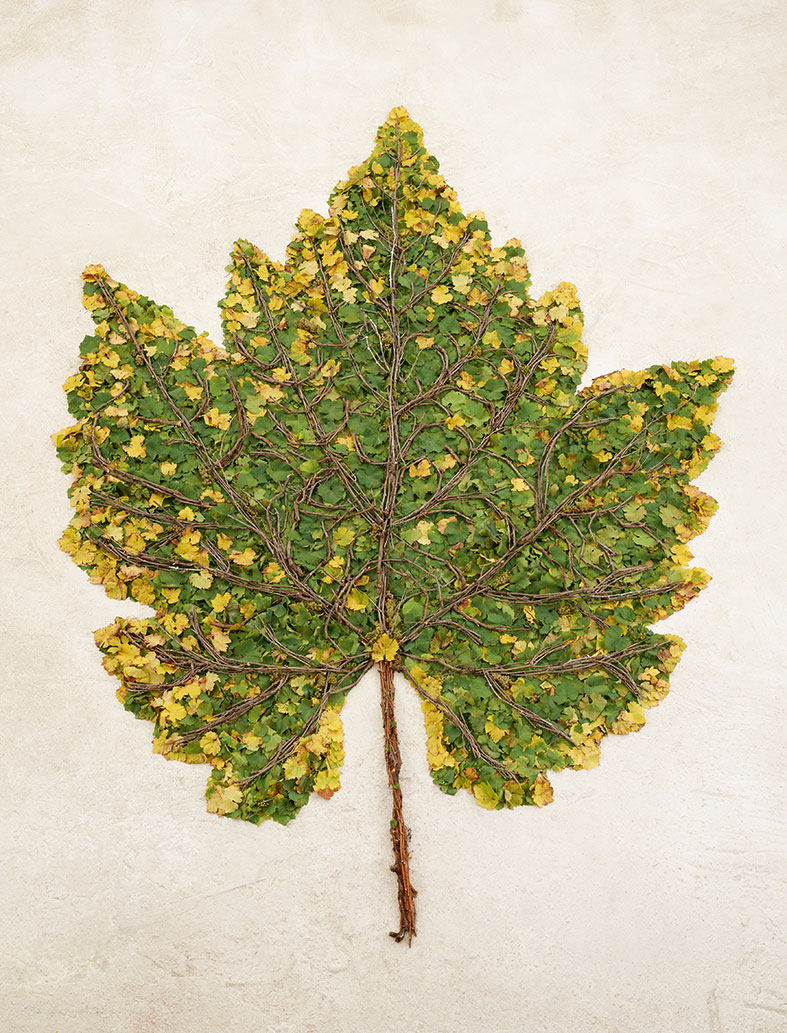 Vik Muniz "Chardonnay Leaf"
His "Flow Hands" piece features the hands of Frédéric Panaïotis, Maison Ruinart's Cellar Master, holding a vine stock. The hand blend into the wood as one with the same color trajectory and direction.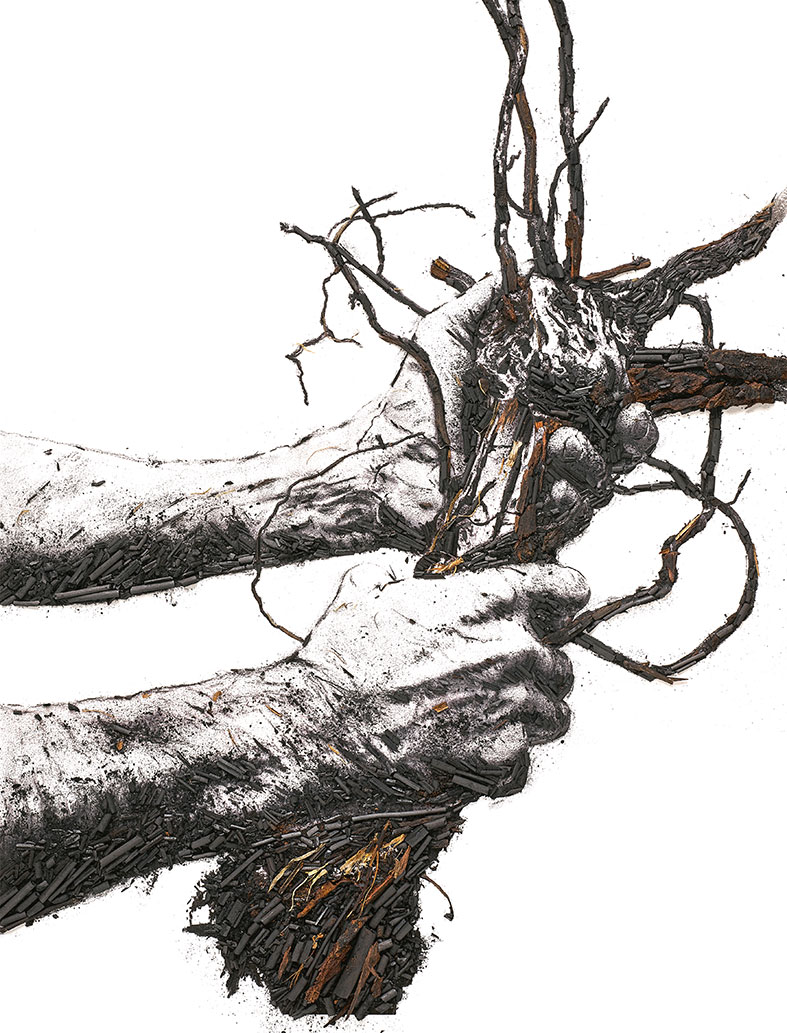 Vik Muniz "Flow Hands"
The "Flow" pieces finally bring forth a certain idea Muniz wanted to play around with. The pieces draw vines with pieces of charcoal, essentially a dead tree drawing a tree.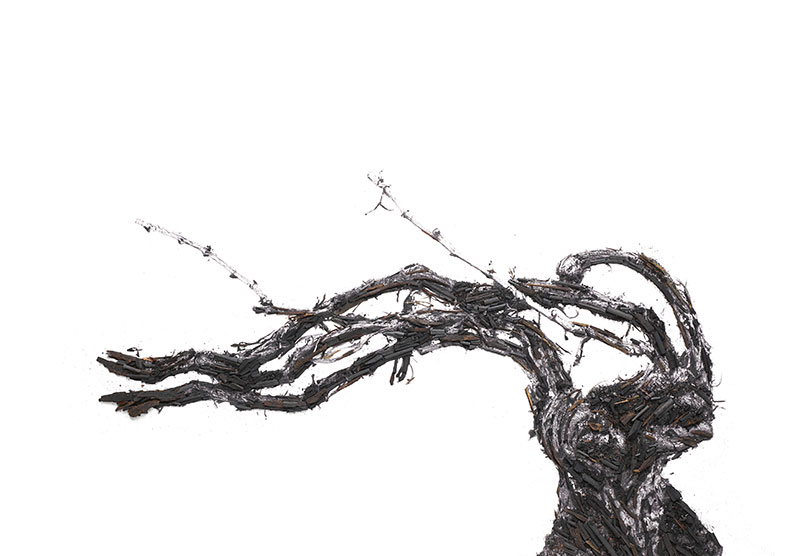 Vik Muniz "Flow Diptych"
The final installation is housed in the Ruinart house back home in Reims where empty champagne bottles glow with LED lights. For Muniz, a partnership with Ruinart is not his first but truly cherry-picked as he loves to work with individuals focused on sensory pleasures — like perfumers and winemakers. "I like collaborating with people that help me see things differently," says Muniz. "The moment you start asking questions you're not just looking at something, you're actually wondering why you're seeing something else. This is important for me." 
Five of the seven pieces will be available in an edition of eight copies. Additional, the artist design 30 numbered limited-edition jeroboam gift boxes (SRP $5,000) available starting May 1st. Vik Muniz's work is on view at the Ruinart Lounge at the Frieze Art Fair through Sunday, May 5th on Randall's Island.