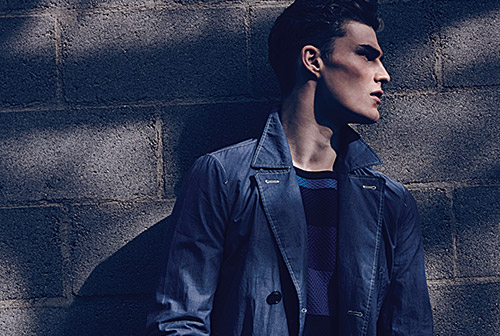 Tommy Hilfiger's Denim Legacy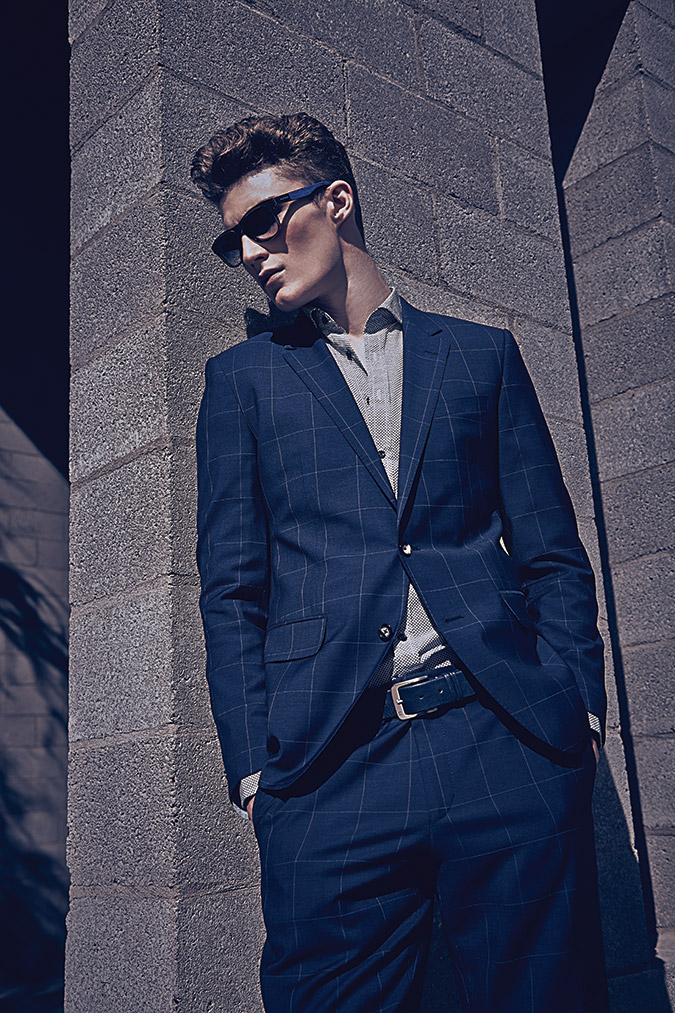 Image: A.P.Kim. Butch rhames suit, $449. Similar styles available at Tommy Hilfiger, Fifth Avenue, NYC. Montauk shirt, $99. Available at Tommy Hilfiger stores nationwide. Sunglasses, $135. Tommy.com. Belt, $69. 
When 25-year-old New York native Tommy Hilfiger first stepped onto the fashion scene in 1977 with a bellbottomed, pungently-incensed vision he knew designing would consume his life. Cut to three years later, after this initial vision shuttered and the young entrepreneur went back to school, Hilfiger stumbled upon a textile that would tentpole his fashion empire—coarse, unyielding denim. Utilizing it to launch Tommy Hill, his first foray into the mega-brand known today, the trajectory of modern American menswear is closely tied to the designer and his love of the jean favorite. After an initial resurgence of the material kickstarted with the True to the Blue collection, from ESSENTIAL HOMME April/May 2014, the '90s icon turned menswear mainstay re-centers the eye of its ever-evolving fashion hurricane on what made the brand an A-list go-to from the oversized outright—denim.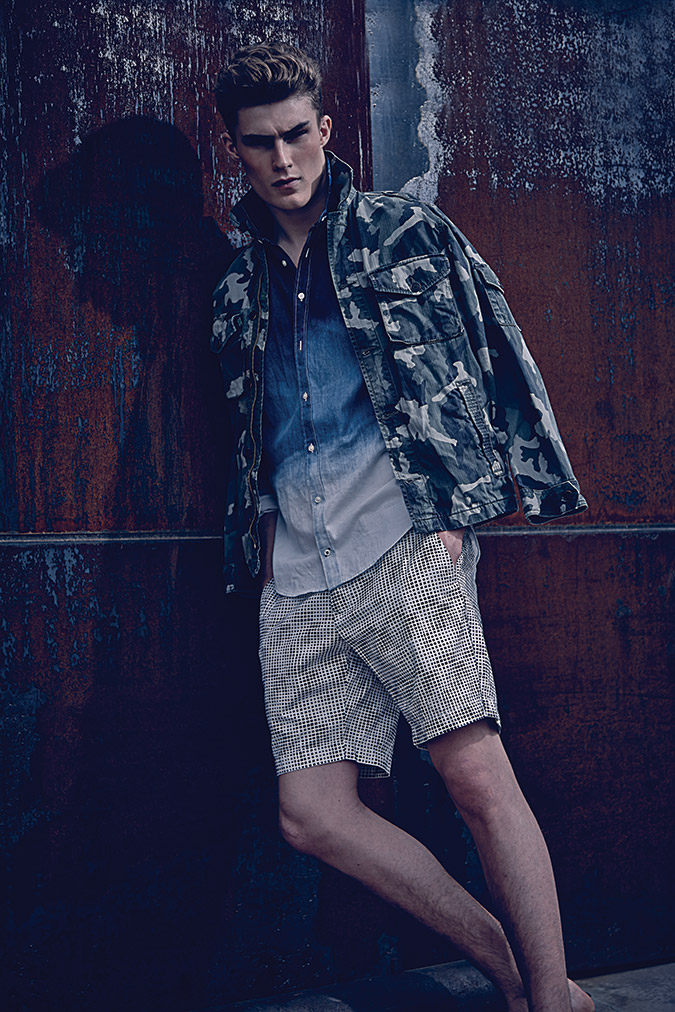 Image: A.P.Kim. Dereck short, $89. Similar styles available at Tommy Hilfiger, Fifth Avenue, NYC. Dip dye chambray shirt, $99. Available at Tommy Hilfiger stores nationwide. Bryce jacket, $149. 
The year was 1985 and, after searching for stability to support his wife and child-to-be, Hilfiger found enough funding to launch his eponymous line with as much fanfare as the then Calvin Klein employee could muster. A single billboard by advertiser George Lois, springing up overnight in the middle of Times Square, boldly declared the four great American menswear designers and there, at the bottom of the list, was Hilfiger. The tactic worked, though the designer considered shuttering his line soon after for fear of selling out, and the brand's sensationalism sparked. Quickly finding his niche, the 1995 CFDA Menswear Designer of the Year winner discovered he had a hit on his hands with a pair of baggy, ill-fitting overalls. Seen on muse/singer Aaliyah, the trend caught fire as the brand focused its energy on the up and coming rap scene, promoting its denim craze through the likes of Snoop Dogg, Coolio, and Destiny's Child.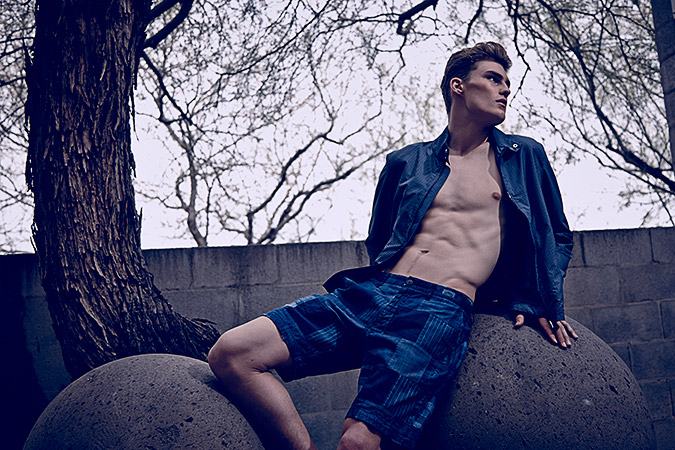 Image: A.P.Kim. Dereck patchwork short, $99. Available at Tommy Hilfiger stores nationwide and Tommy. com. Nylon jacket, $149.
Following its aggressive takeover of the late-'90s, early-'00s MTV music bump, sponsoring both Lenny Kravitz and Britney Spears for head-to-toe touting ensembles, the brand shifted to embrace Hilfiger's original vision—classic campaigns of pulsating American pride. Visuals of the designer's jock-meets-prep male began filling publications and billboards worldwide, the men sporting open denim button-ups and matching plumber jeans to usher in a new age of upscale ready-to-wear for the masses. Fellow American menswear designers, catching on to the upheaval, experienced a rift that cut between the larger power players, Calvin Klein embracing an overtly sexualized form of the material, whereas the more classic in taste Perry Ellis turned towards more upscale tailoring, leaving the fad behind. This crossroads would create a newfound fashion climate as aspirational brands would begin tailoring higher price points and well-made wardrobes to a more casual clientele.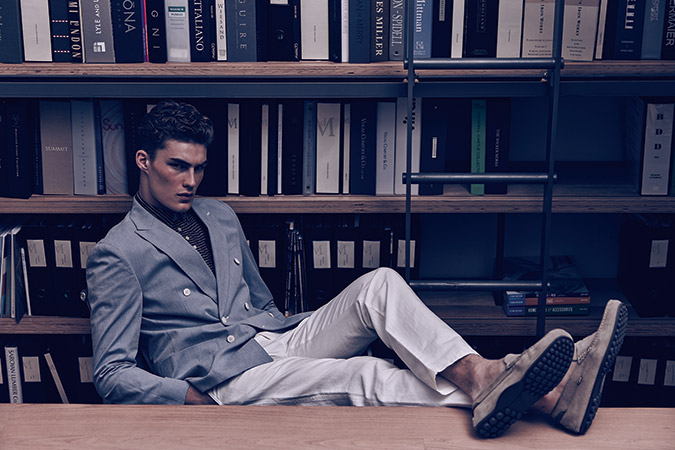 Image: A.P.Kim. Roderick polo, $89. Available at Tommy Hilfiger stores nationwide. William pant, $99. Available at Tommy Hilfiger, LA, and Fifth Avenue, NYC. 
Though, as with any trend, quick popularity and over-saturation led to a slight falter. While the brand's European sector saved face with positive returns and tight visionary control, the American sidestepped its niche for differing stylistic territories, aiming to reclaim its shifting audience. Through this restructuring, denim became a suggestion, a support that assured Hilfiger's roots but did not profess its worth in the same significance. Then, in 2014, the archives were opened, the lessons learned, and Hilfiger released its True to the Blue collection.
Image: A.P.Kim. Rufus blazer, $349. Similar styles available at Tommy Hilfiger, Fifth Avenue, NYC. Stripe shirt, $65. Available at Macy's locations. William pant, $99. 
Honoring the brand's denim heritage through a similar color palette and cut, though leaving the material itself in a minimum role, the line allowed a space for the old vibe to meet the new vision, easing the harder denim ensemble back into the spotlight with grace. And, as is the cyclical way of fashion, denim soon found itself creeping back onto the runway in its many-washed varieties. This time, however, Hilfiger was ready. More strong-willed within its structure, the brand released updated, denim specific campaigns to highlight its retention of the material's aesthetic, tapping it-model Lucky Blue Smith to front the visuals. Soon followed bold Gigi Hadid team-ups and a denim accessory resurgence of '90s tonal qualities, Hilfiger utilizing its long-reaching past to build a bright, blue-hued future. Though denim may have never left its lookbooks, the climate, just as it was in the early '90s, is changing once again. In all its red, white, and blue glory, the brand's own wording says it best—"Tommy Jeans is back," and we are witnessing its second coming.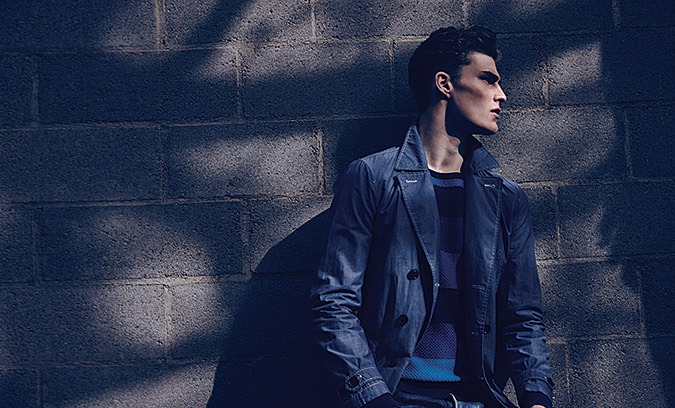 Image: A.P.Kim. Hudson patchwork denim, $139, brody sweater, $129. Available at Tommy Hilfiger, Soho, LA, Fifth Avenue store, NYC, and Tommy.com. Ricky chambray peacoat, $399.
Styled by Terry Lu
Model: Harry Pulley at VNY
Grooming by Elizabeth Morache at Workgroup Ltd using Oribe
Fashion Assistant: Ellie Rogers
Location: Interior design studio David Michael Miller