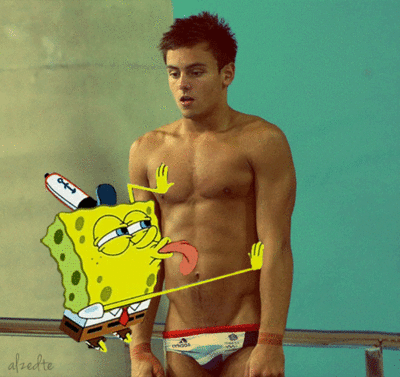 Tom Daley Cannot Fight Off Fans' Burning Lust
A fact about swimmers: they tend to have unabashedly rockin' bods. Such is the "affliction" for 19-year-old swimming sensation Tom Daley, who enjoys showing off his body
at the pool
,
at the beach
,
in the shower
(?), even doing it times twelve for
his very own calendar
. In addition to his toned physique, Daley's also made headlines for his bisexuality, coming out publicly last December in a video to his fans proclaiming, "My life changed massively when I met someone and it made me feel so happy, so safe and everything just feels great. And that someone is a guy." While it's now been confirmed that he's in a committed relationship with Oscar-winning screenwriter Dustin Lance Black, that hasn't stopped some from doing their best to aggressively bed the young Brit.
In his very first interview since coming out, Daley sat down with
The Sun
's James Corden to
discuss his sexuality
and whether or not fans hit on him saying, "Yeah, it does happen quite often. You do get some people who just come up to you and offer it there and then. Like literally. Some people come up to me and say, 'Do you want to go back?' And I'm like, 'What do you mean? The whole reason I did this was because I have a boyfriend.'" A collective "boyfriend, shmoyfriend," echoed throughout the stratosphere.
Images courtesy of Instagram; featured image courtesy of Tumblr.