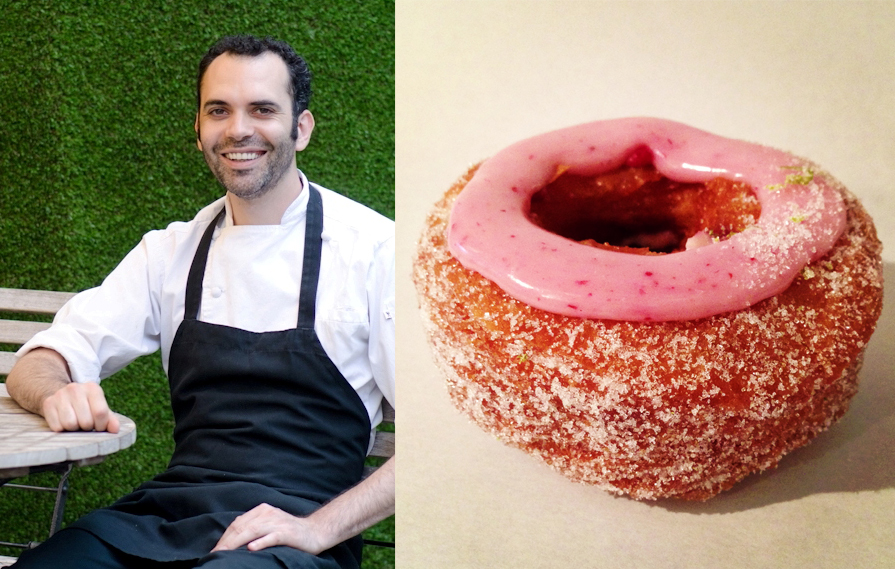 The Man Behind The Cronut, Chef Dominique Ansel, Sets The Record Straight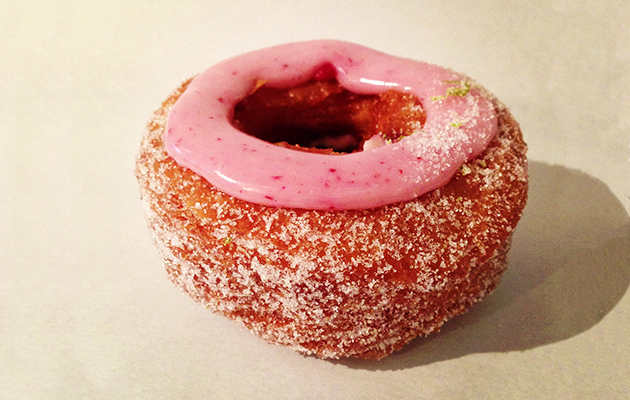 br>
"Creating new items is not something I do once in a while, it's something I constantly push myself to do, to innovate, to go beyond what I know and try to make this world a bit more exciting." That's Dominique Ansel, the Parisian culinary sensation behind the Cronut — a hybrid donut/croissant that's sold out in minutes, every day, without fail, since its conception back in May. Yesterday, Ansel launched the July Cronut: Blackberry with a hint of lime, ending June's Lemon-Maple tenure. The rumors about the mythical Cronut are everywhere, so we decided to forgo the noise and talk directly to the chef himself.
EH: Before starting Dominique Ansel Bakery in 2011, you spent six years as Executive Pastry Chef at Daniel. Why did you decide to leave?
DA: Every chef wants to do the best. We won numerous awards while I was there, including the James Beard's Outstanding Restaurant of the Year Award in 2010. After a while, you want to move on; you want to accomplish different things in life. And to me having a bakery was a dream. So I took the step, and we opened the bakery — here we are — a year and a half ago.
EH: Would you say the pastry scene is cutthroat?
DA: I will say this, the level is getting better, year after year; quality is increasing. New Yorker's travel a lot, they know a lot about food, and they want a very refined pasty.
EH: Where did the idea for the Cronut come from?
DA: Every week we do a meeting with our team and I like to challenge people and challenge myself too, to do new, fun things. I really wanted to do a donut but I wanted to put a french twist on it. It took me about two months to develop the recipe and about ten different recipes.
EH: How did you know on the tenth one?
DA: Pastry is a science. So I was looking for a specific texture, something that was similar to croissant dough that when you fry it isn't too greasy, that you can fill with cream, is not too chewy, not too soft. So I really using that scientific aspect to get the texture just right.
EH: Did you have any trepidation about launching a pastry at the beginning of summer, AKA swimsuit season?
DA: I think season is important when it comes to pastry, but when it comes to creation, that's something different. When you launch something and you know it's good, it's going to sell no matter what.
EH: How did the Cronut go from a pastry to a culinary sensation?
DA: We got one article on New York Magazine and within the same day they sent us an e-mail saying they'd gotten over 140,000 hits and we better start making more. And so then, on the second day, they sold out within fifteen minutes. And by the third day, there were a hundred people outside the door. I had no idea it was going to take off like that. The other day, someone came here to get a cronut to ask his girlfriend to marry him. He came in at 7:30AM, and the line was already too long, so he came the next day at 5AM and waited outside the door.
EH: And did he get one?
DA: Yes. He was flying back to Canada and his whole team re-scheduled a meeting so that he'd be able to wait and get one.
EH: How early do people actually arrive at the bakery?
DA: A lot of reports were misreporting, saying that people were here at 3AM. This morning, someone was here at 4:30AM in the morning, but that's very unusual.
EH: And I'm sure friends of yours, even celebrities, are reaching out trying to get their hands on one.
DA: Oh yes. The first few days I said sure, but then I saw how crazy it was getting so I told myself 'This needs to be fair for everyone,' so the only way to get it is to come and wait in line. A lot of newspapers and magazine reporters are sending their interns to come wait.
EH: So what's the best way to get one?
DA: There are three options: Wait in line. Call on Monday at 11 o'clock, where we have a wait list for two weeks. And then we take a few larger orders per month.
EH: True or False: They last for six hours and six hours only?
DA: It takes about three days to make it and it has a short shelf life because it's a bread dough. With the filling inside and the glaze over it, it's very fragile. Plus, It gets soggy with humidity in the air.
EH: How many Cronuts have you eaten?
DA: I try and eat one a day. I want to make sure everything I sell is up to my standards.
EH: Are we going to see more Dominique Ansel Bakery's popping up in other locations any time soon?
DA: I'm open to any opportunities, but I think it's very important for me to be small and to keep doing what I'm doing, which is respecting the quality of the product over quantity.
EH: Are you working on anything new?
DA: I'm working on something fun for summer. I can't tell you anything yet.
EH: Anything at all?
DA: It'll be something cold.