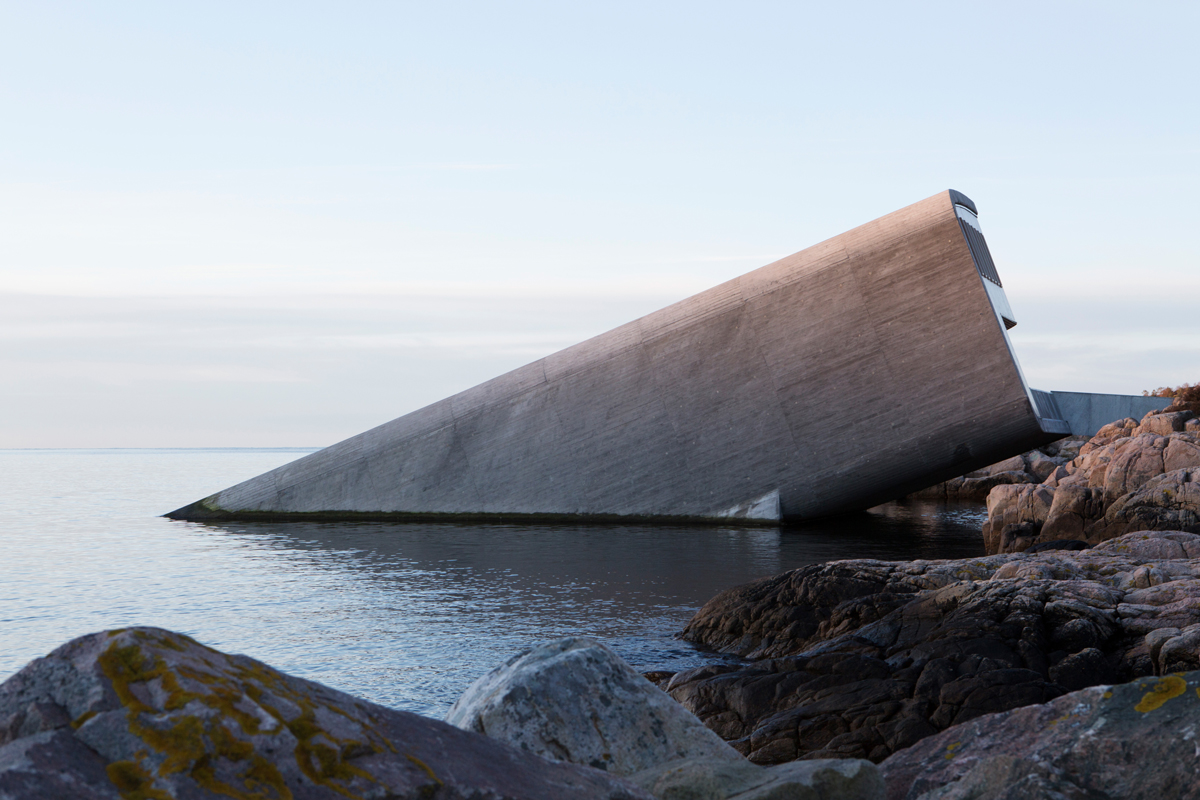 Surface Level: Inside an Underwater Restaurant
Anchored at the southernmost point of Norway in the city of Lindesnes is a marvelous new dining destination that defies conventional architectural limits. Officially heralded as Europe's first underwater restaurant, Under is a design triumph that seamlessly integrates state-of-the-art construction into the natural coastline.
The innovative establishment was designed by Snøhetta, an Oslo and New York-based multidisciplinary design firm that specializes in interior and landscape architecture. Half of the tube-like structure is mounted on the rocky Norwegian shore, tilted at an angle that allows the rest of the 112-feet long building to gradually submerge 16-feet underwater. The outpost's almost two-feet-thick concrete walls—which are left raw so that they can adapt to the environment and evolve into a new ecosystem for existing wildlife—ensure the structure can sustain pressure from the inclement seas and provide its guests with optimum security while enjoying the architectural feat from within.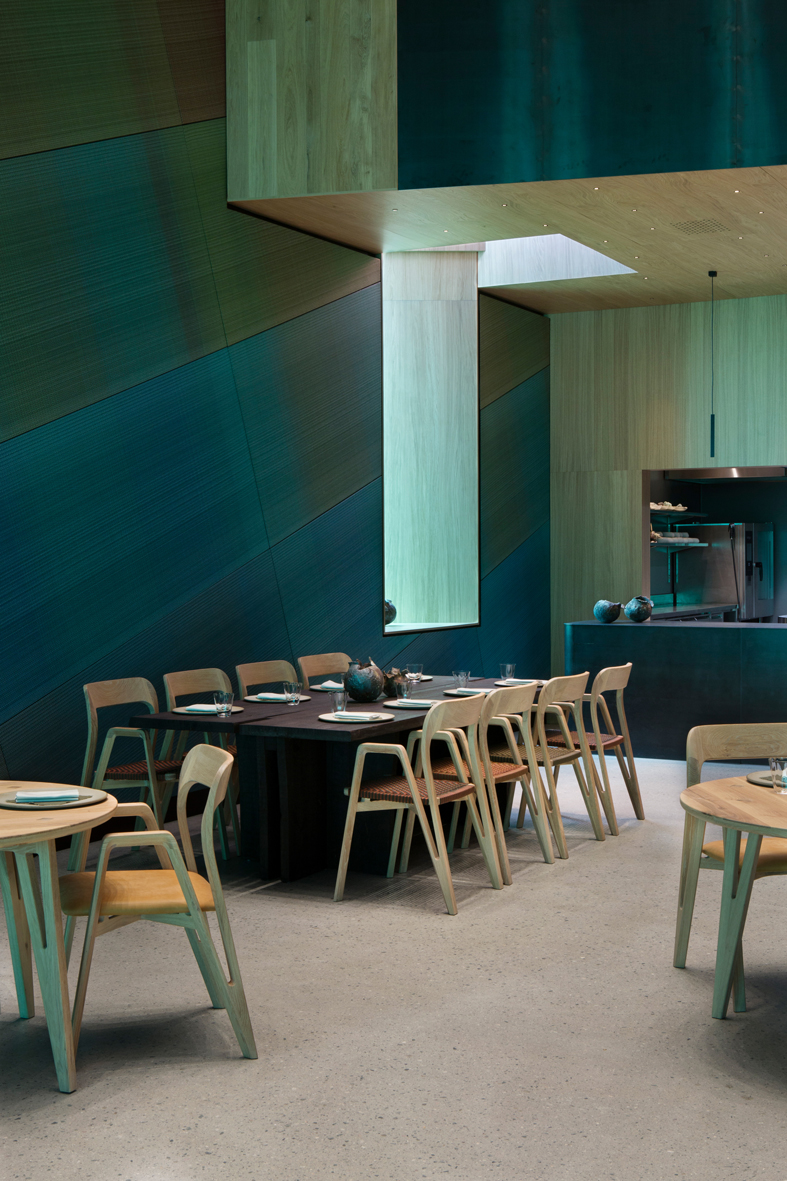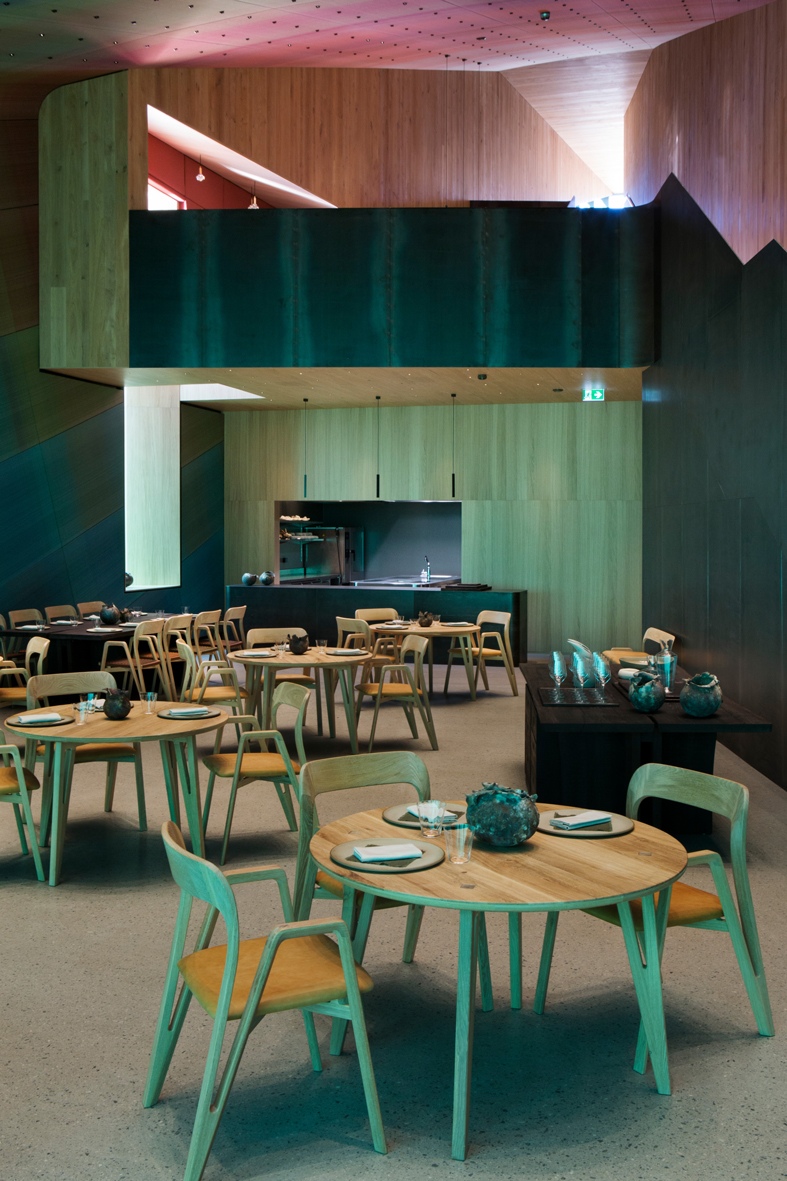 Lindesnes is home to an intense, volatile climate. Under syncs to its environment with a minimal interior composed of locally sourced natural materials. Exposed steel railings are juxtaposed against textile-clad ceiling panels that gradually change color (a metaphor for the journey of descent) as the restaurant submerges, establishing a warm and welcoming tone against the sometimes harsh exterior conditions.
To enter the site, guests must walk a 40-foot, wood-paneled bridge to enter the concrete tube. Once inside, they can enjoy a cocktail at the bar located in the mezzanine above sea level, with a vertical window that showcases the view above and below the water's surface—a perfect framing of the duality of the structure. The restaurant itself is housed towards the base of the building—intimate in nature, the 40-person dining room is enhanced by panoramic views of the native marine life that envelopes the space. Furthermore, handcrafted furniture commissioned from local design firms accents the open interior.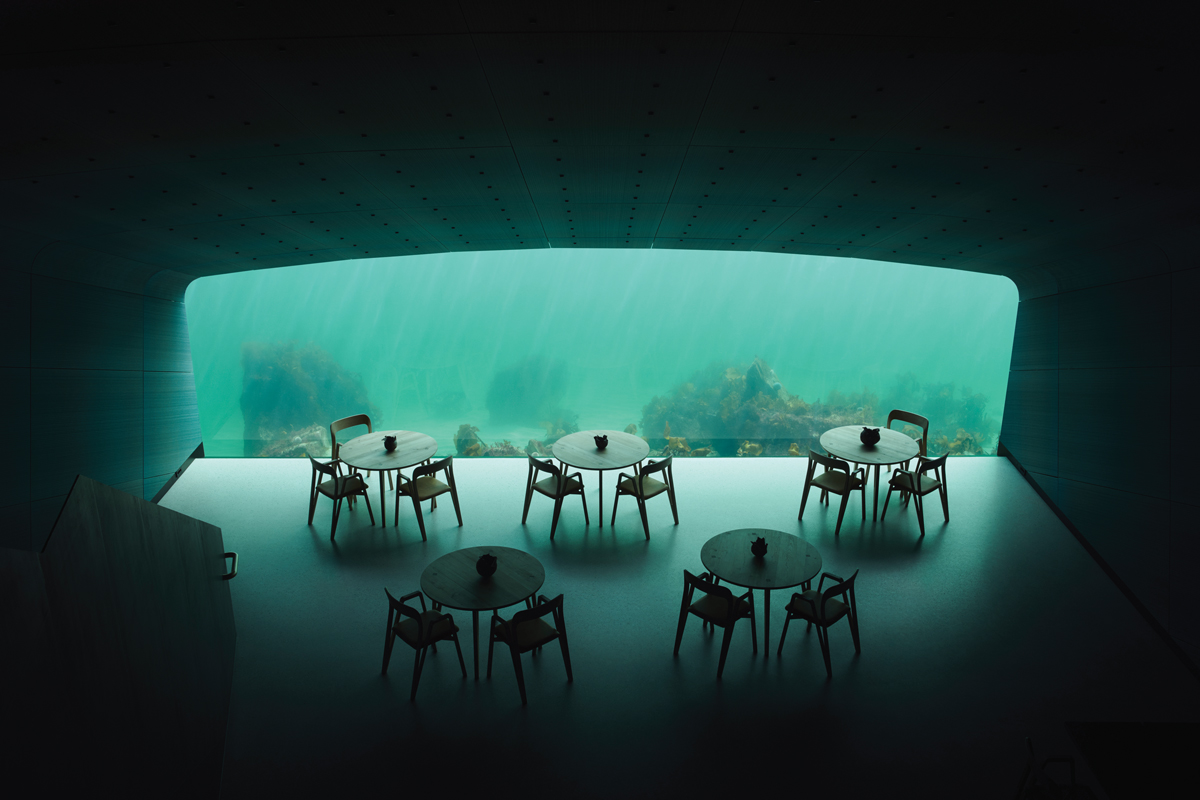 Head chef Nicolai Ellitsgaard oversees the menu with the aid of 16 international chefs, offering a curated selection of sustainably sourced local produce and seafood. Under specializes in delicacies exclusive to its semi-remote location, including rugose squat lobster and stone crab, while also limiting the amount of waste it produces.
In an effort to give back to the environment it occupies, Under also hosts a marine research lab that provides specialists a unique setting to study the regional species in their natural habitat. It's a win-win: sea-life gains a new addition to its ecosystem, scientists get a rare look at the organisms, and fine dining patrons are witness to a natural spectacle in true symbiotic fashion.
This article appears in the Summer 2019 issue of Essential Homme.
Images by Inger Marie Grini/ Bo Bedre Norge and Ivar Kvaal.