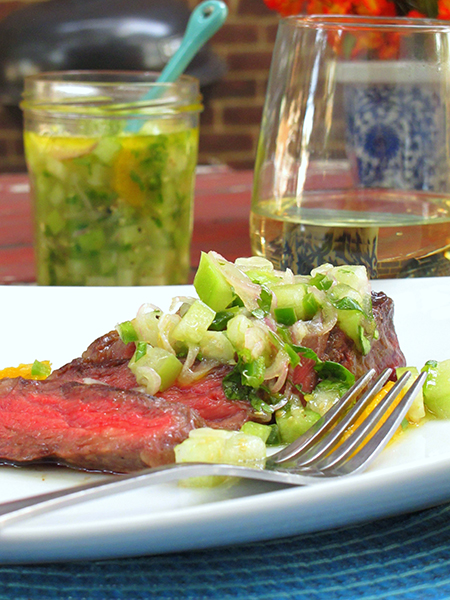 A STYLISH BBQ DISH FROM A "CULINISTA"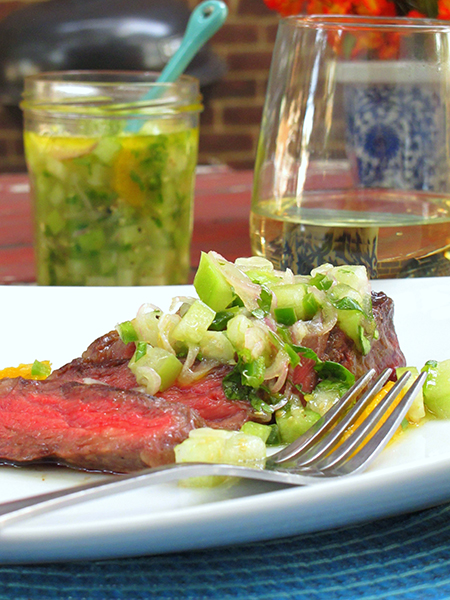 A "culinista" is someone who loves the art of cooking as much as, well, a fashionista loves the art of clothing design. You may not be a culinista (or maybe you are?), but if you're going to cook, you might want to take some advice from one.  We hit up our pal Josie Gordon who just so happens to be part of a team of cooking savants called "The Culinistas" (And who worked beneath Jean Georges for years) for the perfect stylish, (easy) and fun recipe to impress our friends with this Memorial Day. After the jump, learn how to make something good looking and delicious called Grilled Short Rips with Tomatillo-Tequila Salsa. Recipe after the jump!
Grilled Short Ribs with Tomatillo-Tequila Salsa
Salsa:
1 cup chopped raw tomatillos (rinsed well)
1 chopped shallot
½ cup orange slices
1 seeded, chopped jalapeno
¼ cup chopped cilantro
1 minced garlic clove
2 tablespoons lime juice
2 tablespoons extra virgin olive oil
2 tablespoons tequila
2 tablespoons triple sec
½ tsp salt
¼ tsp black pepper
2 lbs boneless beef short ribs:
Oil
Salt
For the salsa, mix all of the ingredients together in a bowl.  Cover and store in the refrigerator for at least one hour to let the flavors develop.
Heat a grill to moderately high heat.  Brush both sides of the short ribs with oil and a sprinkle of salt.  Grill the short ribs for about 4 minutes on both sides for medium rare short ribs.  Serve with the salsa.
If all of that worked out well for you—check out more from Josie and the team of culinistas in their book which you can learn more about here!