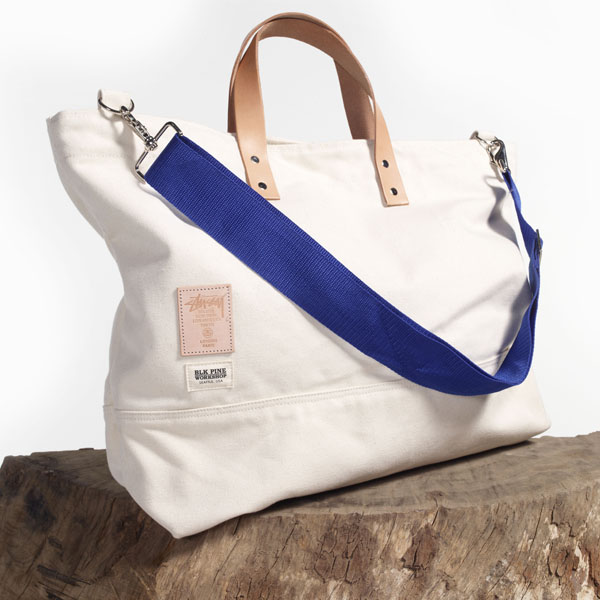 Stussy Deluxe + BLK Pine: For Totes.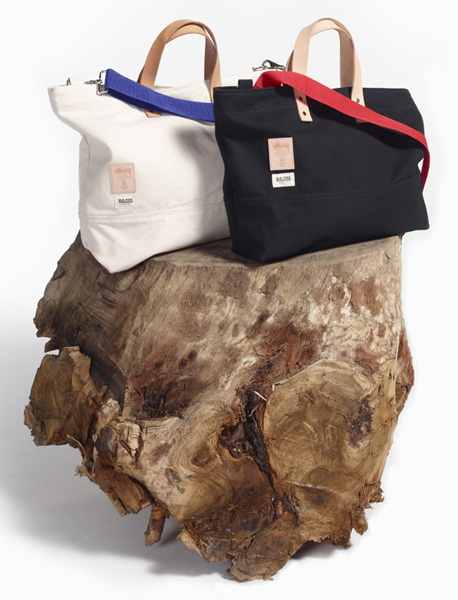 A tote bag isn't something normally thought of as chic. Rather, they're what you bring to the supermarket when you feel like being green…or what you bring to the beach when you don't want to get sand in your regularly featured bag. Stussy Deluxe with new partner, Seattle-based BLK Pine Workshop have recently released a limited edition tote that may have you rethinking the merits of this oft-disregarded category of men's bag.
The totes are thoughtfully constructed for men's rough and tumble use with heavyweight 18 oz duck canvas with vegetable tanned, natural leather handles and snap close to avoid any unwanted spillage. The goal of both brands was to have you consider the tote in the same manner as you would your favorite pair of jeans—spot clean them (to rid unsightly stains) and let the look develop with any natural wear and tear you bring upon them yourself. They come in two colors—black canvas with nice red nylon interior and matching nylon shoulder strap, as well as in natural canvas with a royal blue interior.
The bags are available as of now ($130-$140) on stussy.com