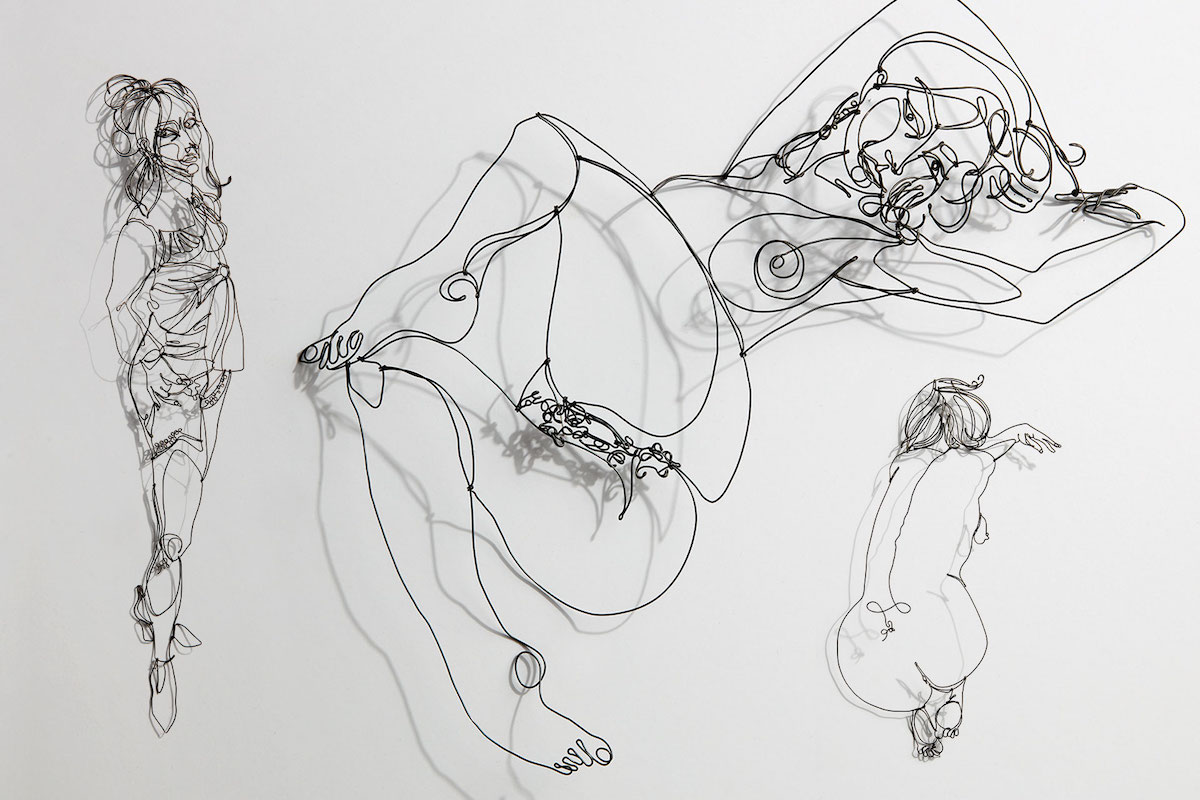 Speaking With Artist Skye Ferrante, Man of Wire
Featured: (left to right) Portraits of Lauren, Amna, and Maeve
Skye Ferrante is a man who lives many lives at the same time. A self-taught artist, he is constantly on the move; a man who looks people up and down, but not too intrusively—he observes them. The sculptor, known as the "Man of Wire" on Instagram (a title earned following years of working on the streets of SoHo), manipulates a single string of black iron into a patchwork of abstract lines, curves, and movement—often depicting nude figures. In turn, these sculptures inform his own writing, while his relationship with the model gives each piece a narrative.
I first met Ferrante on one of the 30 days he sculpted on a stool on the corner outside Louis Vuitton's store in SoHo. Since 2004, he has become a true institution for the downtown passerby. "I like meeting people and getting to know them without the guards that we all have. That tends to go away when you're naked," he says. "Naked people talk."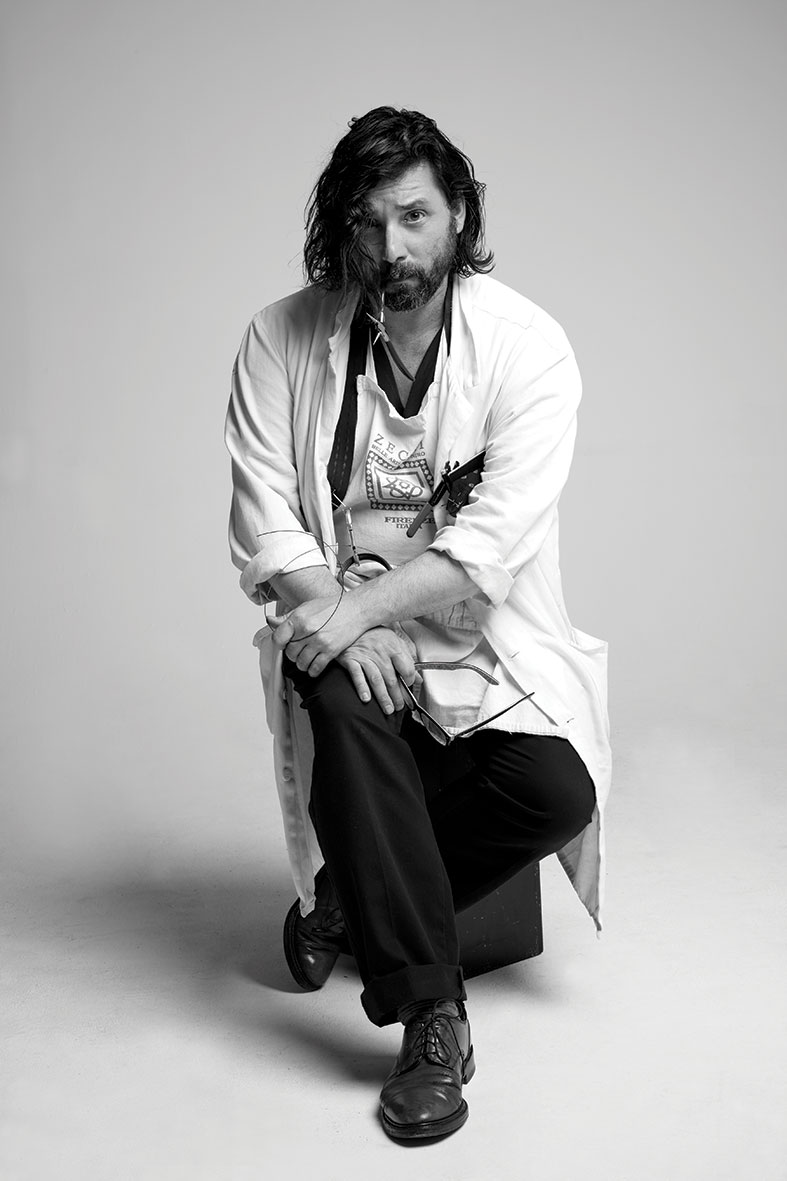 Skye Ferrante
Each sculpture is an intricate display of technique by the artist and expression from the model, whether clothed or not. Ferrante keeps a collection of some strikingly intimate stories that his subjects share with him—he is their unclassified shrink; the one who really listens. He writes both portrait stories about friends and performers as a result of those sessions. These portraits and his writing are mostly tender, sometimes mysterious, yet almost always loud—symbolically and literally, as he writes on a typewriter.
Ferrante originally began sculpting women, particularly Burlesque performers, after a friendship with the headmistress of the New York School of Burlesque, Jo Boobs Weldon. He eventually met top performers and dove into sculpting the figures of his female friends and eventually sex workers. (He now works with all genders.) One of these models even landed Ferrante a writeup in The New York Times after she sold the sculpture of herself to her married lover for a whopping $10,000; the sculpture now hangs in his family home.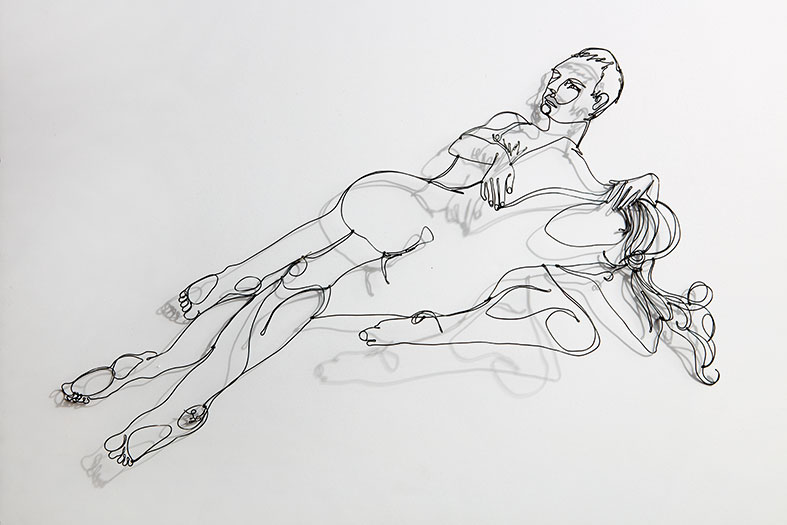 Portrait of Odette and lover
Ferrante's work can be simplified into several lines which are technically just one—recreated, imagined, and broken. The lines that he sees on a nude figure are pure abstractions. He breaks these walls between the artist, the model, and the buyer. Ferrante explains that this relationship between the three isn't new, as it dates back to Titian and the model for Venus of Urbino, Angela del Moro, and artists way before him too.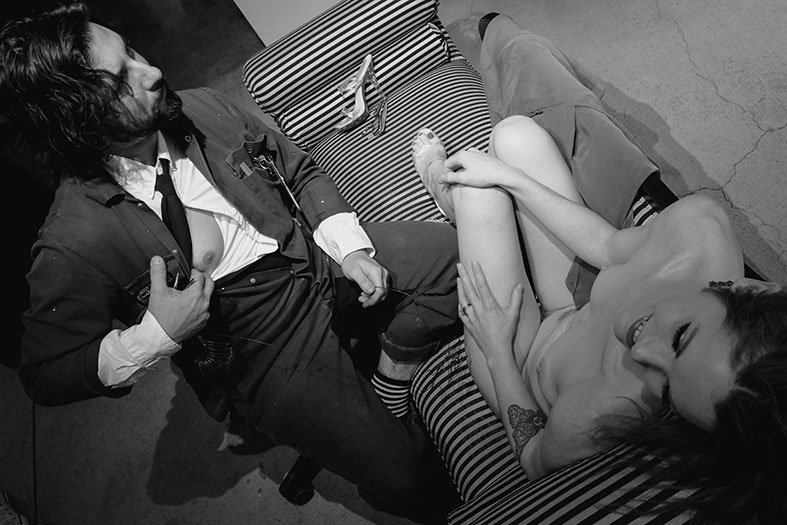 He changes a single trope—Ferrante's models speak through his written narratives. "It's from Pygmalion that we have the problematic myth of the artist and his muse, the perfect woman, silent and made of stone—but Galatea, in my experience, clearly speaks," explains the artist. Ferrante wants the story to precede the piece and the piece to stand alone without the shadow of the artist to truly withstand time. What better way to guide an artwork if not with the voice of the subject itself? "My main theme is that women are behind everything," says Ferrante. "They aren't just the muse."