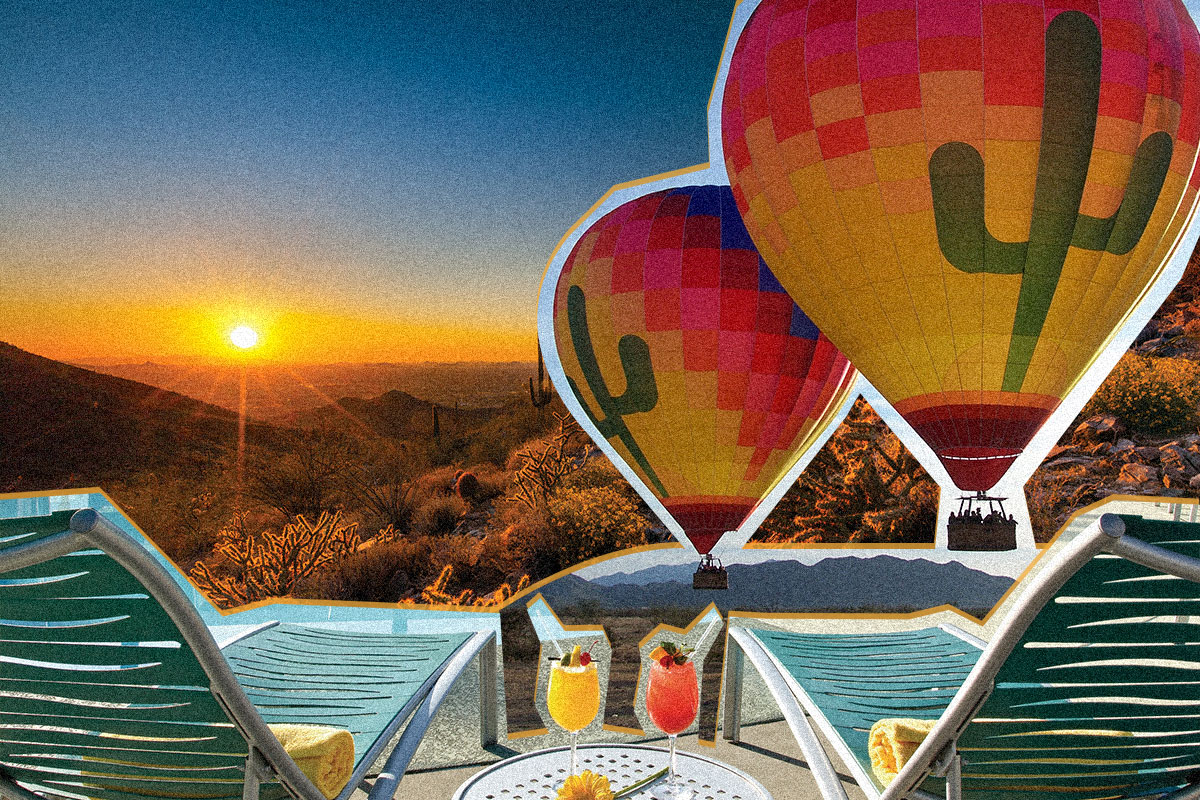 Scottsdale, Arizona's Best Kept Secret
Scottsdale, a petite oasis amidst Arizona's burnt-orange desert east of Phoenix is endless landscape plenty with cacti, mid-century architecture, and fabulous spas. While everyone takes a detour north to the Grand Canyon, we'll be taking a trek south. 
Humans, we were never truly meant to live in the desert (even mosquitos don't live here,) but Scottsdale thrives in this clandestine atmosphere that has long attracted a crowd from Hollywood looking out beyond Palm Springs for a hideout weekend. In its own little corner of the Southwest, this city offers a different kind of prestige: life unfolding in an unexpected landscape despite nature's difficulties.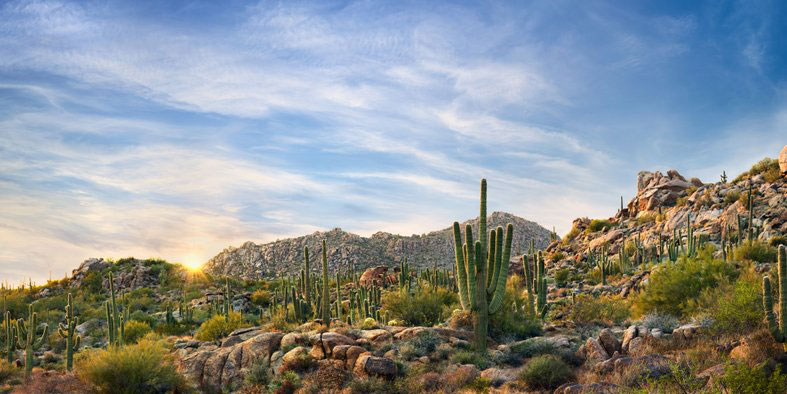 Sonoran Desert
Busy with sports, arts, and a buzzing culinary scene, Scottsdale is also a spa-haven. Carved into the impressive rock formations amongst snakes and wild horses, luxury spa resorts are constantly rising against the horizon and the unbeatable dry heat. Despite all the natures efforts to discourage its inhabitants, Scottsdale has blossomed into an otherworldly beauty especially with architects like the visionary Frank Lloyd Wright coming down here to settle in his supposed "favorite winter house." 
We've compiled an insiders guide to Scottsdale comprised of our favorite spots and local hangouts. 
When to Go
While beautiful in every season, hotel prices in Scottsdale drop in the summer and streets are likely to empty of tourists. There is little rain in Scottsdale year-round, but plenty of heat makes one wish for it. And while Scottsdale temperatures do linger in the 100's during the summer months, desert heat is a dry kind without much humidity. Hydration is key here and you won't even break a sweat. With a little break at the pool, river, or spa, a summer holiday in Scottsdale is your own little secret. 
Where to Stay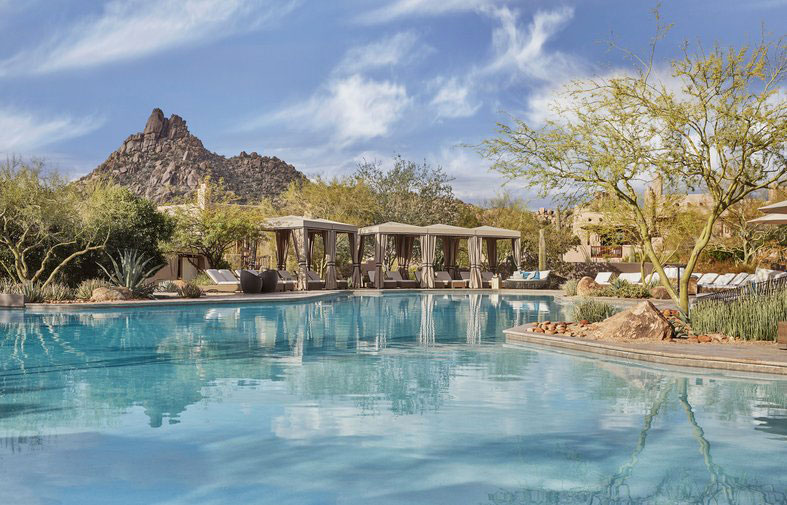 Poolside at the Four Seasons Resort 
While the city has a central shopping and culinary hub, most of the hotels are actually located on the outskirts of town amidst the pure desert or in Paradise Valley. The Four Seasons Resort at Troon North ensures a true repose from city life tucked away below a desert-scape of hills and rocks. For those looking for an hacienda-style destination in the tranquil shade of the mountains, Omni Resort & Spa at Montelucia is the ultimate destination for a luxury relaxation with a sprinkle of Spanish romance.  
Transportation is quite easy in Scottsdale, but if you are looking for a central location Hotel Valley Ho is the best bet. For those in love with little-known history and its oddities, Hotel Valley Ho is a mid-century treasure box of Hollywood gossip, a brilliant example of a renovated mid-century architecture, and Arizonian-hospitality. The hotel offers a lovely spa service at OH Spa with the best Honolulu massage in town. 
Where to Spa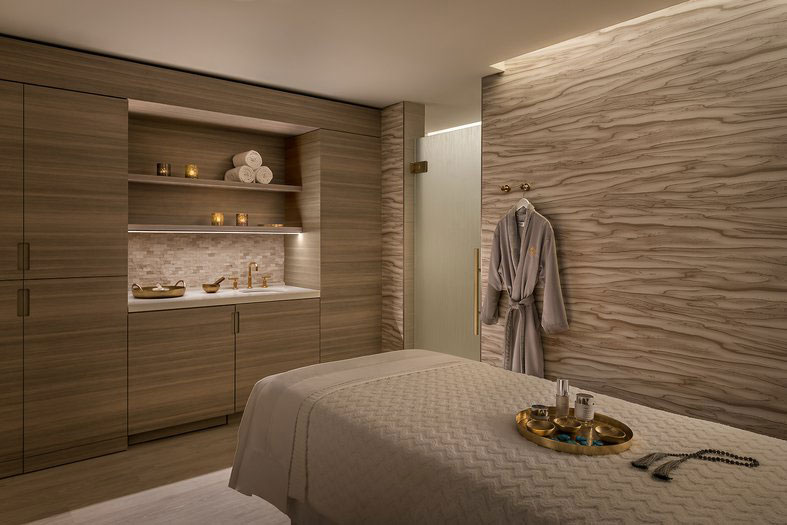 A look inside one of the spa suites at The Phoenician 
Let's get to the main point, one goes to Scottsdale to spa, period. Most of the spa destinations also double as hotels making so that one really never have to leave the grounds (though you should! See below.) The ultimate chic spa takes residence on the hillside of Camelback Mountain called The Phoenician where innovative procedures will take care of your skin, body, and mind. The rooftop pool looking and private cacti gardens offer an idyllic backdrop. A gemstone healing facial leaves one feeling serene or perhaps a tarot card reading will do the trick. The grounds also have a Dry Bar and a fitness center including aerial yoga.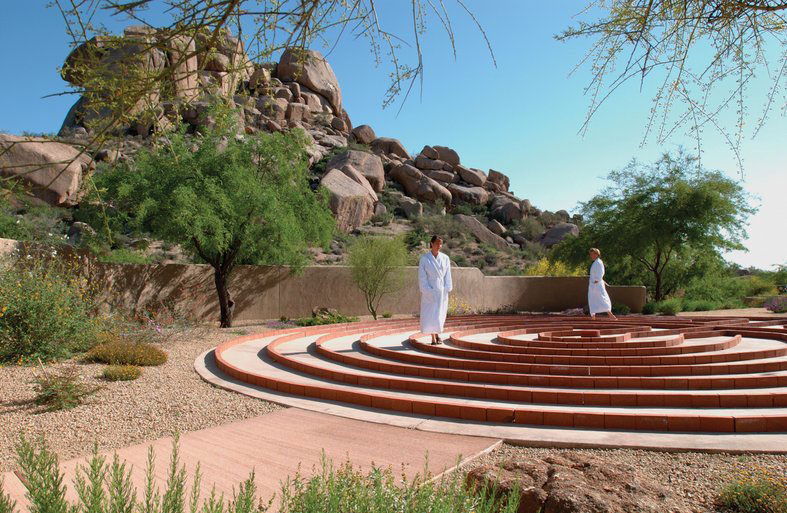 A walk at the labyrinth at The Boulders Resort & Spa
While The Phoenician is super contemporary, The Boulders Resort & Spa is an alternative that melds into the rock formations around it. The soul-stirring spa features an array of massages, facials, and signature meditation in a labyrinth. 
What to Do 
As aforementioned, Scottsdale is very hot and the population really does wake with up with the sun. The best way to get to know the nature-scape is a hike through the Sonoran Desert. An alternative, and perhaps most important activity in Scottsdale, perhaps a kayak trip on Salt River. Desert Voyagers organize stand-up paddleboards and kayaks lazily floating down the river where you might cross paths with wild horses and natural swimming pools. It is also the place like to meet locals and spend a morning outside and refreshed. For those willing to wake up even earlier at 4 am, you're ready for a Hot Air Balloon ride over Paradise Valley. The swoon-worthy vistas of the sleepy desert and the waking sun are source-inspiring.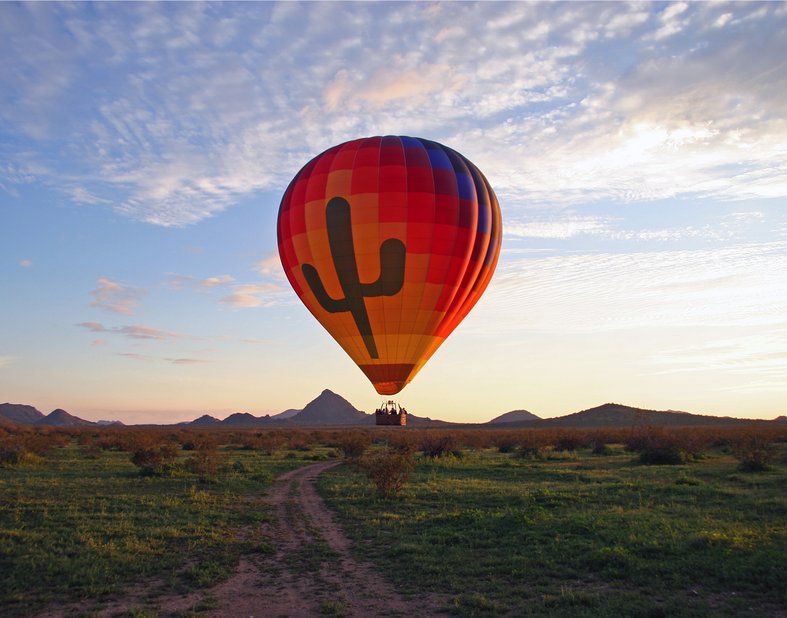 Hot air balloon ride over the Sonoran Desert
Ultimately, it would also be a pity to miss Taliesin West by Frank Lloyd Wright when visiting Scottsdale. The knowledgeable guides paint the life of the renowned architect and his students in Arizona and delve into why he had loved this region so much. In fact, plenty of his students stayed back and some still live in the region proving that there really might be something in the water.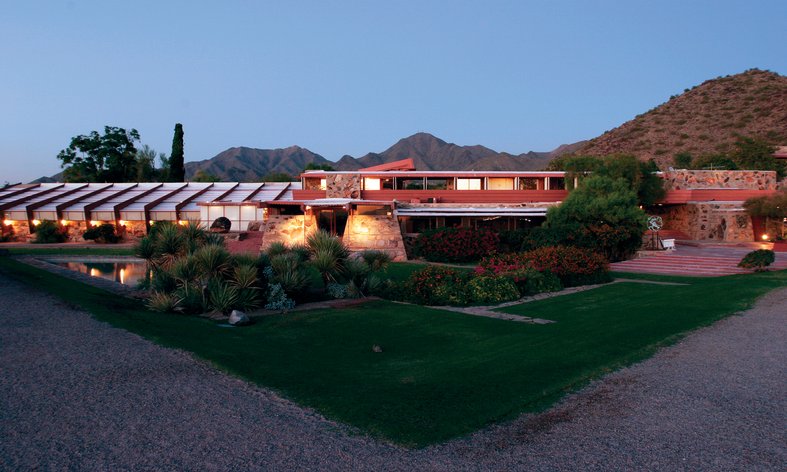 Frank Lloyd Wright's Taliesin West 
Back in town, a hop of contemporary galleries and exhibitions is open to the public. The city's newest exhibition for the summer is called Wonderspaces featuring an array of light installations (all Insta-worthy.) 
Where to Eat & Drink  
Exercising your appetite, the desert ultimately drives you to crave an entire feast. Fortunately, and to some surprise, Scottsdale has a knack for novelty restaurants and bars that one would be more likely to find in Brooklyn. For a gastronomic experience, FnB offers the towns yummiest delights organized in order of mostly organic vegetables. Alternatively, a contemporary Latin tradition helms at The Mission where just about everything contains avocados– not only the guacamole and margaritas (must have!) The town's cafe and restaurants are belly-treat with other stops like Diego Pops for revisited Mexican food, New Wave Market for traditional American brunch and icecream, Farm & Craft for outdoor dining, Berdena's for the best coffee in town, and Hula's Modern Tiki for Polynesian food.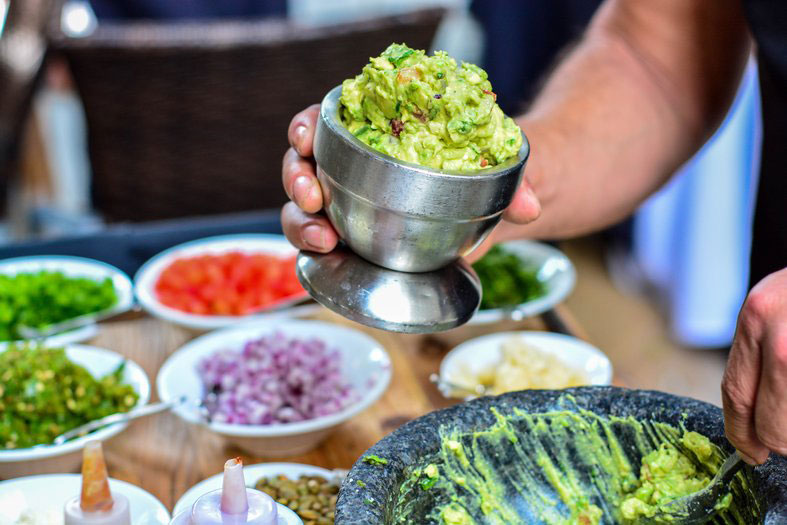 Guacamole prepared tableside at The Mission 
Despite all the mentioned restaurants boasting exceptional cocktail menus, Second Story Liquor Bar and The Canal Club are worth an extra mention. The city also has a specific entertainment distinct where all bars and clubs (some featuring pools) are located within the same several block region and accessible by $1 golf cart taxis seen in town.