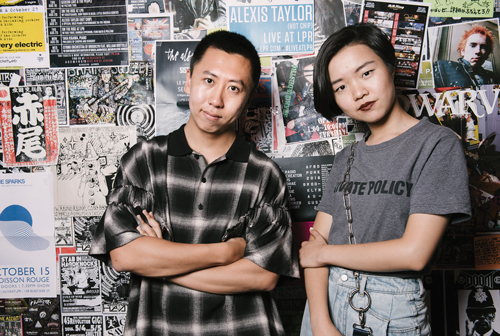 Power Play: We talk to Design Duo Private Policy
Portrait shot by Joshua Scott. Editorial shot by Brian Higbee.
Styled by Henna Koskinen.
Since launching in 2015, contemporary label Private Policy has quickly become a city staple. Already seen on high-profile figures like Kendall Jenner and Bella Hadid, and frequently captured in the nightlife circuit, the design duo has rapidly gained a loyal following and laid a sturdy foundation in downtown Manhattan.
Private Policy was founded by Haoran Li and Siying Qu, who met while at Parsons School of Design where they bonded over their senior collections—a similar success story stems from Jack McCollough and Lazaro Hernandez, who would go on to build Proenza Schouler after also receiving glowing praise for their senior collections. "We graduated at the top of our class and received [significant] press coverage for the thesis collection," the designers share via email. "After research and discussion with friends in the industry, we realized that many young people are looking for clothes that match their social and political beliefs. So we founded Private Policy with an activist spirit in mind."
This urgency to immediately go out and create something is reflected in their collections, which capture the essence and ambition of youth, something that is abundant in a city that continues to draw in young creatives year after year. "We think New York's biggest treasure is how easily people connect. From Williamsburg street castings, to coffeeshop sociopolitical conversations, to wine bar socializing, to 'really making friends' in nightclubs."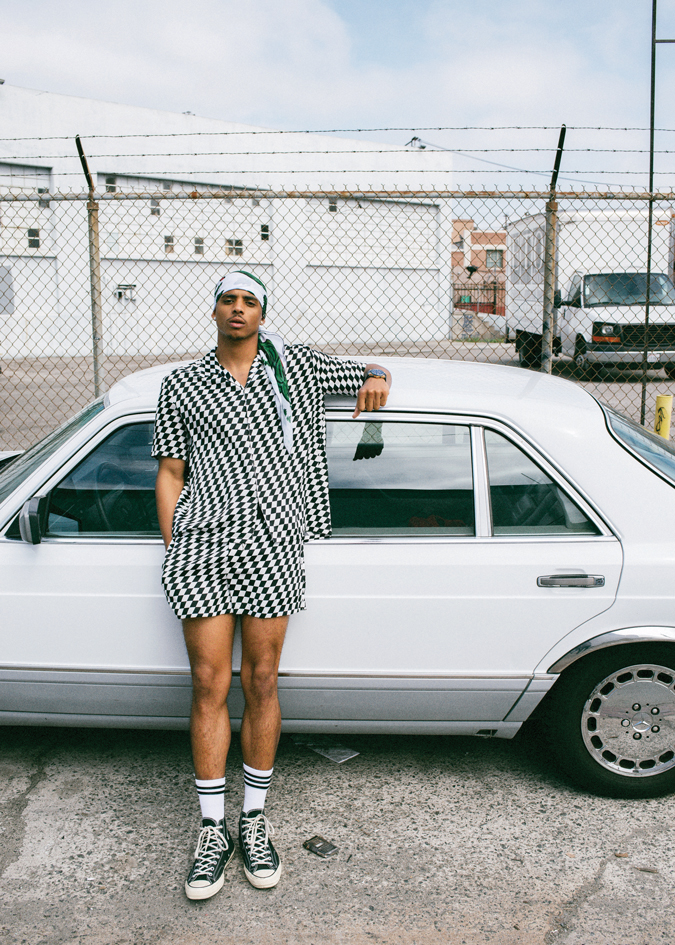 The duo cites the downtown club kids among their biggest style influences, something that's evident in their work. Consequentially, their clothes are regularly seen on nightlife personalities. It's this type of self-fulfilling inspiration cycle that effectively drives the brand forward, further cementing their cult status. "Our customers care about creativity, style, quality, and, of course, many of them are touched by our sociopolitical concepts, and become fans because of that."Social and political issues continue to dominate the larger cultural conversation, and Li and Qu are integrating that into their designs. While the fashion world and society as a whole begin to acknowledge alternative gender expressions, Private Policy has maintained a gender-neutral stance since its inception. "We started the brand with genderless concept in mind. Today, it's become a trend and bigger cultural movement. We are very glad about that. We developed a unique sensibility to create clothes that enhance the wearer's personality."
An increasing number of major retailers have seemingly embraced a gender-neutral approach by releasing capsule collections meant to be unisex. However, many attempts have been criticized as lazy, with brands opting for traditional jeans and T-shirts and slapping a gender-neutral label on them for the sake of promotion. Private Policy goes beyond that.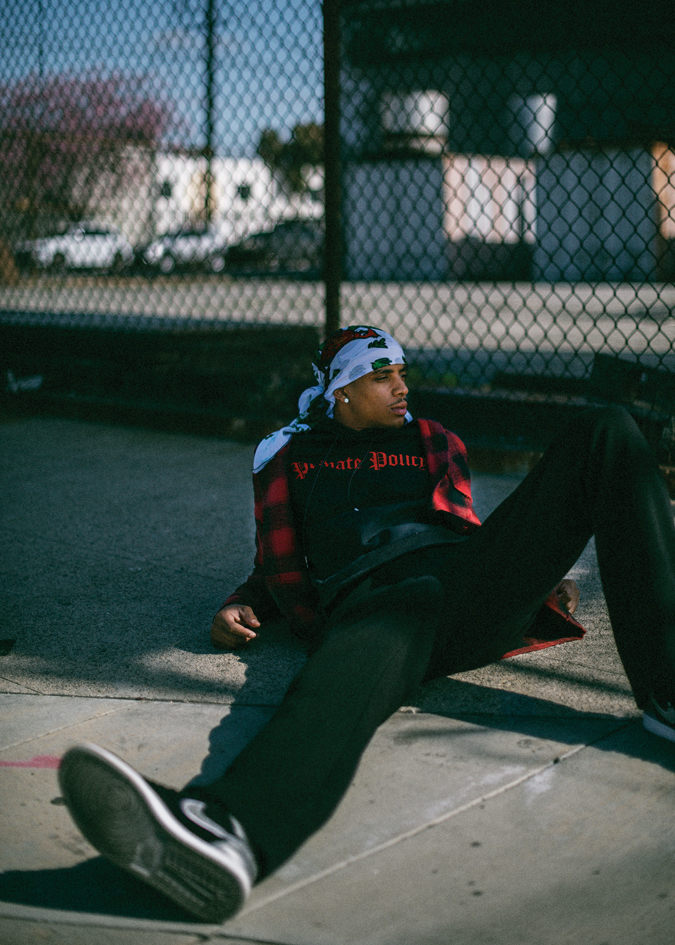 "The combination of silhouettes and fabrications make the collection very versatile. Our checkerboard print windbreaker jacket brings out the swag and cool in a guy, [and] it can be easily transformed into a sexy jacket dress for a girl. We don't need to force the genderless idea onto people. If the clothes look good, why would they care if it is [for] men or women?" Private Policy's clothes truly do reflect a sincere ethos—garments are designed with adaptability for a variety of different body types. Traditional clothing silhouettes are deconstructed and abolished, enabling new forms to rise. Having a point of view and utilizing any position of visibility is important to the designers, who routinely incorporate political stances into their clothes. Each collection can be tied back to a specific issue that it aims to confront, and that influences the approach, design, and presentation.
While the label maintains a strong basis in the city, their political engagement extends far beyond the United States. The most recent collection for Fall 2018 was heavily influenced by Charlie Chaplin's The Great Dictator (1940), which mocked former authoritarian leader Adolf Hitler. Today, it's a commentary on the "loss of the American dream," accomplished by combining altered military wear with classic American patterns and colors. Another standout collection for Spring/Summer 2017 was inspired by the abusive work conditions facing fishermen in Asia. The brand repurposed vinyl and plastic (materials associated with traditional fishing attire) to make a statement that represents the conflicts and corruption of the global industry.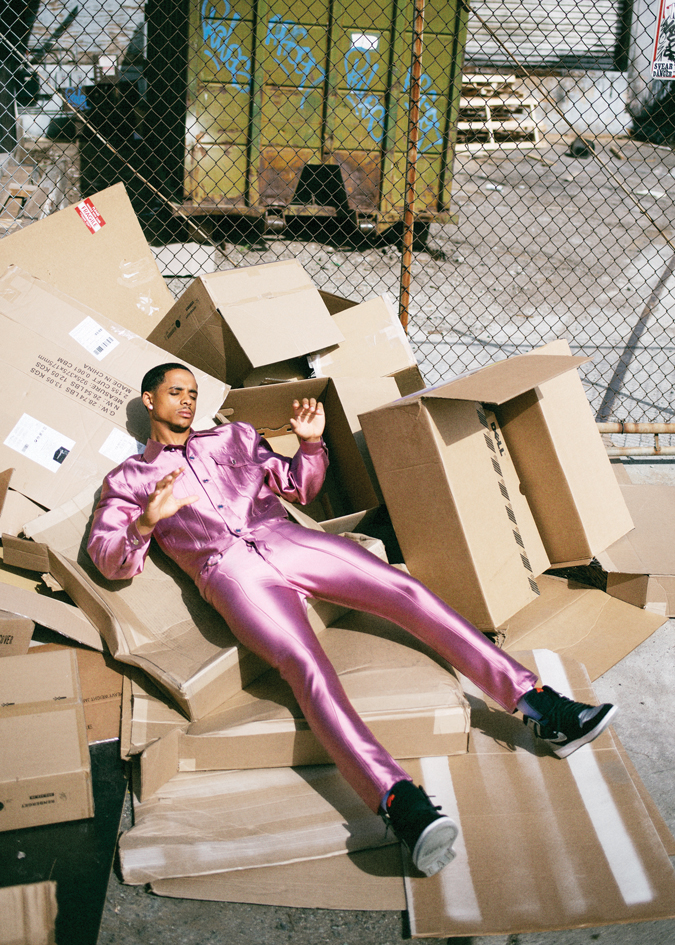 "We think what makes fashion exciting right now is how it is supporting activist causes. Private Policy was founded [using] sociopolitical issues as inspiration. We want to be one of the pioneers in fashion, to talk about social issues and political topics through our collections."
In a time where revolution and radical self-care are dominating a generation, the label remains perfectly at the crux of political activism and nightlife. And while its name might hint at a sense of mystery, it's clear that Private Policy is emerging front and center.
This article appears in the Summer 2018 issue of ESSENTIAL HOMME.