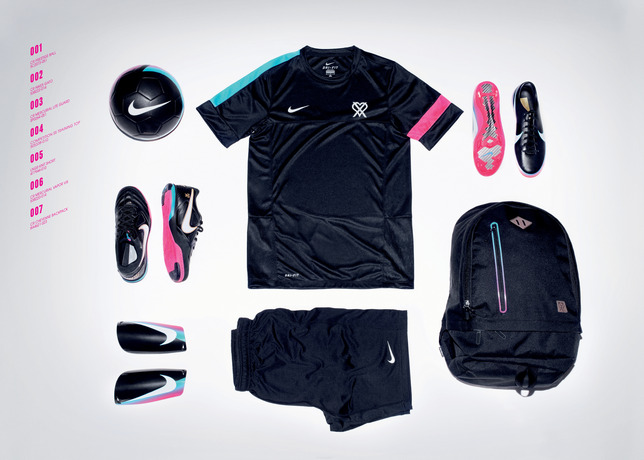 New Today! Nike + Cristiano Ronaldo CR7 Collection, "Love to Win, Hate To Lose"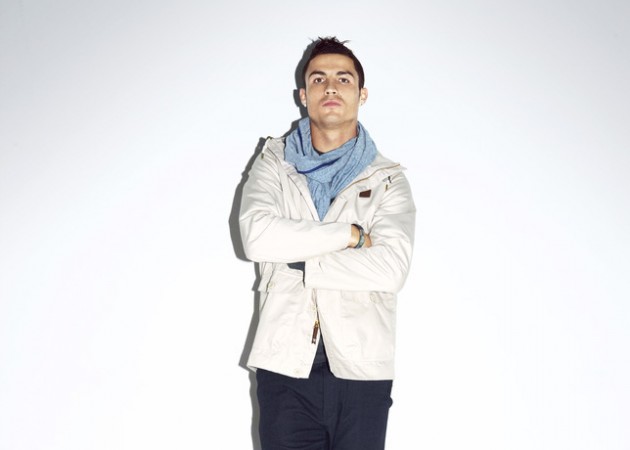 Available as of today, Nike's CR7 is a sly on-and off-pitch collection that blends the uncompromising on-field attitude of one of the world's best soccer players—Cristiano Ronaldo with his irreverent, bold style civilian style.Unified by a striking graphic logo of a heart (symbolizing a love of winning) slashed by an X (representing a hatred of losing), "Love to win, hate to lose" is a philosophy that informs and appears on every piece of the collection. This mantra also reflects a collection that reveals two distinct sides of CR7 – a relentless, focused footballer at the peak of his power, and a more, playful and spontaneous style icon with a love of music who lives life full-on. Performance-inspired pieces feature premium fabrics and rich detailing that incorporate a classic color palette of blue, black and grey with a thoroughly modern twist of blue and pink detailing on key performance items marking CR7's individuality. Cristiano's signature CR Mercurial Vapor VIII boot is reworked in classic black and white. A pink plate fades upward from pink to blue, which is sure to stand out on pitch. Additional training items — a short-sleeve top, Mercurial shin guards and CR Nike 5 Gato shoes, plus a backpack and Prestige ball — all feature this striking black, blue and pink fusion. Bridging on and off-pitch, the blue, grey and black lifestyle collection elevates classic styles with modern tweaks and singular details that reflect Cristiano's obsession with perfection.  (More after the jump)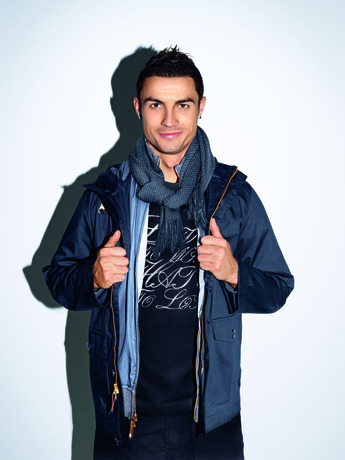 The grey crew neck sweatshirt features suede elbow patches as well as a subtle embossed leather patch logo, while the clean, button-down Saturday Jacket (in off white and blue) boasts a similar logo, leather drawstrings, button closures and front pockets. The water-resistant fabric and zipper keep wet weather at bay. The Track Jacket incorporates advanced front blocking, and each piece within the collection is precisely cut. The CR7 T-shirt confidently proclaims the "Love to win, hate to lose" attitude with a bold emblem, while the core t-shirt takes a more literal approach, writing out the mantra in ornate Portuguese calligraphy that speaks to Cristiano's heritage.  A Wardour Max 1 chukka boot takes a running classic and adds an urban twist with fresh colors inspired by the Mercurial Vapor VIII boot.
Check the entire collection here!