Mike Amiri Discusses His Inspiration for Spring/Summer 2020
During Paris Men's Fashion Week, we caught up with Mike Amiri to discuss his inspiration for a co-ed Spring/Summer 2020 show. Deeply rooted in the counterculture of Woodstock, Amiri's newest collection is an ode to the careless years of freedom and human connection the festival long carried through. A musician himself, Amiri's aesthetic is shaped through music culture, rock n' roll, and also the history in between. The sense of connection to nature and other humans at festivals transcribes into a peaceful mindset and visually soothing palette of earthy tones and pastels. Crochet techniques, flower embellishments, silk material, as well as psychedelic prints and flares parade through Amiri's SS20 collection. Miki Amiri, founder and Artistic Director at AMIRI, told us more about the collection below:
EH: How would you describe the style and aesthetic of your brand?
Mike Amiri: The AMIRI aesthetic and style is an effortless LA mindset that still feels elevated and modern. The brand was born within the social media generation, so my own evolution, values, and identity have been completely transparent since the day we launched. Our personal connection to the consumer is always authentic and continues to grow organically each season – allowing us to create a culture rather than simply a customer base.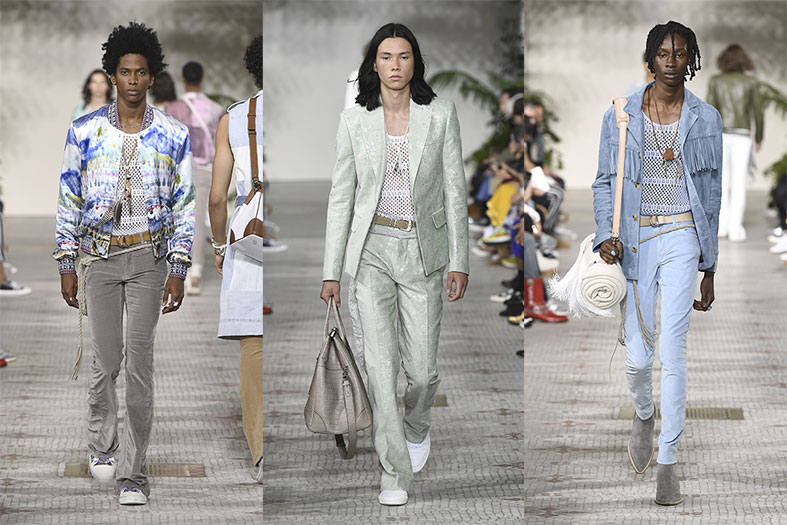 EH: What questions did you ask yourself before designing Spring/Summer 2020? What kind of reaction did you want to evoke?
MA: I wanted to elevate certain pieces while still maintaining the soul of AMIRI. The idea was to capture a lighter, fresher mood that tied in with the Woodstock inspiration, in this sense I wanted guests to walk away feeling energized and excited.
EH: Most of your production is LA-based and done by hand. Why was this important for AMIRI? What other efforts do you foresee implementing down the line?
MA: The majority of the collection is made in Los Angeles, using the finest materials sourced from around the world. We have also begun producing many categories, such as footwear and tailoring, in Italy, which requires a lot of travel to the factories to ensure the brand's West Coast spirit is still connected to the finished product.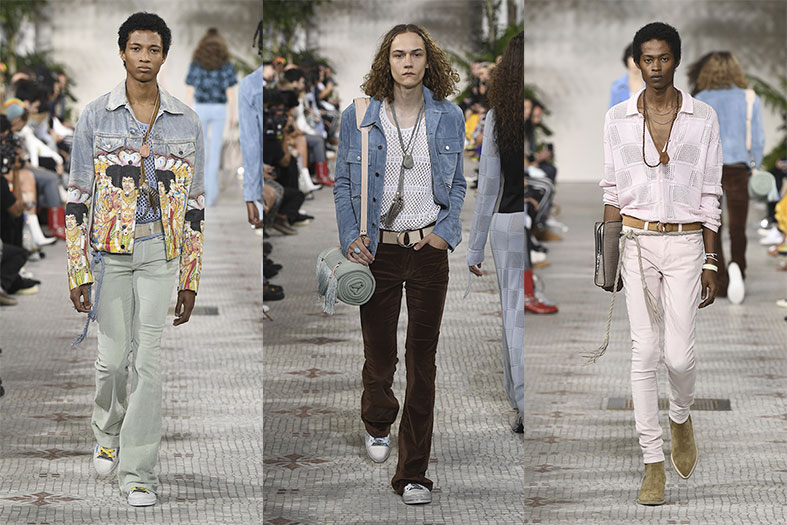 EH: What is your contribution to the denim world? Why did you see a need to revolutionize this particular area of fashion?
MA: Traditionally a denim consumer would primarily look towards denim brands to find what they need. However, today's consumer is not only looking for a product but also an experience based on quality, individuality and a deeper understanding of a brand's universe. Offering a complete, merchandised collection where denim is a piece of the story and not the whole story allows for this greater connection.
EH: What are some of your brand's goals for the foreseeable future?
MA: I feel that we've established a strong foundation for our menswear business, so now we're looking to give equal attention to womenswear, which is gaining momentum every season – especially SS20. We plan to continue with very selective distribution and a strategy of strict luxury placement around the world. It's important for us to continue to evolve while staying true to who we are as a brand.