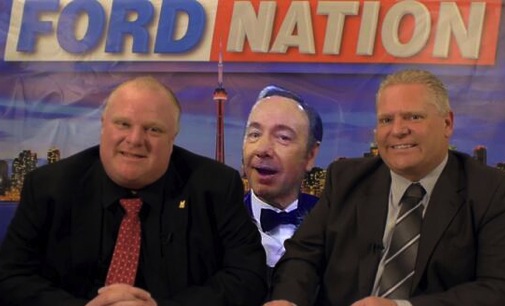 Mayor Rob Ford and Kevin Spacey's Feud is Incredible
Categorize this under 'feuds we didn't know our Monday could benefit from,' as we catch you up to speed on the ongoing fight between everybody's favorite crack-smoking-Mayor who refuses to resign, Rob Ford, and everybody's actual favorite House Majority Whip, Frank Underwood (AKA Kevin Spacey). It all began two weeks ago, when the House of Cards actor cracked several jokes about Ford during his sit-down interview on Jimmy Kimmel Live after a brief cameo by the real life Mayor. Spacey's jokes, categorically harmless, included: "That's the first time I've had to follow a Ford, and one that was so banged up," and in reference to sharing a dressing room with each other, "Well, he threw up all over it, but those are the chances you take."
Not missing a beat (if you don't count the nearly two weeks since the "incident"), Ford and his brother Doug Ford took to their youtube show "Ford Nation" on Friday to blast the Academy Award winner. During the rant, their biggest complaint seemed to be Spacey's unwillingness to pose for photos with the duo. Noting that their enemy is an "incredible actor," Doug Ford blasted Spacey calling him an "arrogant SOB" and asking him directly (note: he was, in fact, watching), "Kevin, why don't you get off your high horse and be real and take pictures with people?"
Ready for the best rebuttal ever? First: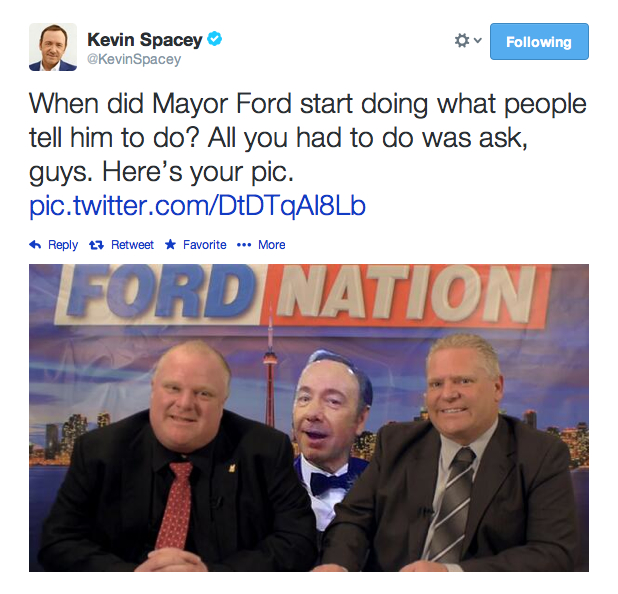 While that more than sufficed as comeback's go, it got even better when Spacey tweeted the link to 
"Kevin Spacey With Common Folk"
tumblr with the caption: "Here is a page full of pics of me taking pics. He shoots, he scores! And that settles that!" It really does.
Image courtesy of Twitter.