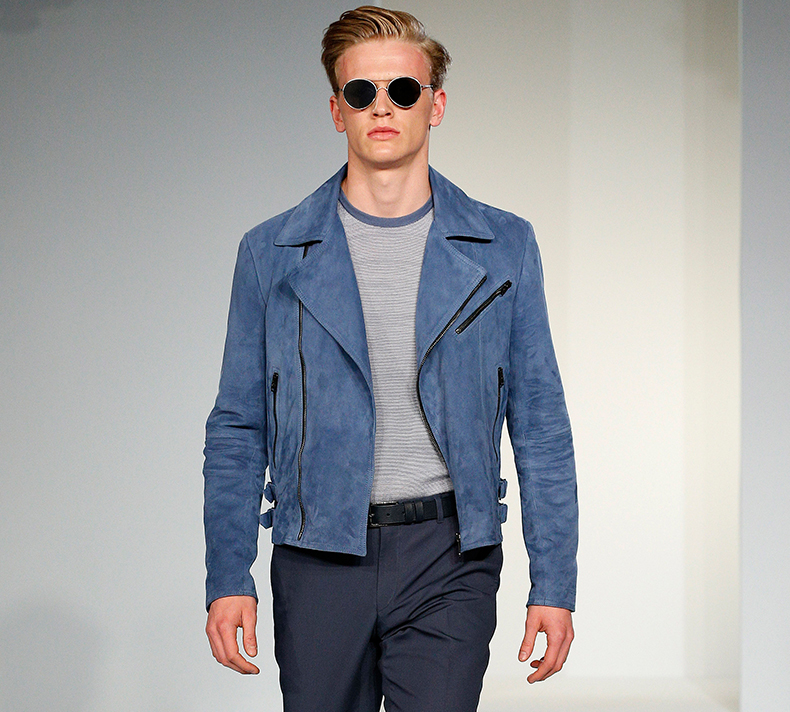 LCM: Reviewing Gieves & Hawkes SS15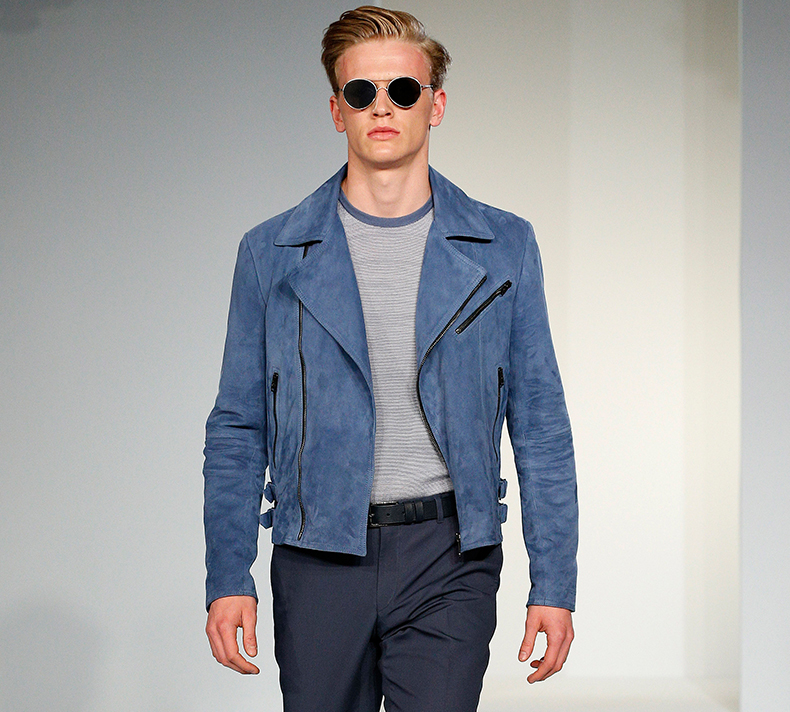 Image: Gives & Hawkes.
Quintessentially English brand, Gieves & Hawkes, gently splashed waves of Summer nostalgia for the British coastline in its Spring/Summer 2015 collection earlier this week. Tones of ocean greens, marine blues, sand, and ivory transported us from an urban location to a different world in a collection that was as expectedly sophisticated as it was luxuriously understated.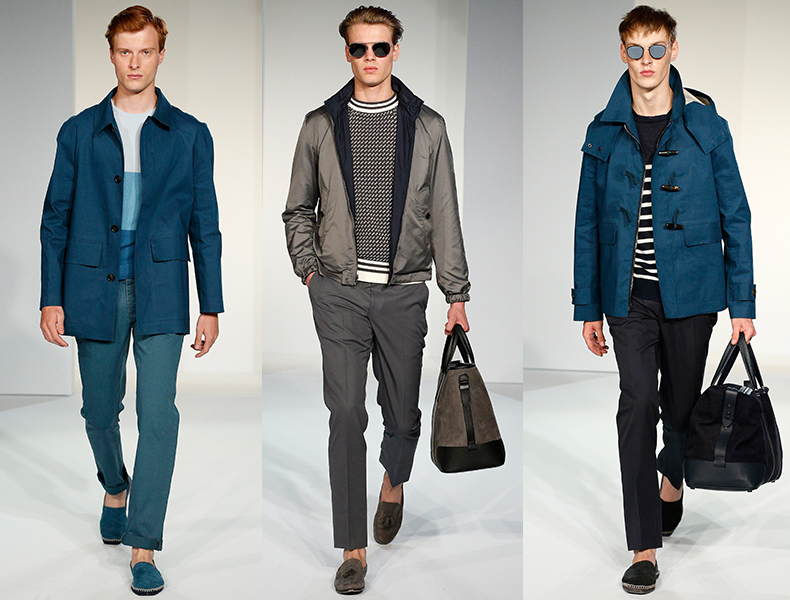 Image: Gives & Hawkes.
Of the cool palette: tailored grays were softened with bits of earthy naturals, while darker hues were given a modern edge, paired with contrasting navy. Highlighting the brand's Savile Row precision—it is most known for its bespoke service—it is the details of technique in the SS15 collection that makes it strong, be they Gieves & Hawkes' formal tailoring, casual knitwear, or smart pairing of a denim jacket with sand coloured chinos.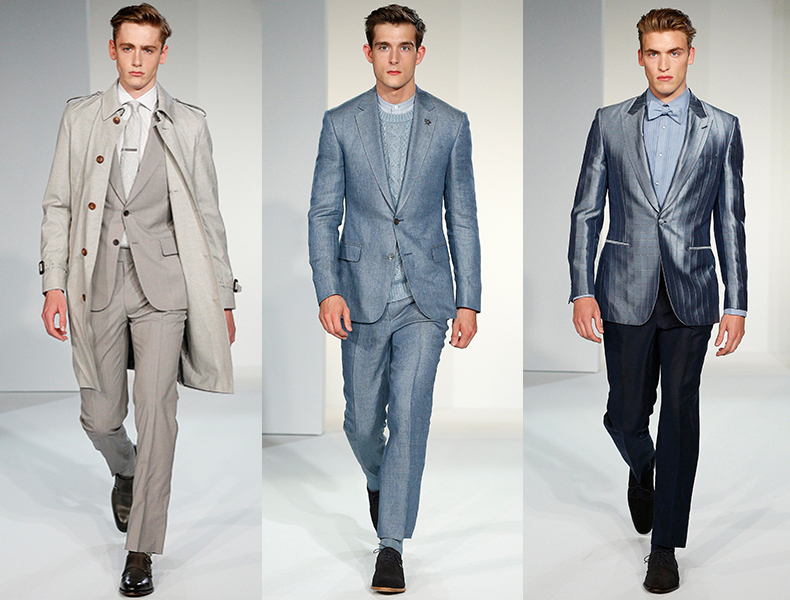 Image: Gives & Hawkes.
Nautical stripes featured on the knitted shirts and structured blazers echoed the coastal feel, while a waxed cotton Parka—a key piece for the season—and outerwear constructed from other waterproof materials appeared, also referencing the unpredictable conditions of the English Summer. Easily-slip on shoes donned the models' feet, a reoccurring footwear theme with other LC:M brands this season, and featured weekend bags showed the flexibility and simplicity for the busy wearer. Finally, outfits were finished with linen scarves, light pocket squares, cool neckwear, and eyewear inspired by the military.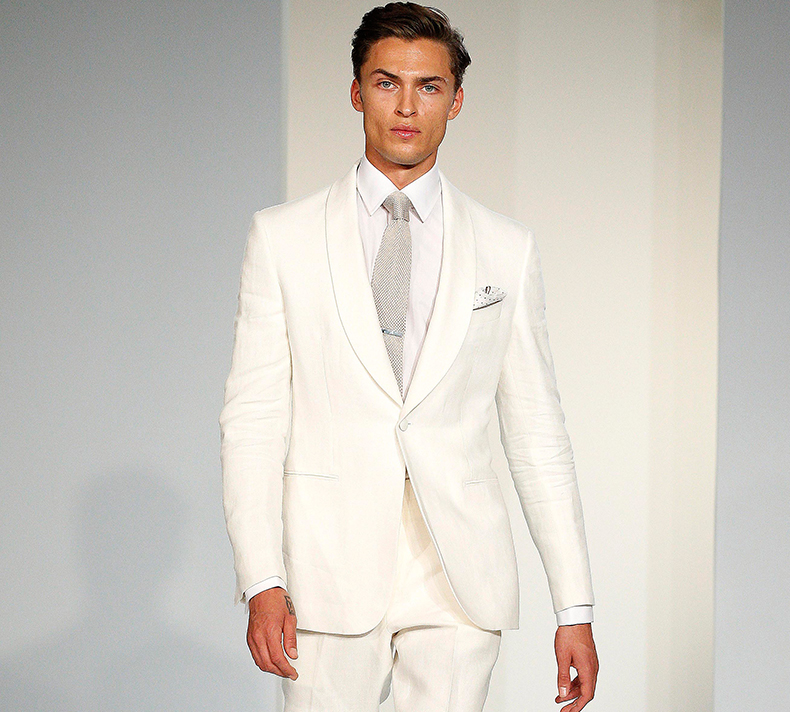 Image: Gives & Hawkes.
Through it all though, Gieves & Hawkes—true patriots to English heritage and uncompromising on quality—showed that the brand still maintains all of the eveningwear to be hand-made in Great Britain.