Kobi Karp Talks About Miami's Newest Sustainable Tower
Miami architecture is a separate concept of its own both historically and now facing rising environmental concerns (namely waves and floods) leaving architects and designers to find innovative solutions. Pioneering Miami design, Kobi Karp and Jean Nouvel have designed a luxury condominium called Monad Terrace that hangs over Biscayne Bay as the ultimate example of sustainable, resilient, and chic design.
"I think Monad Terrace is certainly a step in the right direction and its vernacular of being environmentally conscious to the neighboring buildings and around Biscayne Bay has been historically the DNA of this architecturally-rich environment," commented Karp. Alongside the prize-winning architect, Kobi's firm took the project a step above Miami Beach — literally. The building lobby has been raised a level just above a lagoon visually deceiving as if pouring over from the bay.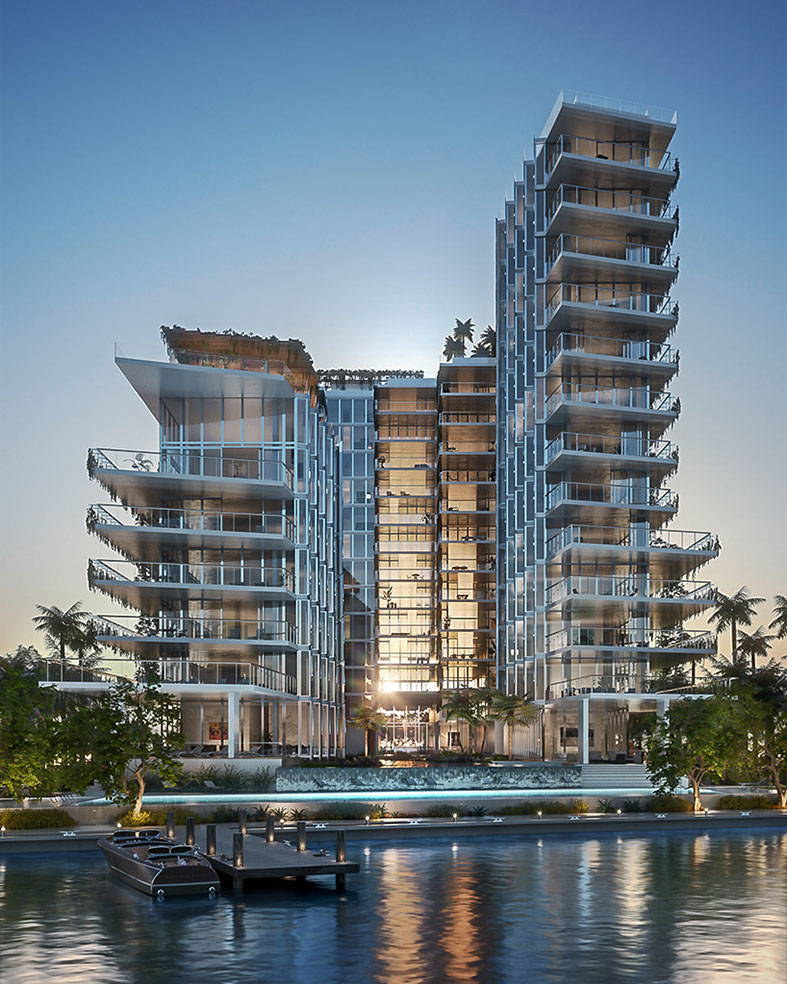 Monad Terrace.
Monad is set to be the first of its kind in the Biscayne area, but also quite the norm for Korp who's background is originally in environmental design. He is passionate about environmental aspects of a construction site– building vertical gardens, adding water elements, and always a unique facade. Monad's facade is a translucent screen system in a honeycomb pattern that captures, diffuses, and reflects incoming light framing views and adding that extra bit of sparkle to each nook. 
The building itself is a J-shape to the south side with an erect point on the northwest corner. The rest is dramatic and undeniably sleek. As the tropical breeze floats over the water it cools and then saunters through the vertical gardens offering a fresh repose from mucky local weather.
Karp has worked on The Four Seasons in Fort Lauderdale, the 1 Hotel in South Beach, The Surf Club, and Fisher Island to name a few. "We are designers that look at neighborhoods and the context and create the DNA of the projects," says Karp. "I see that buildings are a unique opportunity to create a sculpture in each and every location." With that, Biscayne Bay is about to get its most epic sculpture estimated by the end of the year.