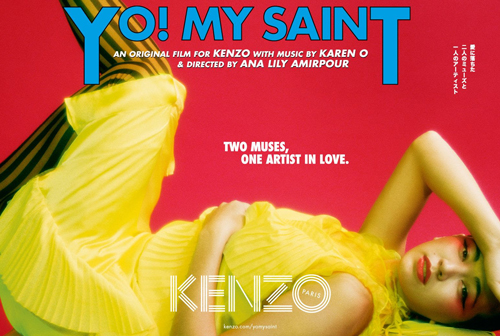 KENZO Collabs with Karen O for First Original Song
KENZO released a dazzling 9-minute video to represent the inspiration behind the Spring/Summer 2018 collection. The clip takes a trip through the psychedelic mind of a photographer tempted by his muse while at a photo shoot with another model.
The soundtrack accompanying the video marks the premiere of KENZO's first original song, "YO! MY SAINT," written and performed by the Yeah Yeah Yeahs' frontwoman and general downtown icon Karen O, perfectly accompanying the sultry scenes. O worked together with Ana Lily Amirpour on the production of the clip – the final product clearly a result of seamless conversation between a female artist and director.
The inspiration comes from two historic female muses of the brand, Japanese model and actress Sayoko Yamaguchi, and musician Ryuichi Sakamoto, as protagonists in the clip. With a melodramatic, sensual atmosphere of neon pink lights, the film begs the comparison to a 80's record cover.
Fittingly, a limited-edition vinyl of "YO! MY SAINT" will be available in KENZO stores and online starting January 22.