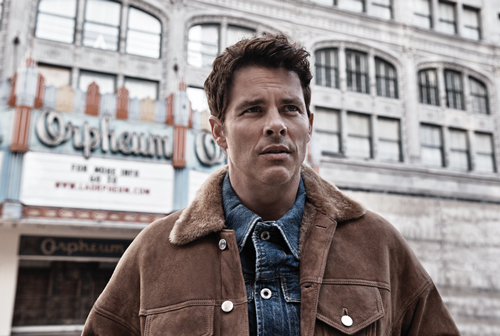 James Marsden is a Sight for Sore Eyes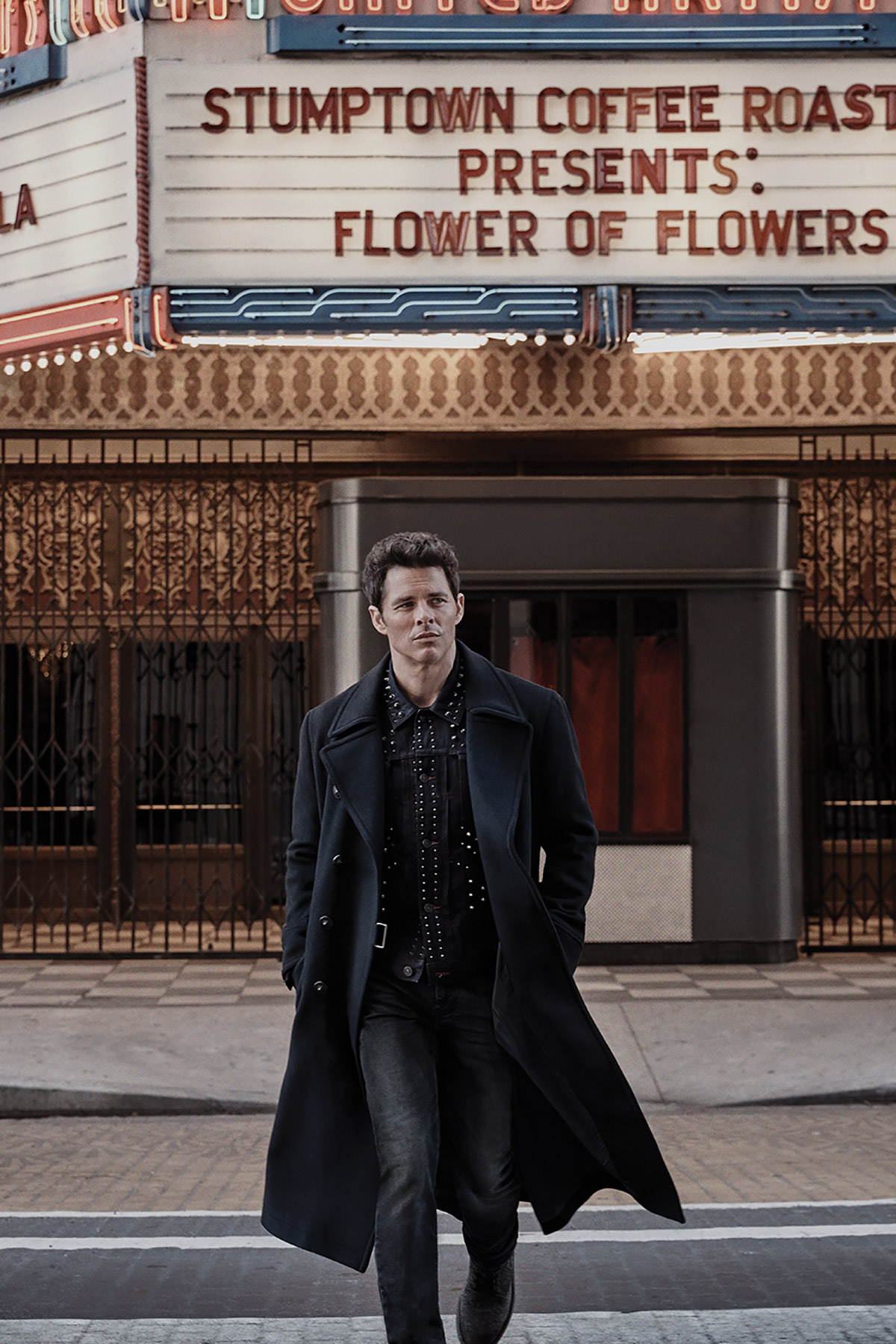 Wearing Saint Laurent by Anthony Vaccarello.
Photographed by Christopher Ferguson.
Styled by David Bonney.
Sometimes it's better to be a household face than a household name. If you're recognized for your face, you're recognized for your work, perhaps one of the greater honors that can be bestowed upon a performer. James Marsden—an actor whose filmography reveals no distinguishable pattern, no sole interest in genre, story, or character—is hyper-aware of the place he has and continues to occupy in Hollywood. He's appeared in projects as diverse as the X-Men series, 2007's fantasy musical Enchanted, 2008's romantic-comedy 27 Dresses, and now HBO's explosive Westworld, and when asked about how he chooses his roles and if he's particularly selective, he's quick to interrupt with a cute, yet blunt "not really."
Marsden, 44, isn't sloppy, careless, or ungrateful though. If anything, he's open and flexible. Throughout our conversation—over Old Fashioneds at the Ace Hotel in downtown Los Angeles—he often inhabits the voice of a hypothetical film critic. He likes to talk about his image, choices, and career from the outside looking in. "You can always look back and go, 'Oh, why did you do that movie?' But you could also look back and go, 'I can see how he might confuse studio executives. What do I do with him?'" he says.
He narrows in on a type he's found himself playing a lot: the lovesick puppy who doesn't get the girl. And he sees how he got that reputation. It happened when Rachel McAdams chose Ryan Gosling in The Notebook, the 2004 romance that made stars of both aforementioned actors. It happened when Jean Grey couldn't help but fall for Wolverine over Marsden's broody Scott Summers in X-Men: The Last Stand (2006). It's a pattern he brings up on his own accord, but is quick to dismiss. "I look at [these roles] through my own objectivity, if I have any. Like, 'Oh. You were having a great time. Those are the ones that you actually forgot about the camera.' Anyway, I was reminded of how much an audience really enjoys somebody having fun."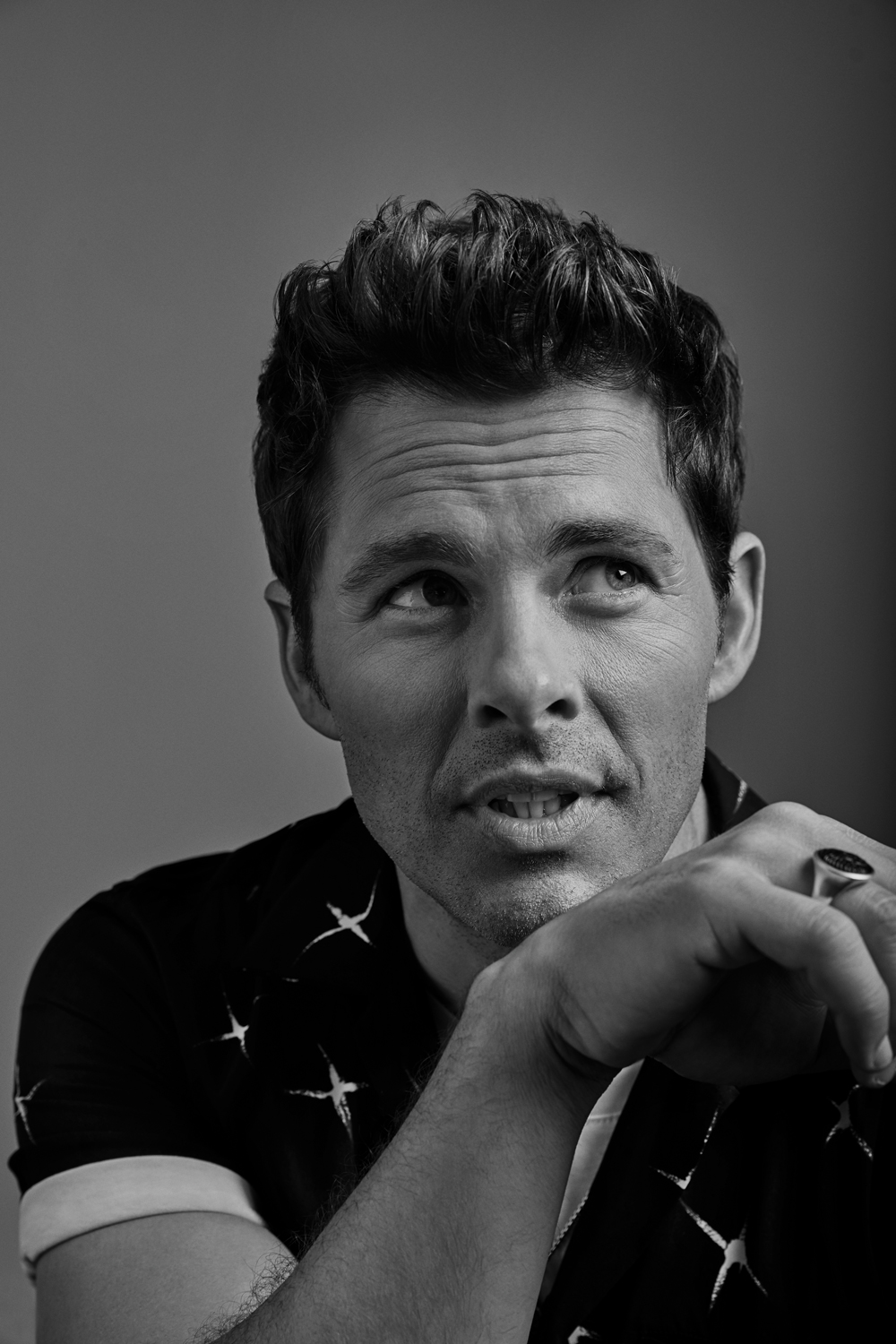 His perception of his own work is charming and his preoccupation with enjoyment doesn't come off as lackadaisical or unnatural—Marsden is someone who is just happy to be working, which feels all the more genuine as he describes that familiar, life-changing move he made from Stillwater, Oklahoma, where he was born and raised, to Hollywood when he was 19. He's not the first to do it, but he's one of the few who have been able to reap the rewards.
"LA was this Oz in my head. What could I possibly lose? The idea of doing that, of someone patting me on the back and telling me in eighth grade that 'you're really good at impressions' or 'accents' or 'you come alive when you're onstage,' 'something happens where people just want to watch you'— it felt good to hear that."
So he moved to LA, and was fortunate enough that his parents, who sensed that he was diligent about this dream, offered him support for his first year. Like many, he also had a family friend (someone in the industry) who got him into auditions. Marsden describes his journey with ease, always asserting that so much of "making it" has to do with luck as well as privilege. It may be true, but there's something about him—perhaps what could stereotypically be described as a Midwest earnestness—that's enticing. He's self-assured, but never a braggart. "I just went in [to auditions] with the biggest—there's this article I just read a couple of days ago. What is it? BDE? Big Dick Energy. I went in with that at 19 not even knowing what that was." Marsden alludes to the recent viral buzzword, a way to describe a cool, collected confidence. Naturally, the jobs started pouring in.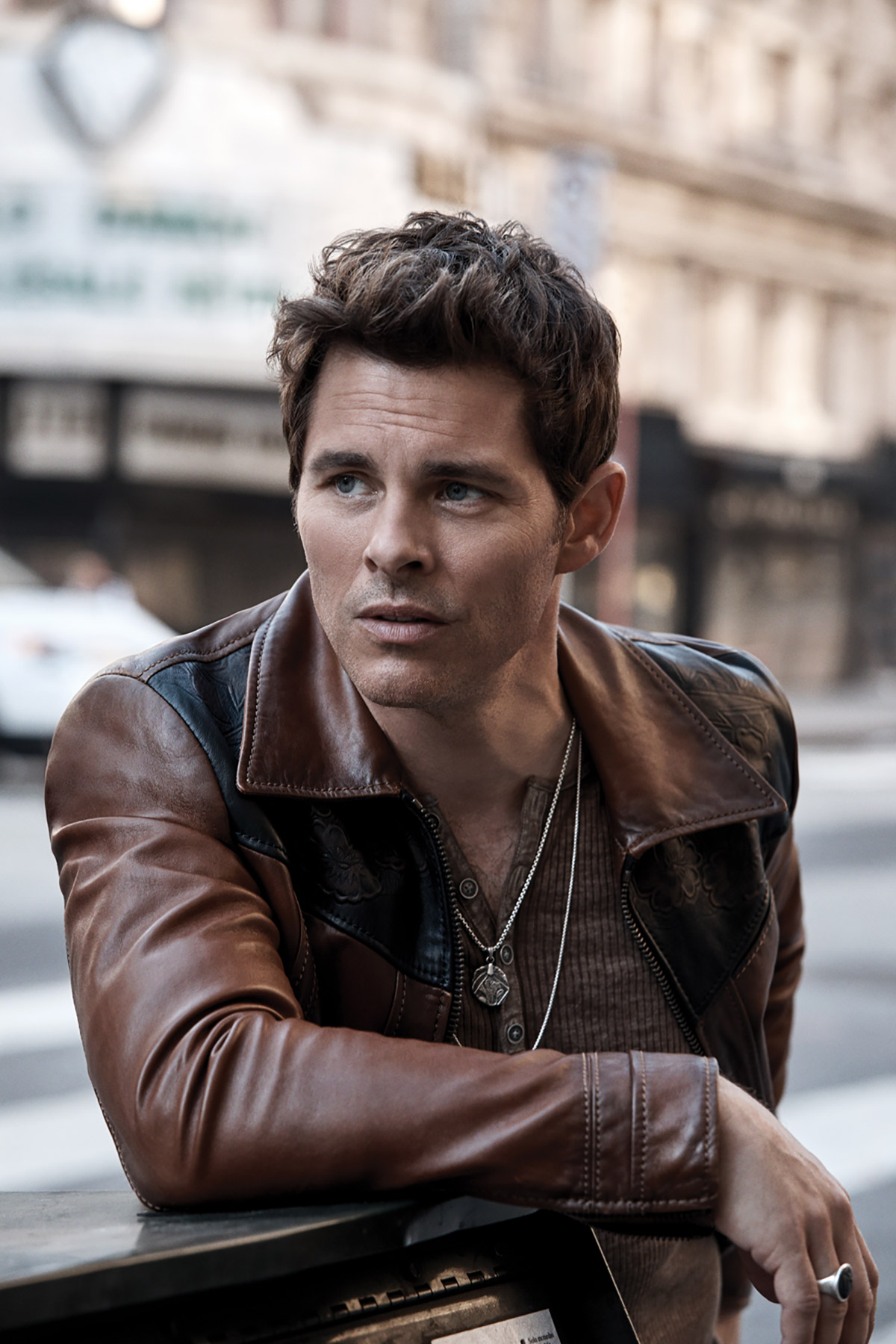 And as random as these jobs may appear to be, Marsden—even when he isn't playing a lead role—has managed to appear in several truly great projects. He had a showy, singing part in Hairspray, a high-profile 2007 remake of the John Waters classic, played a douche frat bro-type in Bachelorette (2012), writer Leslye Headland's almost anti-Bridesmaids film, and, perhaps most impressively, a recurring stint on the Emmy Award-winning NBC sitcom 30 Rock as Liz Lemon's final love interest (he gets the girl!). Then there's Westworld, his most recent and obviously challenging opportunity.
In the series, an epic, ensemble sci-fi work from Jonathan Nolan and Lisa Joy, viewers are introduced to an Old West-styled theme park filled with sentient robots called hosts. For a fee, humans can enter the park and interact with designed storylines and characters. Marsden plays Teddy, one of the park's heroes, who—at first—seems like a John Wayne clone, until his world is turned upside down upon discovering that he's pretty much a toy created for the amusement of humans.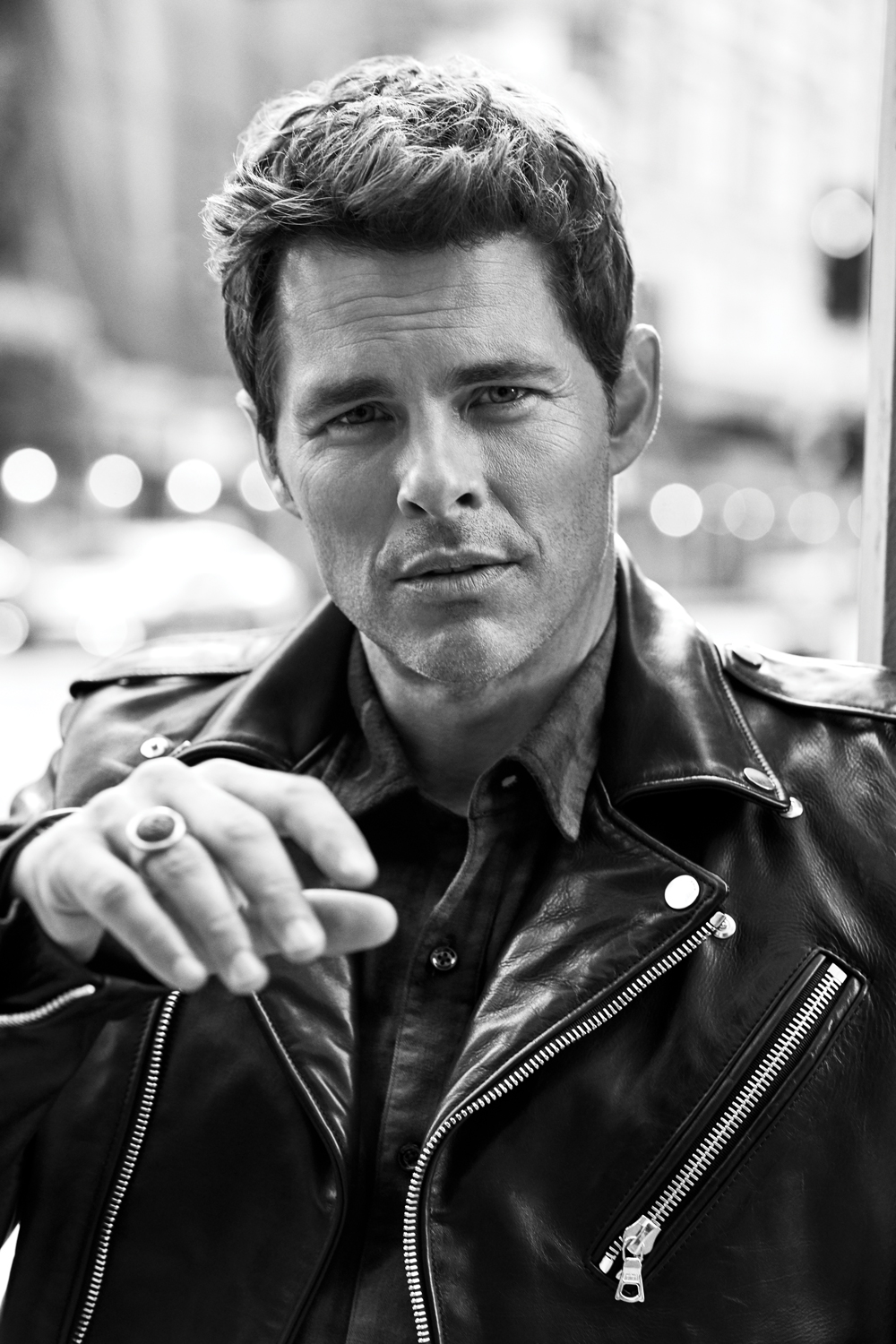 It's a smart role for Marsden, who must register as several things at once: Teddy has to be tough, has to outwardly perform as his character was designed, but also as someone who is slowly becoming aware of what he's forced to do—either by the human beings who made him or, in season two, by Dolores (Evan Rachel Wood), a rogue host who wants to give the humans a taste of their own medicine. Teddy as the unwilling pawn makes him the heart of the show.
"We are making a show about robots having more humanity than humans do." It's an interesting, poetic part for Marsden, who is often a senseless killing machine, but one we must see through. There has to be a softness on his face somewhere, an understanding that there's some inner turmoil. He has to look like the lovesick puppy again.
While season two of Westworld has wrapped and Marsden's involvement in its future remains uncertain, he's slated to appear in Quentin Tarantino's upcoming star-studded Once Upon a Time In Hollywood, a drama about the Manson Family murders. "What can I say about it?" Marsden begins. "Very little. Other than, wow."
This story was lifted from the Fall 2018 issue of ESSENTIAL HOMME, available now.