It's Been A Long Week: Burning Birds

As true believers of the work hard, play hard mantra, we present you with It's Been a Long Week, a weekly column aimed at awarding some liquid appreciation to you for just being yourself, dammit. Make yourself a glass or two, on us —  you deserve it.
Flaming rum, Macau-influence, and metal straws– can there really be a more unexpected cocktail mix? During a two month residency at Chefs Club, James Beard Award winning chef Abraham Conlon of Fat Rice is revising the restaurant's entire private dining room into a pop-up of his Chicago-based lounge Ladies' Room. Inspired by the red-light district and hall-in-the-wall gambling rooms for the Chinese city, Conlon brings the hot and vibrant vibe to NYC. He puts everything but the expected on the menu– prepare for a unique experience! Santa Teresa rum and Cruzan Blackstrap rum take a tropical turn with pineapple juice, more pineapple rum and even molasses. The drink comes in a pot for four, or one?
Ingredients: 
(serves four)
2 oz Santa Teresa Añejo
2 oz Cruzan Blackstrap Rum 
3 oz Amaro Lucano 
2 oz Plantation Pineapple Rum 
.5 oz Demarara Syrup 
3 oz Contratto
.5 oz Molasses
3 oz Pineapple Juice
3 oz Lime Juice 
.25 oz Calamansi Juice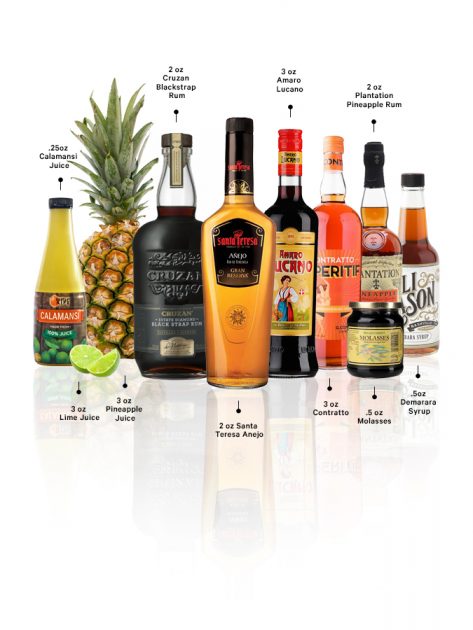 Method: 
Pour over crushed ice and garnish with mint sprigs, orange peels. Then fill a dried half orange peel with 1.5 oz overproof rum (151 proof) and light on fire. Present the drink, then extinguish the flaming rum by pushing it down into the drink with a metal straw or spoon before drinking. Add curly colorful straws and serve.
Cheers!