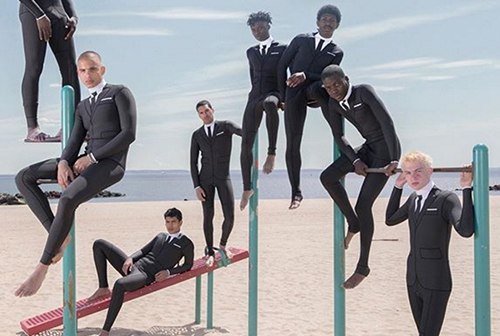 Weekly Instagram Roundup: Fred Perry, Thom Browne, and More
This week's complete social snapshot, distilled for your pleasure.
From the hottest celebrity parties to the regretful morning-after shots, ESSENTIAL HOMME's Weekly Instagram Roundup brings all of the hottest designer, model, and trendsetting pics from the week directly to you. After all, no one has time to scroll through anything but the best.
Thom Browne
Diving below the surface, Thom Browne debuted its Spring/Summer 2017 campaign in all its deep-sea glory. Shot by Wayne Lawrence, the images feature the recently released trompe l'oeil technical wetsuit, a protective layering of surfs-up attitude that debuted as part of the brand's ever-growing beachwear collection.
John Varvatos
John Varvatos' Fall 2017 campaign star Machine Gun Kelly tore up the stage at Lollapalooza this weekend, decked out in a scaly, textured jacket from the brand's collection. Self-professed as the highlight of his career thus far, the "Young Gunner" rocked out to his chart-climbing hits under the Grant Park lights.
Fred Perry
Dropping mid-August, Fred Perry took to Instagram to announce a new collaboration with clothing brand Thames. After the more somber-tinged Raf Simons collab, the Blondey McCoy-led label brings its bubbled "T" to the British brand's iconic pieces, reinventing classic cuts with bright pops of delicious color and energetic graphics.
Adrian Chabada
Model and Versace muse Adrian Chabada may have recently joined in on Donatella's glossy lip-sync project, but the runway mainstay was never too far from the Italian label's eye. Sharing a behind-the-scenes look at his Spring/Summer 2018 involvement, the cream-coated visual highlights the slim, urban-grace of the upcoming line.
Follow ESSENTIAL HOMME on Instagram at @EssentialHomme.