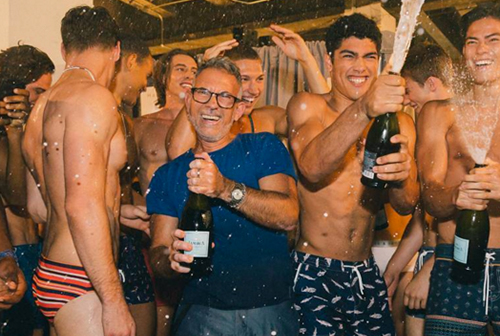 Weekly Instagram Roundup: Jon Batiste, Parke & Ronen and More
This week's complete social snapshot, distilled for your pleasure.
From the hottest celebrity parties to the regretful morning-after shots, ESSENTIAL HOMME's Weekly Instagram Roundup brings all of the hottest designer, model, and trendsetting pics from the week directly to you. After all, no one has time to scroll through anything but the best.
Jon Batiste
New York Fashion Week Men's Ambassador Jon Batiste shared a backstage pic from Raf Simons' star-studded Spring/Summer 2018 runway. The musician and band leader for "The Late Show with Stephen Colbert," who follows a self-professed "traditional with a twist" style, utilized the opportunity to return to his sartorial passion, embracing his moniker by touting custom-made and pattern-heavy pieces throughout the event.
Roger Federer
Swiss tennis player Roger Federer made history as he hoisted the Gentleman's Singles Trophy at Wimbledon this week. Winning the London championship for the eighth time, a record, the sports star secured his 19th major victory and looked good while doing it—a preference for Nike on the court and black tie off his staple styles.
Pirelli
Pirelli showcased its much anticipated calendar update, re-imagining "Alice in Wonderland" for 2018. Shot by photographer Tim Walker, the latest iteration from the high-octane vehicle brand features the likes of Djimon Hounsou, Lupito Nyong'O, Sean Combs, and Naomi Campbell for a luxurious trip down the rabbit hole.
Parke & Ronen
After walking a Spring/Summer 2018 collection of saturated pop down the NYFWM runway, Parke & Ronen celebrated in style backstage, toasting its 20th anniversary alongside one half of its founding team. Initially launched from a vest design venture, the past two decades have seen the brand grow to embrace both European haute couture and simplistic design.
Prada
Harry Styles' latest gig, starring in Christopher Nolan's World War II epic "Dunkirk," brought the popstar to France, revisiting the namesake locale for the film's must-attend premiere. Wearing Prada's Spring/Summer 2018 collection, Styles chose to accentuate the daring sea-foam look with minimal accessories and a steely gaze.
Follow ESSENTIAL HOMME on Instagram at @EssentialHomme.