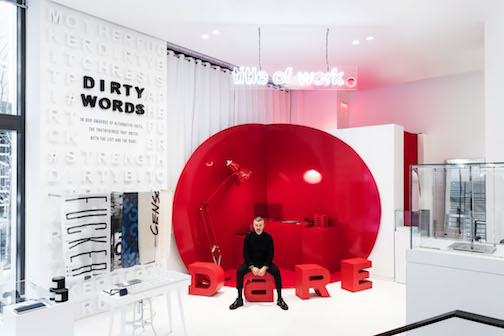 Inside Title of Work's "Dirty Words" Collection
CFDA's darling protege Jonathan Meizler gave New York Fashion Week a truly unique statement—a luxury men's accessories collection set within a politically charged pop-up at Cadillac House. Title of Work, Meizler's couture men's brand presented the collection dubbed as "Dirty Words," a compilation of neckwear, pocket squares and scarves, jewelry, and miscellaneous objects as products of the artist's feelings after the results of 2016 presidential election. The pieces however are not exactly political statements, instead they are staples of pure men's couture with political importance (that is if you look close enough.)
"The one thing that came out positive out of this administration has been this collection," says Meizler. Anxiety vs hope. Sadness vs. humor. Subtleness plus elegance. Meizler's collection is his own interpretation of these feelings. One of his ties is embroidered with the word "mother" on the front with the second, less politically correct, part of the word hiding away on the back of the tie. Another tie is a deconstructed version of the first amendment, freedom of speech. The words are stitched in cursive or totally taken apart so that they do not look like a direct political statement; the ideas are simply implied as characteristic in Meizler's style.
Meizler also takes men's pieces of refinement and takes them apart quite literally too. The artist focuses on a Japanese practice of deconstruction with subtle reminders of Comme Des Garçons in its rawness of fabric and transparency of elements. He calls this his "indigenous state as an artist." This discipline follows through in his atelier where pieces are constructed in real time. At the same time, Meizler also takes the structure he learned from creating couture made-to-measure women's pieces. The summation is an intricate collection with purpose in its ideas, essence of material, and style.
This dichotomy is also a thread connecting "Dirty Words" as an art installation. Meitzler believes that dirty words have the same meaning for both the political left and right. It is then in the hands of the handler to give power to these words. Meizler's interactive red cell challenges one's reaction to words depending on smell, mood, and color perception.
"There's way too much noise on the market for menswear," he says about his beginnings on the collection." Let me actually sit-back again and reassess the situation and re-focus. I wanted to go into it as an artist. I wanted to say something else that wasn't necessarily being said in fashion." In the outcome, Meizler put elegance and couture into a political stance.
Jonathan Meizler's collection and art installation is available at Cadillac House at 330 Hudson Street in New York through March 30th, Monday through Friday 10AM-6pm and Saturday 11AM-5PM.
[slider_pro id="174″]