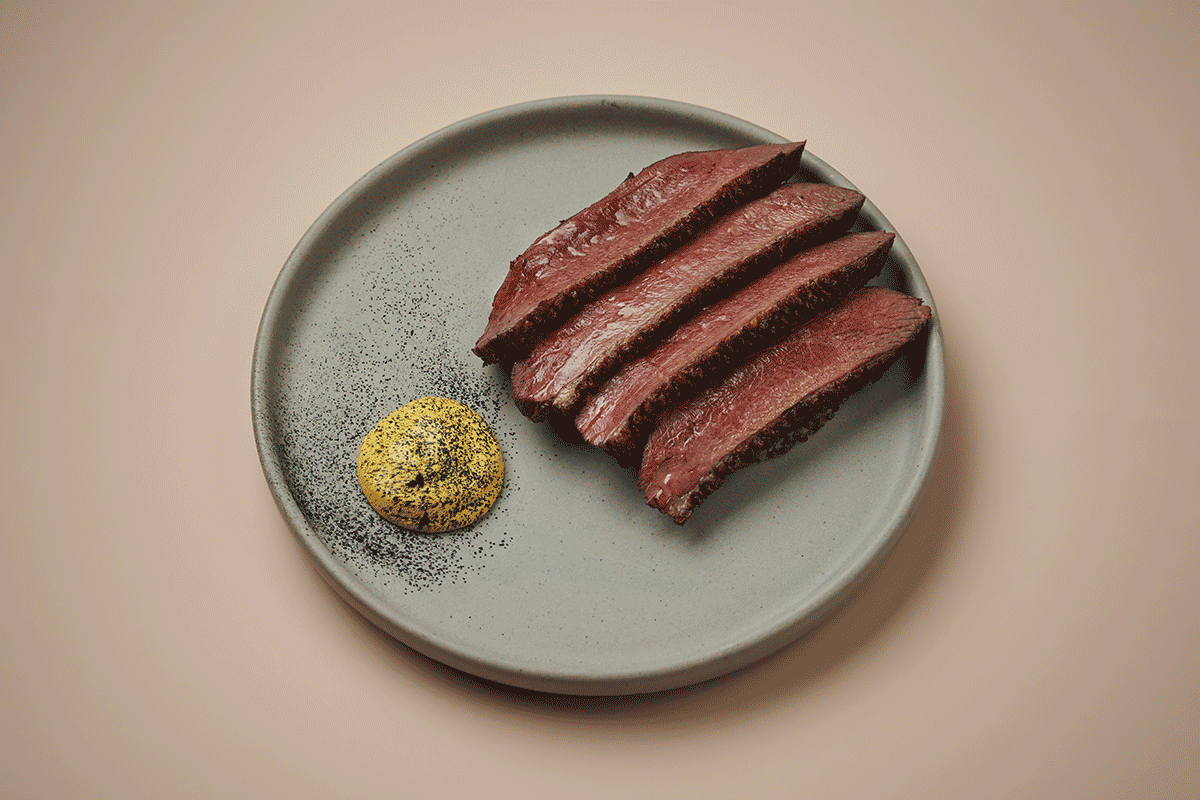 In the Kitchen at Her Name Was Carmen
Since opening its doors a year ago, Her Name Was Carmen's contagious dancefloor and sumptuous cuisine has been reviving the downtown scene. By mixing media, fashion, Latin American influences, haute cuisine, Carmen has become a welcome fixture in SoHo that promises all its patrons a solid good time. We've talked with Chef Omar Ben-Hammou to find out more about the behind-the-scenes of the kitchen.
Launched by Thatcher Shultz and Andres Diaz, Carmen was always a faraway dream. On its first anniversary, Diaz shared sketches of his dream establishment on Instagram, with some dating back to 2009. And Carmen, as she's intimately known, is the dream that one never quite achieves — in short, the name comes from a New York tale of a Latin American girl always first on the dancefloor, likes to eat well, sometimes drinks a bit too much tequila, and yet is beloved by everyone. "Her Name Was Carmen" would be whispered and gossiped around, but she is a legend like no other; she doesn't exist (but we all know her). With a romantic heart, Diaz filled the space with a team that loves stories just as much: Chef Omar Ben-Hammou, Yuval Bar-Kokhba lawyer-by-day, and sommelier-by-night, James Pfautz in charge of style, and a fully hands-on team. They make the kitchen come alive every night with wine nights, flamenco dancing, and everything in between.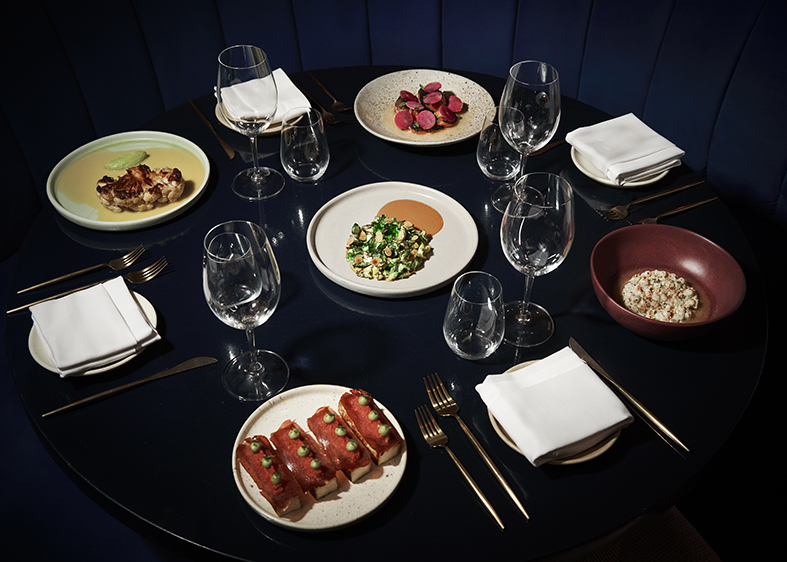 The restaurant itself is Latin-inspired and primarily seafood-based with a strong vegan menu. It is one of those places where dinner might last several hours and end at 3 am with flamenco or a midday salsa brunch. The kitchen works symbiotically with the club, providing tasty treats for everyone, sober and boozy. With a new menu in-store, we've spoken to chef Omar Ben-Hammou, previously at Le Bernadin, about what's cookin'.
EH: So you guys just turned one. What did you learn this past year?
I think we are more solid as a team and we have learned a lot through the past months. Especially to work better together especially in different areas because this is not just a restaurant. And professionally-wise, of course, we have learned a lot about the product, food cost, labor cost. Being a manager in New York is just a little different than in South America for example… Kitchen wise, I don't work that long until something is not working. If there is something off– I remove it or I change it.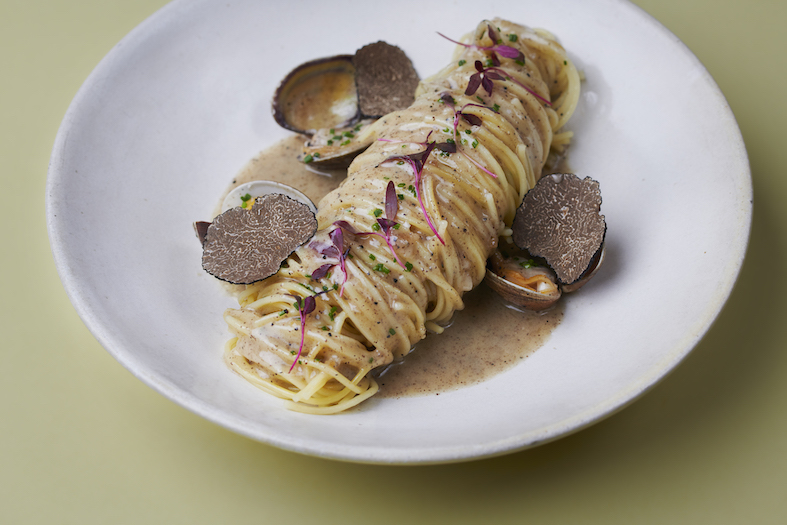 Truffle Pasta
EH: What did you focus on for the menu? What was your thought process in creating the menu that you have now (which is quite different from your previous ones)? 
Four months ago I was more curious about working with vegetables. I was curious about getting the results I wanted without animal protein and you know we also have a lot of vegan clientele in the city. Not just us but everybody. I was making dishes and little by little I was getting more obsessed with working with vegetables.
I try to keep my work as clean as possible. For example, if this charred tomato salad it is tomato with tomato water. There are no greens –just radish and tomatoes. I try to get one product and make the most of it and use it as much as I can in many different ways. I don't like to overwhelm the clientele. What I try to do is get a product and make a nice sauce, something to pair it with.
EH: If the restaurant were not in a Latin setting, would you still consider it Latin food? 
I don't really consider my food Latin American, but I do feel like it has a Latin American soul. The result of what we have been doing here is my interpretation of what I can do in New York City today. Next year I don't know– we will see. I feel like the ingredients I use make it more Latin American than other restaurants, but I would not say it is very traditional. It has a very strong European and Japanese technique. With my background too, it's super French.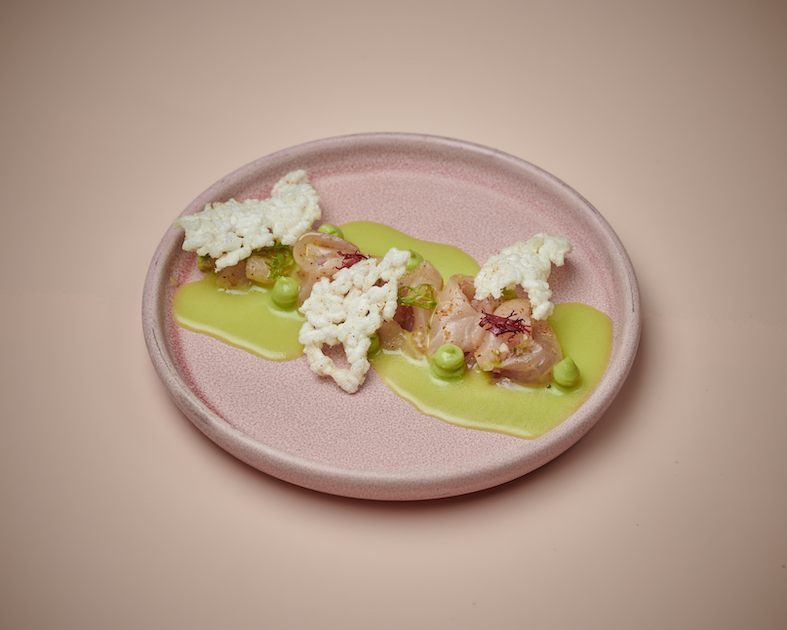 Hamachi Tiradito
EH: How often do you change the menu and would you ever consider it a seasonal menu?
I think we change the menu more than four times a year. I don't change the whole menu though– octopus gone today and next week maybe I don't like something else. Just this menu recently, I have changed like 80% of it because I went to South America and went to different restaurants and I was hanging out with a lot of chefs and came back with a lot of ideas in my head, I needed to do something with those ideas. 
EH: So it's kind of like your own experimental kitchen here?
 It is. It's a very free kitchen. We don't have rules. And I like that about the culinary. It's a contemporary Latin restaurant and I'm Latino. Like ok, whatever. I'm just cooking.