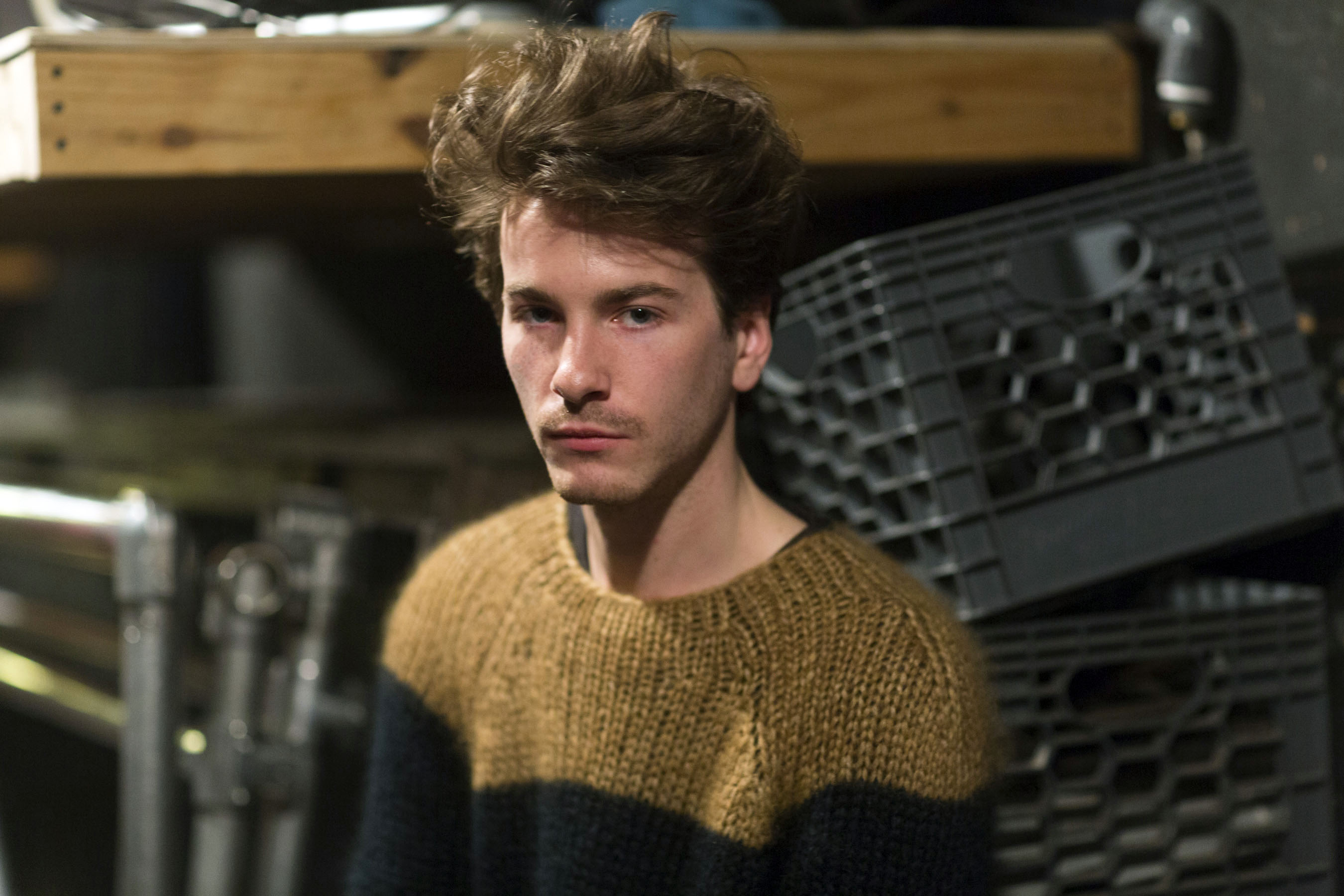 In Robert Alfons I TRUST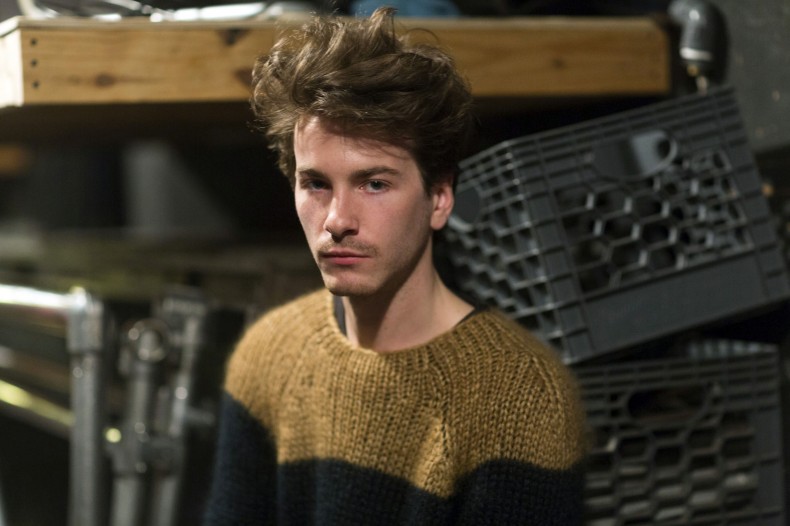 Canadian-born Robert Alfons is the solemn-eyed, baritone-booming dark force behind the synth pop Trust, who's just-released sophomore album, JOYLAND, brings the newly solo project to a club-grinding, heart-grabbing climate, clouded with heartbreak, sex, and an "eruption of guts, eels, and joy." My first interaction with Alfons on the night we met, last Thursday, was an email—"I'm here"—at the entryway of Le Possion Rogue, a mediocre Greenwich Village dive bar that I frequented off and on in college. Inside, the joint was as much of a mess as it always was: a confusing crockpot of loud, early-evening-drunk patrons exiting a matinee comedy show and thin-jeaned roadies unloading Alfons and his opening band's equipment for their show that evening. Later while we combed through the backstage to search for a place to speak safe from the synths of an unending sound check—"Should we go upstairs? Outside? A cafe around the corner?"—it occurred to me that location could have actually not been better. The bizarre coincidence of Alfons, who's masterful understanding of 90's dance music and songwriting as dark as the night, performing at a place, for me, as nostalgically crass and emotionally distant was surprisingly joy enough.
Joshua Glass: Growing up, was this (touring the world, writing tortured alt club bangers, having amazingly-good swept hair, etc) what you imagined you'd be doing?
Robert Alfons: I have an older sister who played the piano. She was a big inspiration, and music was always the thing that tied everything together for me. I was also super into hockey as a kid. I think I always wanted to a hockey player or a musician.
JG: When did you realize the former wouldn't be your fate?
RA: To be honest, I felt too much. You have to be closed off to emotions if you want to be a hockey player. It's true. It's very physical. I was a goalie, which was a position that you could be a bit more of a weirdo because you're out there in your own world. But it just didn't make sense. Also my skills weren't up there.
JG: Well I'm personally very grateful that career didn't work out. You mentioned the piano earlier. My favorite thing I've ever seen from you is the stripped down version of 'Sulk' you filmed with Petra Collins. 
RA: Thanks man, I definitely want to do more of that stuff. It's hard though. Tonight I have a real piano, but most venues do not. I don't ever want to be stuck on stage with a keyboard.
JG: Ah, yeah that's not very romantic. There's such a beautiful and unexpected concussion in you music that comes from unexpected ingredients. Your vocals–so deep, the lyrics–so dark, and the synth–so dreamy. There's this great clash between the dark and the dance.  
RA: I'm inspired by emotional dance music, but a lot of my music still starts on a piano—that's where I'm the most comfortable—and then from there I'll usually take it and make it electronic. When I'm working on music, I'm not just sitting around jiving on a baseline. I mean I do sometimes, obviously that's important, but I write mostly with emotions. The melody has to hit something in my gut. All my favorite shows that I have gone to are the ones that I could get lost in the darkness of it all. That's definitely what I get excited about.
JG: JOYLAND was released earlier last month and is noticeably a lot more high energy than before.
RA I wanted to make a pop album. In the course of finishing my first release (TRST), I became more and more inspired by eras of dance music. My knowledge of music is not so much in the rhythm section—I'm not a drummer—so I started just experimenting around more. Also, while touring and playing shows, there has been an energy in the last few years that I wanted to continue. That's where this records comes from.
JG: Any specific inspirations you can cite?
RA: Joey Beltram, Kate Bush, and Cocteau Twins are a few artists that generally excite me. For JOYLAND, lots of Eurodance and 1995. Specifically that year. There's a compilation series called MuchMusic—our equivalent for MTV in Canada—and every year they put out a mix CD. Dance Mix '95 is incredible, it's super dark music and it all feels like it was done the same artist. It's very cohesive.
JG: Live music is clearly a big element for Trust. I heard a funny story recently about your past tour and Iron Maiden? 
RA: It's kind of embarrassing actually. Foolishly, I named this band with no sort of trajectory of anything ever happening. I didn't do the google/hashtag search, or whatever and, as it turns out, there's also an old French metal band called Trust. They're not really active anymore. One night in Tortonto—which is really funny too, because it was a hometown show for us—the guys from Iron Maiden were also in town to play a show. The people at the venue came up to me and were like "Oh my god, we've made room. Iron Maiden is coming to see you!" and I was like "this feels really weird." Eventually they came backstage and were asking for blah blah blah, someone used to drum with them. Once they realized who I was, they shit their pants and stormed out.
JG: Spotify also confuses the two of you.
RA: It's fine. It keeps adding to the mystery of this project. I laugh at it. A lot of people don't know who's involved in this project. They wonder who the girl is singing on the record.
JG: So let's talk about that. Trust first started as a duo, with yourself and Maya Postepski. But after the first album, it's just you and a touring band. How does that affect the music?
RA: It's always been my vision, my thing. I named the project, and in the beginning Trust was just reworks of my old songs. I don't know. Again, it's just funny to me. I don't really think I knew what was going on when I mdae it. With this new record I'm singing really high a lot and people are asking "Who is the girl?" and "Who is the really gross dude with the low voice?"
JG: Do you think that's why many consider you androgynous? Another word people like to throw around to  describe you/your style is "goth."
RA: I don't really think about any of this as I'm making it, and I didn't really start to understand it until I put out JOYLAND and people began to react. In some of these songs, I'm not trying to sound like a girl. It's not a clear thing for me. It's not in my bio that, oh I'm being a girl here. It's more like: this is the song and this is the world. It's not really gendered, It's all just coming from me. Many are seeing the music on the surface and they need to dive in. They cant understand the lyrics so they think it means nothing. I really just want to grow lots of scruff so I can be super manly when I sing these "girly" things so that people can be really confused.
JG: Go for it! In other grooming news, did you know you're part of several 'good hair' boards on Pinterest?
RA: What? No. That's crazy. I don't think so. My hair's a bit wild. That's cute though.
JG: You seem pretty self-managable. I'm assuming you don't have a stylist.
RA: No I can't deal with that. I'm too stressed out by that kind of stuff. I'm very much a ready-to-go kind of guy.
Image by Melodie Jeng / The NYC Streets.