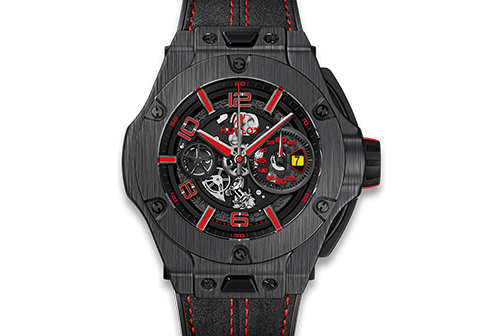 Hublot Launches New Watch Line with Ferrari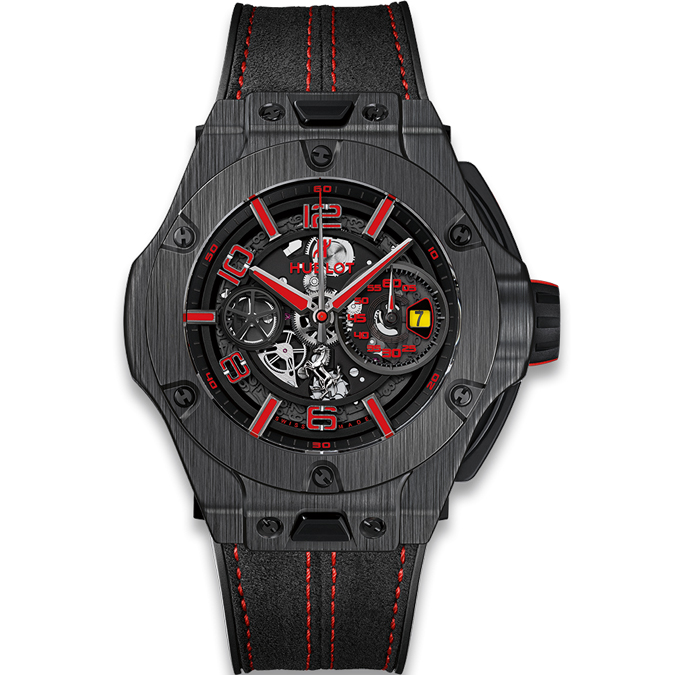 Image: Hublot x Ferrari.
Swiss watchmaker Hublot, who released the popular VanDutch and Pelé designs earlier this year, debuts a new collection with the speed racing Ferrari brand. In celebration of their sixth year of collaboration, the duo releases the limited edition Big Bang Ferrari, inspired by the car brand's personal design language. The new piece follows the inner workings of a car tachometer and even features the iconic prancing horse logo, with repositioned hour and minute hands to give an innovative, 3D look. A bright red color scheme across the watch and the crown emphasizes the brand's signature and throws back to the iconic groove at the rear of the LaFerrari model. Evoking characteristics from the TPE (Turbo Performance Engineer) set in the center of the Ferrari dashboard, the crown is fixed to a rotating mode like the pedals on a car. With a 45mm see-through case, the new edition, available limitedly, releases in titanium, king gold, and uni-directional carbon colors. This new design, combining Hublot's cutting-edge ideas with Ferrari's speed theories, creates the perfect silhouette and proportions for a high value collection choice.
The Big Bang Ferrari Unico is available now in Hublot boutiques.