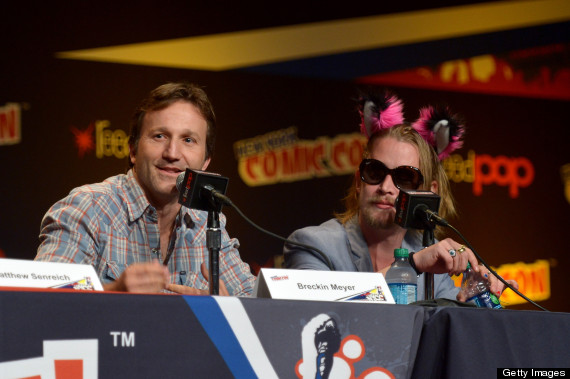 Good: Macaulay Culkin Attended ComicCon AND Wore Bunny Ears While There
Is it fair to call Macaulay Culkin reclusive over the past, say, twenty-ish years? Sure, yes, you utter vague truths. That's why when Kevin McCallister, AKA Richie Rich, AKA Michael Alig (niche reference?) makes a rare appearance at Comic-Con, it's sure to raise a few eyebrows not just throughout the Javits Center, where the event was held. Macaulay joined his friends and co-stars Seth Green, Breckin Meyer, and Matthew Senreich on Day 2 of the festival, where they discussed their show Robot Chicken (for which Mac has voiced various characters since 2005, including Bastian Bux, Billy, and Sponge). They were goofy:
Asked by one misinformed fan where he's been hiding since appearing in the 2004 movie Saved! (misinformed in that Culkin has appeared in three films since, most notably-ish: 2007's Sex and Breakfast), Culkin replied, "Hiding under a rock somewhere." The zinging made it's way to Green, where he added, "The best thing about Mac is that he had a better career by the time he was 14 than most of us have in our whole lives. If he spends four years, six years, not doing anything, he'll still be more relevant than anyone here." Truth.