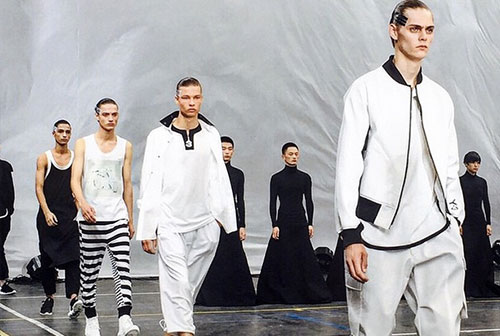 From Our View: PFW SS16 Part II
Can't take off 30 days for fashion? No prob, that's our job!
Each day during Fashion Month, we're bringing you exclusive images on our Instagram of your favorite brands (and soon-to-be obsessions), straight from the front of the runway. Can't keep up? That's cool too, because we're also re-capping our favorite shows here online. Ready, set, follow us at @essentialhomme, and lez go! Here's to the end of Paris.
Saint Laurent
Saint Laurent keeps the Parisian runway effortlessly French with its shortened jackets with oversized hoods and extra-long shirts peeking out from underneath.
Y-3
Sports-themed wear gets a cool upgrade with Y-3 through monochromatic staple pieces with eye-catching finishes and loose-fit bottoms.
Officine Generale
Officine Generale contrasts close-fit denim jeans and waist-length jackets with loose-front bottoms and over-long coats for a look that adapts.
Lanvin
Lanvin utilizes movement through tassels and cords to compliment its darker, layer-centric line.
Hermès
Accessories steal the show at Hermès; its range of bags including a bright kelly green over-the-shoulder and handbags in either black or tan.
Acne Studios
Not one to shy away from color, Acne Studios combines '90s friendly patterned ensembles—complete with pastel flair—with muted single-color suit separates.
Berluti
Berluti heralds summer in with the most amazing colors on the runway: from bright red bottoms to swirling deep blue shirts overlain with baby-blue and green jackets.
Follow Essential Homme on Instagram at @EssentialHomme.