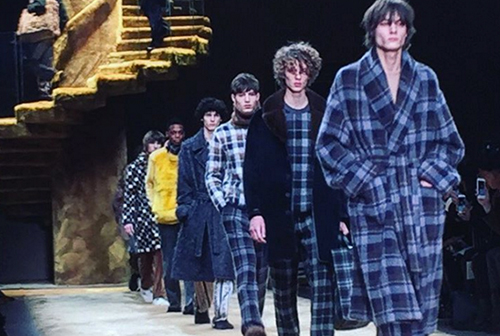 From Our View: MFW AW16 Part II
The front row in the fast lane.
From first looks backstage to post-show details, Fashion Month is a rampant, non-stop race from runway to retail. As we continue to bring you our favorite snaps in media res on Instagram, here we back away and take pause to present a curated look at the best moments of the season.
Giorgio Armani
Mr. Armani committed to his own timeless aesthetic by dressing the modern gentleman with classical navy blue and soft fabrics in Giorgio Armani's AW16 collection.
FENDI
FENDI's variation juxtaposed luxury and relaxation, setting a smooth ambience through its use of pajama suits and fur slippers in this opulent AW16 collection.
Gucci
The '70s and Alessandro Michele's delivery of florals, romanticism, and use of characters gave Gucci a turnover in its fashion philosophy.
DSQUARED2
The making of the modern samurai creates a hybrid between modernity and Asian culture in this Japanese flavored DSQAURED2 AW16 collection
Follow ESSENTIAL HOMME on Instagram at @EssentialHomme.