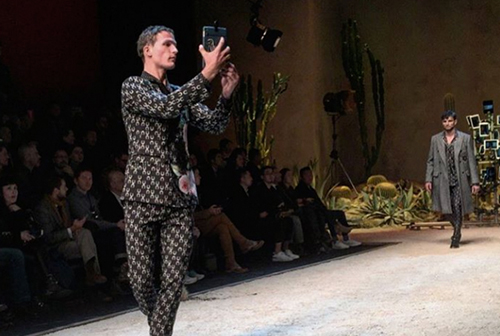 From Our View: MFW AW16 Part I
The front row in the fast lane.
From first looks backstage to post-show details, Fashion Month is a rampant, non-stop race from runway to retail. As we continue to bring you our favorite snaps in media res on Instagram, here we back away and take pause to present a curated look at the best moments of the season.
Ermenegildo Zegna Couture
Stefano Pilati outdid himself yet again with Ermenegildo Zegna Couture's Autumn/Winter 2016 release, a classic and yet very detailed delineation of "Haute Couture for men."
Roberto Cavalli
Newly-minted Creative Director Peter Dundas premiered his first menswear for Roberto Cavalli, a 21 century dandy assortment that consisted of silk pajama-style silhouettes, '70s hippie rock, and bohemian energy.
Ralph Lauren Purple Lapel
Ralph Lauren didn't disappoint with its gradient of Winter white and edgy outerwear for its Purple Label AW16 presentation.
Dolce&Gabbana
Affluent, lounge-style runway raiment courtesy of Dolce&Gabbana AW16 allowed for a permeating ease of relaxation for anywhere.
Versace
Versace reached toward astronaut status with its contemporary AW16 collection, full of modern atmospheric prints, purple coats, moto-styled jackets, and glow in the dark embellishments.
Moncler Gamme Bleu
Overtaking Moncler's classic silhouette with overwhelming twists of camo, Thom Browne capped off his mysterious line with editorial masquerade.
Follow ESSENTIAL HOMME on Instagram at @EssentialHomme.