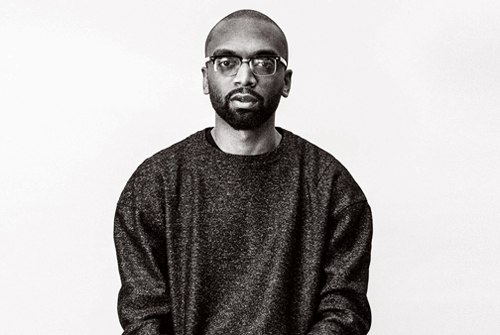 Freedom & Future: Interview with Kerby Jean-Raymond of Pyer Moss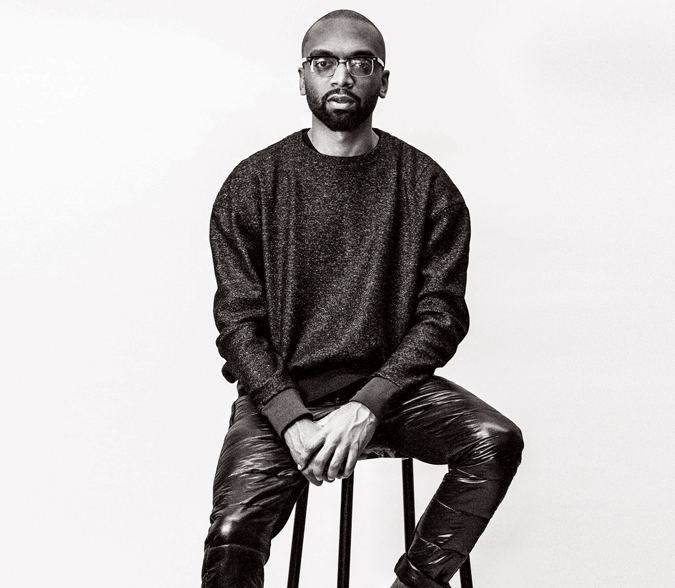 Portrait by Marshall Roach, editorial by Cameron McNee.
Editorial styled by Paul Frederick.
Pyer Moss was established in 2013 and gained industry acclaim for its heavily political Spring/Summer 2016 show, during which a compilation video highlighting police brutality and the emergence of the Black Lives Matter movement set the tone for the fashion presentation. Yet even though it's been around for half a decade, Pyer Moss is, symbolically, brand new. "I actually bought my company back from my partners; I felt like it was a very unproductive partnership," says Kerby Jean-Raymond, creative director and founder of the New York-based label.
So how does one start anew? Burn it to the ground, then build it back up—not just figuratively. In a series of three vignettes, Jean- Raymond did just that—enlisting the help of rappers Kari Faux, Vic Mensa, and graphic designer Eddie Opara, who, respectively, burned Pyer Moss' old signature T-shirts, saged the office, tore apart voided contracts, and debuted a logo redesign. "It was all an attempt to lead up into showing what we are about now, which is very different in my opinion than where we were a year or two ago."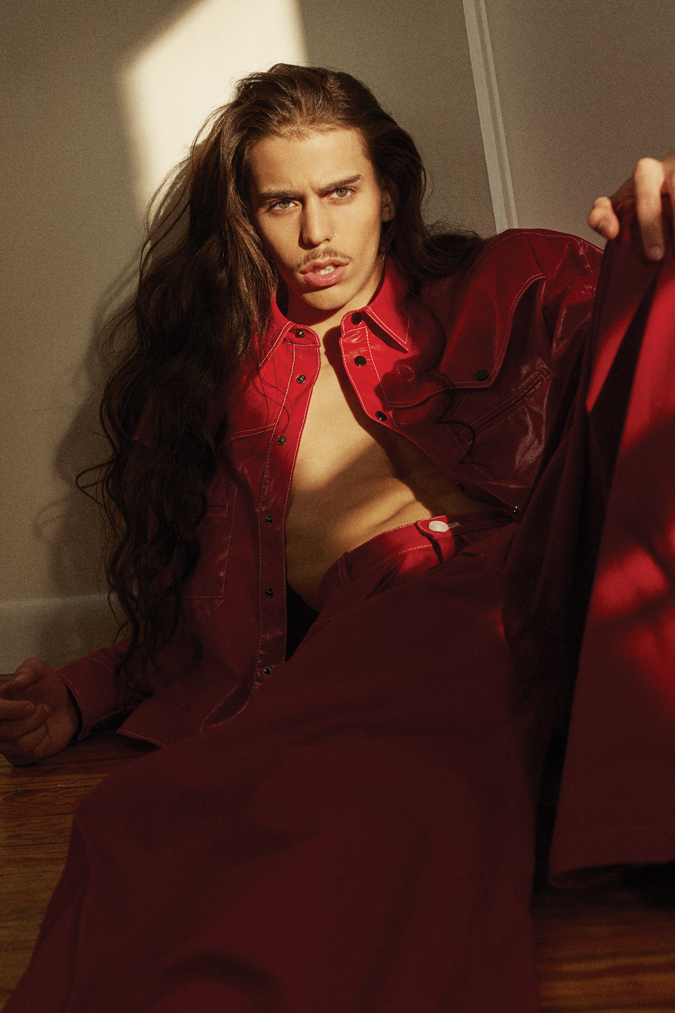 The new Pyer Moss arguably made its official land with its Fall/ Winter 2018 show, titled "American, Also." The modern-Western collection included unisex garments, a live choir performance that included a medley of Black power anthems from soul singer and poet Gil Scott-Heron to Pulitzer Prize-winning rapper Kendrick Lamar, and the launch of the designer's new collaboration with Reebok. The presentation was compelling on impact, laden with a backstory of true empowerment; inspired by the oft-forgotten Black cowboys like Bill Pickett, the creator of "bulldogging"—now known as the rodeo. "When you think about the cowboy or when it's being explained in context, you think about a white person who looks like John Wayne or Clint Eastwood," says Jean-Raymond, "But you never think about the actual real labor hands that the phrase 'cowboy' was created for."
Indeed, the term "cowboy" has a derogatory etymology, buried away underneath its heavily whitened Americanization and turned into an emblem of exclusion. "Me and my friends were out one night… and this guy was wearing this full American flag tracksuit, and… we all felt super intimidated. We crossed the street and in the car we had a conversation on the ride back home about how we don't feel American even though we were all born here," Jean-Raymond explains. "I wanted to essentially take the power back and flip it, and rewrite the narrative in a way that lets people know what our contributions to that subculture [are]."
Part of Pyer Moss' purpose, (and of Jean-Raymond as an artist in general), is to re-contextualize history in order to create a modern culture. It's no wonder that two seminal labels of the '80s and '90s, Cross Colours and Reebok, have enlisted him as the collaborator to bring a new and fresh spirit into their brands. The fact that his first sneaker for Reebok sold out in five minutes after dropping online and in select retailers is a clear indicator of his charge in contemporary culture. But even with an opportunity to access more resources and larger distribution, Jean-Raymond's main intention is to educate and inspire conversations about sociopolitical issues. The shoe in question, the DMX Fusion 1 Experiment, might be a cool piece and the next sneaker to top cop charts, but it has unlikely inspiration: aid airdrop containers. "We were looking at how food and other aid is delivered to countries like the Congo, and how they airdrop them from these helicopters from like 10,000 feet above, and all of the straps that are around them."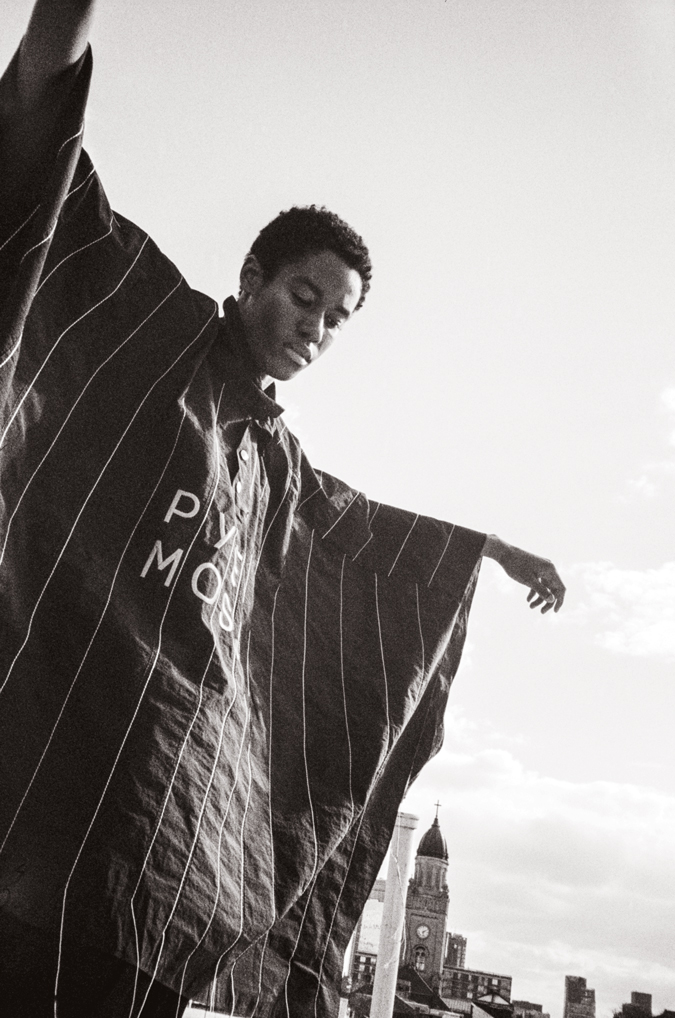 It's the intention behind everything he works on that has made the New York native a sought-after artist, putting precise and thoughtful care not only behind what he is creating, but where it will end up. Past projects have seen him take on mental health and corporate greed (both for past Pyer Moss collections), as well as climate change with a project for the Museum of Modern Art, and LGBTQ youth homelessness with the Ali Forney Center (an upcoming collaborative collection will drop exclusively through Ssense). And while this may seem like the new normal—part of the "wokeness" wave of the past few years—Jean-Raymond has been doing it since 2013, long before it was widely accepted, let alone cool. So what has that journey been like?
"We definitely were ostracized and ridiculed [at first], but I think what I wanted is happening—for more people to take a stand and more people to get involved. I don't know for sure that it's been done in the most tasteful way for a lot of brands; I feel like a lot of people are doing it and they're getting rich off of it, and that… doesn't sit well with me." This distinction is essential when talking about his projects—it's not about putting out messages for marketing, fame, or likes, it's about bringing up uncomfortable topics such as equal pay and #MeToo (both of which he mentions) to find resolutions and bring about change. It's clear why pocketable activism bothers him so much. "I don't know how much of it is altruistic, how many of these companies are actually taking their resources as they're making money off of this thing, and then reinvesting it back into their communities. It can get very perverse."
With such a prolific and high-thinking career, it's hard to imagine Jean-Raymond taking some time off. "I'm working on that," he laughs. But there's a long road ahead for the creator; these divisive times making it evident that people like him are necessary to create a fair, free, and sustainable future. One of the aforementioned vignettes is paired with audio from a Nina Simone interview, during which she says freedom is just a feeling. "You know it when it happens," she carries on to say. To Jean-Raymond, happiness is also feeling that echoes the legendary Simone's words; "Freedom," he says. "Freedom and no angst."