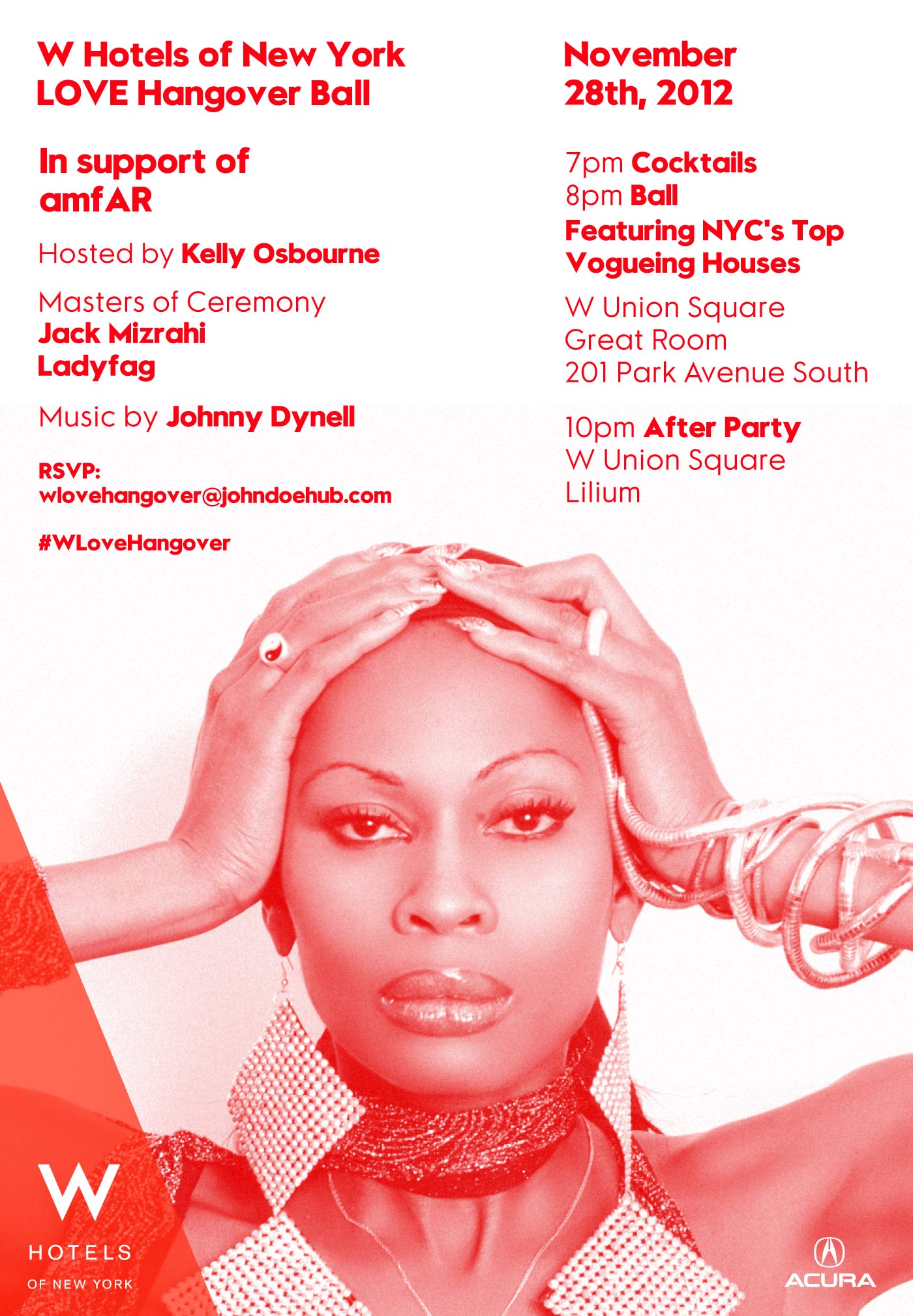 For World AIDS Day: W Hotel's LOVE HANGOVER Ball with Kelly Osbourne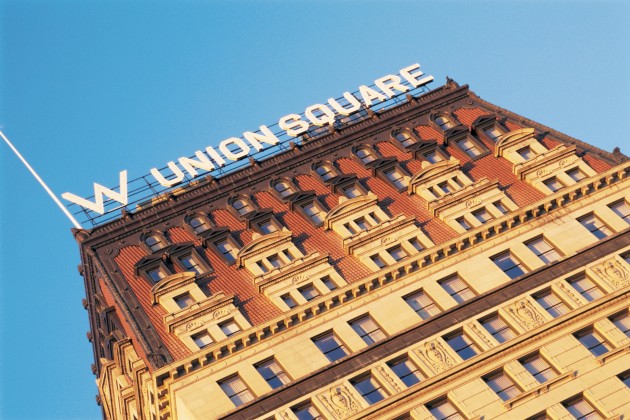 Here's a fun, interesting and style-filled way to do your part for World AIDS Day. The W Hotels of New York's inaugural LOVE Hangover Ball in support of the Foundation of AIDS Research (amfAR). The project is part of a series of activities across W Hotels' four properties in New York in the run up to World Aids Day on December 1st including a special rooms package, bespoke cocktails and the creation of a unique event, hosted at W Union Square, which will bring together Manhattan's finest style mavens and voguing houses in a ballesque quest to celebrate the city's place at the heart of LOVE in all its guises. (More after the jump)
Inspired by the legendary voguing balls of the mid to late 1980's that were chronicled in Jennie Livingstone's seminal documentary "Paris is Burning" and later in Madonna's "Vogue" video,  the event will feature a unique collaboration between the modern New York ball community and some of New York's leading iconic fashion residents. Judges include the likes of Bryan Boy, Edward Enninful, Mickey Boardman, Simon Doonan, and two voguing legends, Icon Hector Xtravaganza and Icon Father Andre Mizrahi. Master and Mistress of Ceremonies for the evening are Kelly Osbourne, vogue scene veteran Jack Mizrahi & nightlife impresario Ladyfag, who will read the ball, "throw shade" and keep the judges in check. The theme for the ball is centred on a celebration of iconic New York – that special city flavour that influences us all from the sidewalk, to the runway, to the dancefloor and more.
Iconic Voguing Houses from across New York City will come together for the event, showcasing the crème de la crème of this iconic form of movement. Houses represented include Mizrahi, Mugler, Xtravaganza, Ninja, Balenciaga, Prodigy, Ghotti, Ebony & Miyake. They'll celebrate five legendary ball categories inspired by tracks that make the city move, as well as traditional ball culture:
1. Vogue Fem: W for a Wicked Black black effect… Come vogue to battle and bring home your points –"Walk For Me" – Size Queen
2. Male Magazine Face: The crowd is at your mercy. Let me see that male face that can't be stopped. Werk! – "Face & Body" – The Ones
3. Female Figure Face: " On the cover of a magazine" beauty at its best, bring us a lovely face that NYC would die for, Whatever/Whenever – "Deep In Vogue" – Malcolm McLaren
4. Runway: tonight W stands for "walk" we want to see you walk the runway in a high fashion effect –  "Runway" – Johnny Dynell
5. Sex Siren: sex sells so bring us the ultimate sexiest man or woman in swim wear making Winter NYC hot!  – "Sexy Motherf**cker" – Prince
Each category will be presented by a 'fashion icon' who will oversee the trophy presentation for the evening.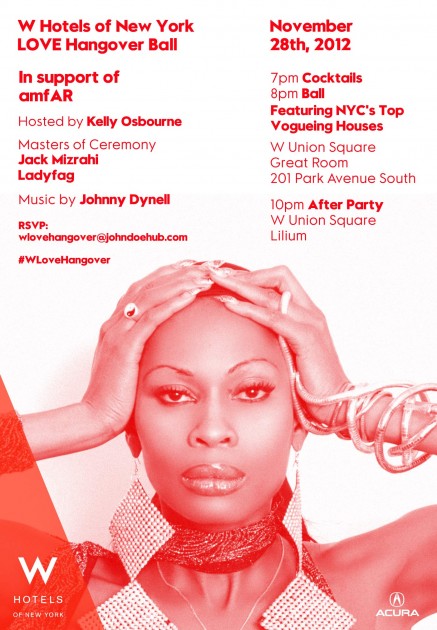 Event Title: W Hotels of NYC Presents LOVE Hangover Ball in Support of amfAR
Date: November 28, 2012
Start Time: 7pm
Address: W Union Square Great Room, 201 Park Avenue South, NY 10003
Dress Code: Sweet, Sweet, Sweet, Love
Tickets for this unique event will be available from the Insider at W Union Square priced at $100 to support of amfAR.To purchase tickets go to the concierge desk and state 'I have the sweetest hangover I don't wanna get over'. Maximum four.