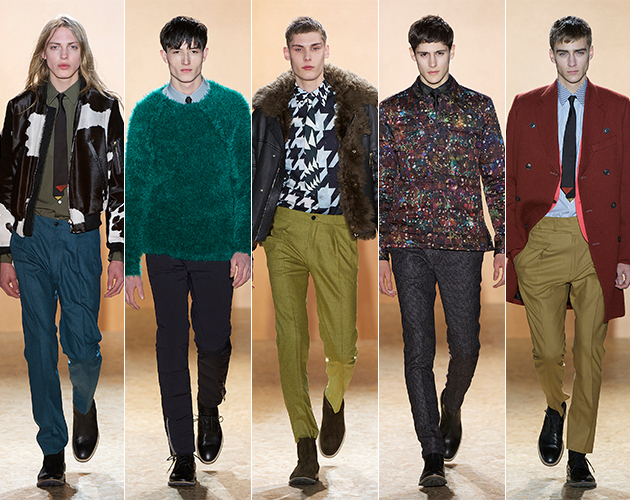 Favorite Five: Paul Smith Fall 2013 Menswear
Paul Smith Fall 2013 presents a collection rich in texture and touched with modernity. Developing spring's sun-blushed color palette, for the new season wintry shades of purple and turquoise are complimented by vivid citrus tones and contrasted with more muted khaki and black. Fabrics from the archives of artisanal Italian mills are rewoven to offer contemporary interpretations of sartorial staples. Couture cloths, often the fare of more orthodox Parisian houses, and thick alpaca bouclé is delivered in unconventional colors to create modern pieces. Belted military overcoats are lined with long haired sheepskin and quilted trousers, jackets and even a cape come in boiled cashmere cloth filled with white Hungarian goose down. With every stitch and dye, traditional fabrics are injected with fresh appeal. Print is a primary focus across the collection, particularly in magnified houndstooth patterns on shirting and in hazy marbling on outerwear. Silhouette in tailoring and overcoats gain volume in the body and trousers but are kept modern and minimal in tight shoulders, shorter length, laser cut pockets and bluff seam construction. Knitwear juxtaposes hardened edges in bright soft mohair mixed into jacquards, bold intarsia and fading stripes all on simpler crew necks. Suiting evolves from the slim, accentuated form of last season. Ties tight, shirts buttoned and trousers high, jackets come short in the body, worn under double-breasted, patterned overcoats. Prim and proper pops of color are strong throughout tailored pieces. In accessories and footwear the classics have been revitalized with modern construction; the Paul Smith holdall comes in contrasting gold and silver plated hardware against Spanish leather dyed in jewel and complimentary colors and the Chelsea boot is reworked with a zip back and trainer sole.
The tie, which pops up a few times and is worn uneven, so the back is longer than the front, has a sharp 1940's detail just on the tip. Khakis, yes but the hint of pink beneath the double breasted, burgundy overcoat brings the whole thing squarely into what we love about Paul Smith land.

With Paul Smith in space, it's easy to forget the night sky is actually black. Layered upon itself and nice, crisp lines.

Magnified houndstooth was a big point of focus for the collection, we love how the patters accrete with the tie over the shirt.

Turquoise shag sweater paired with a conservative shirt, tie and slim fit pant reminds you not to take everything so seriously, but not to spin completely out of control.

The tie, the cow hide bomber, the loose blue pants...you are having a marvelous day standing out from the pack, aren't you?
Related: Backstage: Paul Smith Fall 2013 Menswear