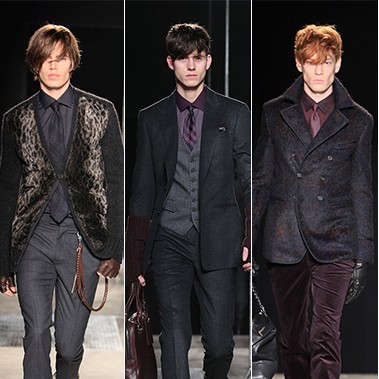 Favorite Five: John Varvatos Fall 2013 Menswear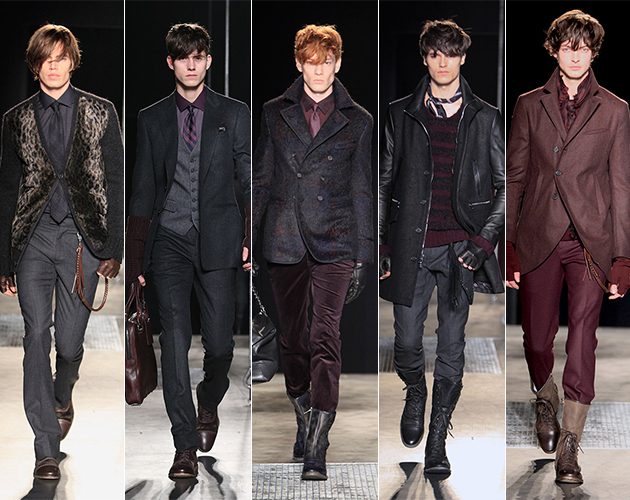 "The world of today is all about contrasts that come together," says John Varvatos of his autumn/winter 2013 collection. "I created a bridge crossing an ocean and mixing seemingly opposite universes and different eras: English dandy and New York edge.Rooted in the character of old world English dandy, the great textures, deep autumnal colors and elegance are blended with a strong dose of New York edginess to create a sophisticated contemporary look for today's man. The new tailored silhouette has a subtle hourglass shape and a stronger shoulder while layers have been stripped back to let the fabrics, leathers, yarns and new proportions speak for themselves. Brushed tweeds, artisan finished leathers, hand knit sweaters and washed velvet shoes blend to create a timeless yet unexpected mix that is a step forward in the constant evolution of the John Varvatos signature handwriting."
A tailored hourglass silhouette.  The color is claret if you're a dandy. Wine if you do the whole rock and roll thing. And...vino if you're Italian. Either way, all of you can wear this proudly.

This look migh've had a few more layers in season's past. The mix of fabric textures, hardware and accessories freshen it up.

The coat. The COAT.

The light/dark contrast in the 3-piece suit, button up and tie are easy and creative. But really, styled with arm warmers? Now you've got us piqued.

Rockabilly, ska, smoking parlor...party or p.j...plush & knit. The cardigan could be lived in.
Related: JOHN VARVATOS SPRING/SUMMER 2013 + BEHIND THE SCENES