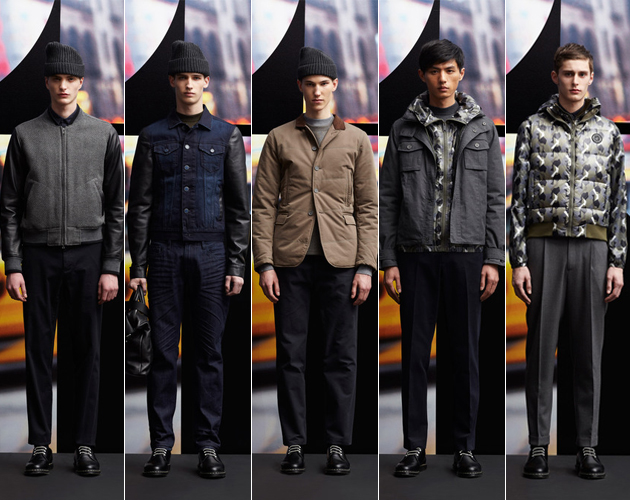 Favorite Five: DKNY Fall 2013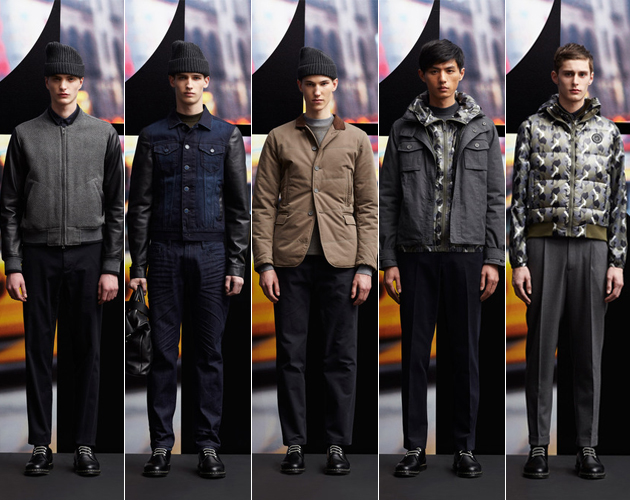 You're out the door early in the morning and back home…well, also maybe in the early morning. For you, DKNY delivered a collection of sportswear, tailoring and accessories crafted to flex city style from day into night. This is, afterall, a label with New York embedded into its name. Running around from morning to night is what we do. You'll find quilted, bonded, paneled…trenches, anoraks and blazers—day styles crafted with some creative evening appeal. Also edgy things like a slick croc leather, varsity style bombers and denim jackets that are both street and sunlight friendly. Check the collection and our favorites after the jump.
Favorite Five
The contrasting black and white laces have been noted—and the charcoal melange wool varsity with leather sleeves is a fresh take on a big city trend.

Temperatures fluctuate. Sometimes you need two lighter jackets. Playing with print and texture is a great way to pull it off, like with this melange cotton blend padded jacket over some camo. Also, a nice way to tone down the camp-splosion that you'll be seeing in the coming months.

Though, why mitigate camo when it's having it's moment. DKNY shows a little humor with their digital "camel" take. We like.

Because sometimes layering can look cumbersome.

The jacket is as New York as the Chelsea Hotel, the A train and Orchard and Rivington.
The Show
[nggallery id=192]
Related: DKNY Brings the Beat to New York