The Eiffel Tower Announces Massive Park Expansion
Paris' green Mayor Anne Hidalgo announced an expansive €72 million project that will create the city's largest garden, spanning from Ecole Militaire all the way to Trocadero.
🌳🌺 En 2024, la #TourEiffel sera entourée par le + grand jardin de @paris avec une promenade piétonne et végétalisée, des arbres et une pelouse sur le pont d'Iéna, et un parcours facilité depuis le Trocadéro ! ⤵️https://t.co/mObAWIAF1u pic.twitter.com/a7TGnle6Td

— Alexandra Cordebard (@ACORDEBARD) May 22, 2019
At the forefront of the Paris Agreement and a city constantly struggling with air quality and green spaces, the French capital has been gradually turning concrete into green space for several years now. First came the closing of the roads near the Seine, then the Parc Rives-de-Seine (Seine parks,) and now the largest will create a "central park" in the shadows of the city's best-known monument — the Eiffel Tower.
The project will be entirely funded by revenues of the Eiffel Tower operating company, which receives over 30 million visitors a year. The project is set to be completed by 2024 with the Pont d'Iéna (the bridge leading to the tower) stationed with an abundance of trees and lawns. The biggest addition will be a new 12,000-seat amphitheater near Place du Trocadéro. The new space will encourage social gatherings and pedestrian traffic through the mile-long green space. Hidalgo has not spoken about the miniature-Eiffel Tower-street vendors working illegally on the premises, but with the new developments, it's likely that they'll have to relocate to the gift shop as well.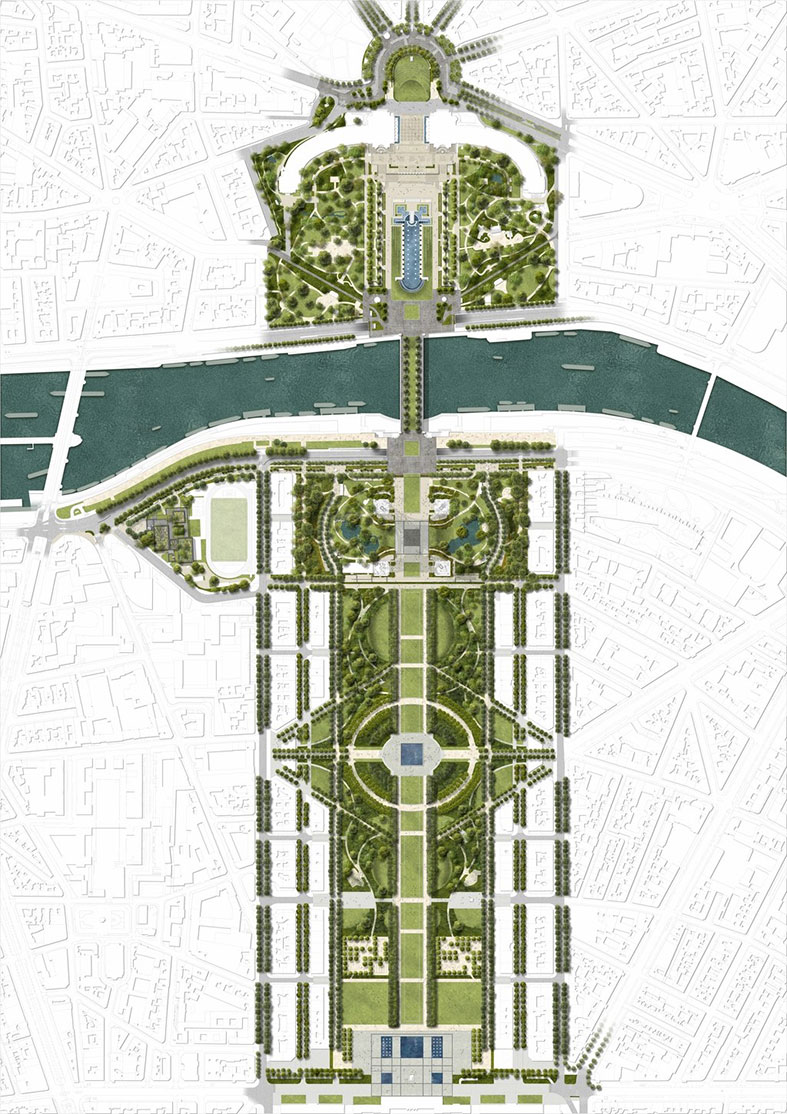 Image Courtesy: Gustafson Porter + Bowman.