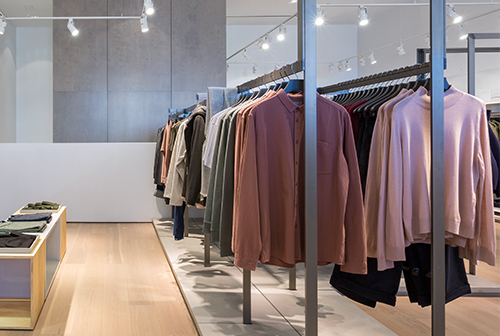 COS Brings Minimalist Design to Florida
Image: Claudia Uribe.
Swedish design label COS is known for its cutting edge simplicity and otherworldly approach to modernity, and with a host of previous store openings across the globe, 11 in total, the brand is standing at the precipice of game-changing fashion. Setting its furtive sights on the gulf, the brand opens a new location in Miami, Florida, debuting the store with an understated Autumn/Winter 2016 collection. Featuring two floors and over 3,000 square feet, the space is effortless, its new home, nestled in the heart of the Design District, an apt placement and homage to the brand's architectural dedication. With an aesthetic that can only be described as dynamic, the clean lines and neutral tones reflect the nondescript air of the clothes, one that draws power from its demure construction—an ideal expressed by Head of Menswear Martin Andersson is ESSENTIAL HOMME October/November 2016. The facade, built from locally sourced sun tiles, provide both shade for patrons and a visual lightness, an airy entrance to a store steadfast in its core, mimicking COS' own storied history of quality through a distinct minimalist tendency.
The COS Florida store is located at 3915 NE First Avenue, Miami, Florida, 33137 and is open now.