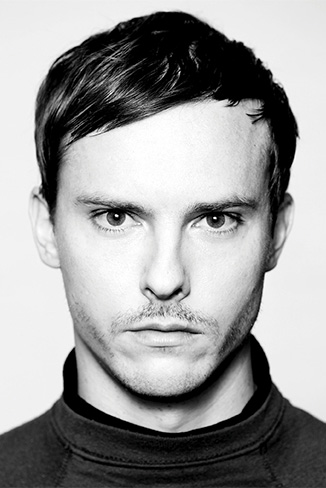 CONVERSATIONS: PATRIK ERVELL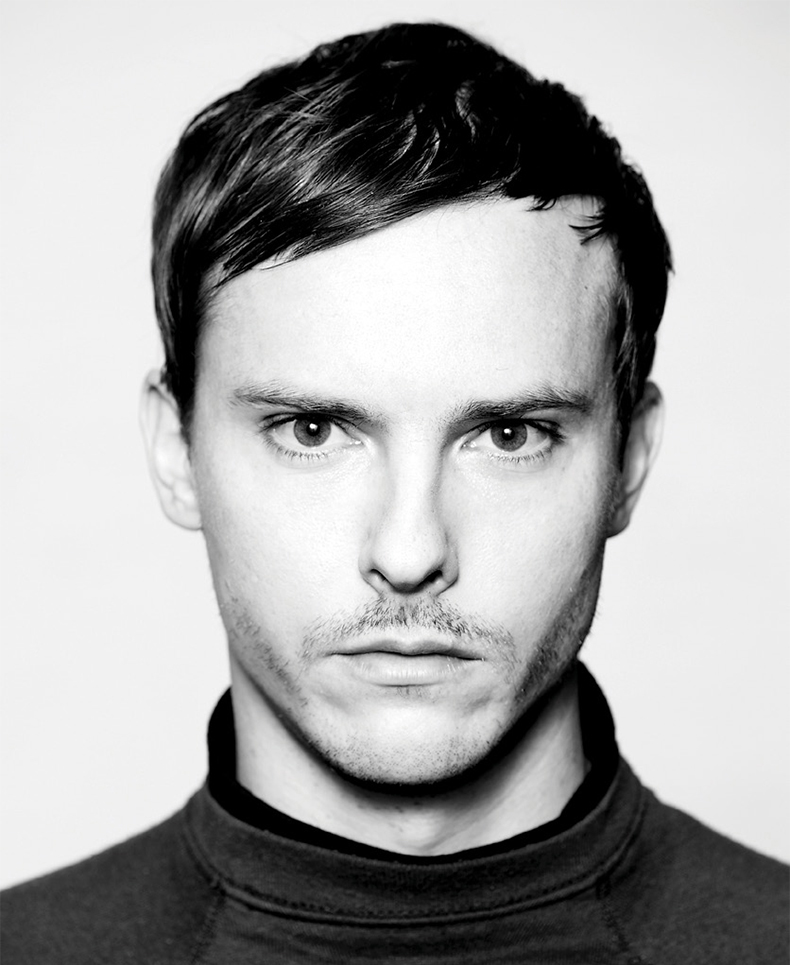 Image: Patrik Ervell.
Evolved from an emerging face to an extraterrestrial force, science-fiction fanatic and fashion designer Patrik Ervell ponders the future of menswear despite having already designed beyond it for the past eight years.
Essential Homme: This season you've hovered close to the world of business for the inspiration of your Fall/Winter 2014 collection—a futuristic invasion of workwear featuring high-tech fabrics fused with side-swept sweat-styled hair. Even for you, a fashion designer that constructs clothing across several cosmos, Wall Street seems like such a foreign place to find you. How did you get there, were you lost?
Patrik Ervell: I don't see [it] as so literal. It's a reference that gets treaded out a lot, but I don't think the complete collection looks like anything you'd expect a Wall Street reference to be—there aren't any banker stripes or gray suits. The collection is titled 'Titan,' but I don't know if it was exactly a Wall Street kind of titan or rather, a new one: a different type of captain of industry that no longer wears a traditional suit.
EH: You've said before that suits are archaic, why do you think so?
PE: In a funny way, I think that wearing a suit makes someone seem so less serious. I grew up in San Francisco, a culture in which suits are not really part of the vocabulary, so when I see someone in a suit [today] it seems to me that they work in a restaurant or retail; that they're trying to sell me something. Gradually, I think suits are just something that will fade away. It's already started, and slowly there will be new sorts of uniforms for men to try.
EH: That seems like just the sort of journey that you began on this season. You're most known for your use of unconventional tools—smart textiles, such as woven wool and sporty silks, and unexpected techniques—to create clean looks, an inflection you didn't forget to voice in 'Titan.' What was one of the most memorable advances for you this season? 
PE: One of the most exciting things for me was a fur I developed from natural wool fibers with a German mill famous for making luxury teddy bears in Germany since the 1920s. We did a spray dye technique over it, and what ended up was a really rich effect that is actually quite nicer than the real thing. You can get fur anywhere today—using it isn't any sort of big feat anymore—but this new material doesn't try to mimic it. Up and close you can tell that it actually isn't real fur, and in that way I think that is more interesting.
EH: Fur already has a stigma to it and can become overly nostalgic or dramatic. What spurred this interest? 
PE: Fur in menswear is tricky. It can come across gross really easily. But if it's used in this way, where it becomes techy—almost even sci-fi—then it can feel really relevant and interesting. My faux fur has the look of a fleece jacket, and I think of it as one of those things in that the least fashionable item of the bunch somehow becomes fashion. It's on this kind of untested ground, with the potential to become a new type of business uniform.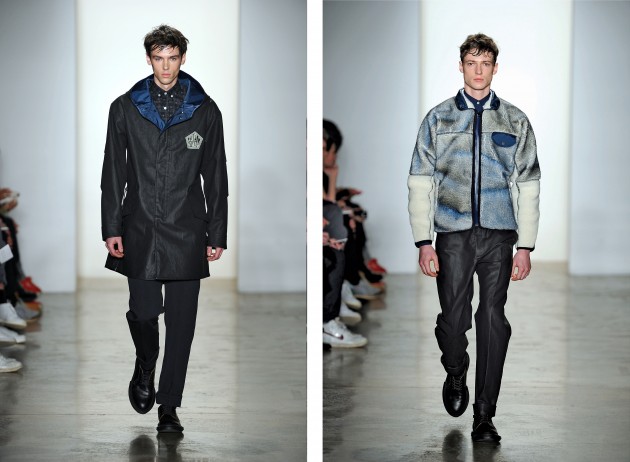 Images: Patrik Ervell.
EH: This faux fur formed faux fleece plays into your long-running fascination with performance sportswear. Surely drawing on your West Coast roots, how has this active style influenced you?
PE: Patagonia, North Face, and Teva have created completely new silhouettes for menswear. Some of the products from these brands, like the North Face jacket, will become the equivalent of the trench or the biker jacket in 50 years from now. They all have already assumed classic styles.
EH: There is a powerful sense of style in science fiction that lends itself to auteurs like yourself. What is the relationship between the genre and fashion? 
PE: There is only so much room in menswear for fantasy and to really experiment with new things without being silly. Somehow with the kind of charge that sci-fi has, you can do just that. You can walk a very narrow line of making menswear that has a sense of romance to it—that's how I think of sci-fi: incredibly romantic with room for moments of extravagance—but that still has a masculine energy.
EH: Have you ever felt yourself leaning toward one side of this boundary too much?
PE: Yes, but that's part of the fun. You have to fall onto both sides of that narrow path. As a designer you have to push a bit too far in one direction or another to drive things forward.
"
There is only so much room in menswear for fantasy and to really experiment with new things without being silly. Somehow with the kind of charge that sci-fi has, you can do just that.
"
EH: What are some of your specific inspirations from the intergalactic world?
PE: I've always loved the movie Dune, [but] I try to avoid literal references to things—an old movie, a subculture, a person, etc—and really try to make my collections feel more about feelings or a mood. I never want to have a theme; it's more about a material, color, detail, shape, and developing and honing into the language of the brand instead of a seasonal-whatever. I try not to get too mood board-y.
EH: Complimenting 'Titan,' this season you've launched your biggest advertising campaign—and perhaps most different—to date. How was that conceptualized?
PE: The [complete] print campaign features two classically trained dancers and a video component that will be released later this month. There's something a bit deadening about using models sometimes—there's only so much they can do—so I came up with the idea with [photographer] Daniel Saanwald to do a more interesting casting.
EH: Do you find yourself having to challenge these 'deadening' situations often in your career?
PE: You have to. Part of being a good fashion designer is being able to reject everything that came before your current collection, which is a funny thing to say, but it's true. You have to be able to light everything on fire and move forward.
EH: How do you disconnect from any emotional or effort-filled connection to your past work? 
PE: It's pretty easy. I don't think my collections are a huge departure from the previous ones—I think of them as a continuous narrative and development each season—but it's really about a cultural feeling: one kind of a mood or a particular thought. I also tire of things quickly, and I think that's part of my job. It makes things easier.
EH: The complexity of such a wide-reaching campaign must reflect some sort of growth for the business. Things must be going well for Patrik Ervell?
PE: I think so. It's baby steps. I've reached a point where I can't leave it up to a stylist and a photographer on a random shoot to interpret what the brand looks like; instead, I have to do it myself with my team. I think it's important to set your own tone for the season. Menswear is very specific. It has its own language and since it's my language, I have to do it myself.
EH: By influence and clearly shown in practice, you are very much a designer that looks to the future. You've famously said before that 'menswear needs context.' Do you think there are new territories left to be discovered in men's fashion?
PE: Yes, there has to be. The way men approach dressing in Asian countries is very different than your average American guy. As a menswear designer here, it can be very restricting and limiting, in regards to what you're expected to make for the American market. I think the globalized fashion world—especially one in which people have begun to really prize American designers—will change this. Designers will no longer be beholden to an American department store that expects khakis, and that is very exciting.