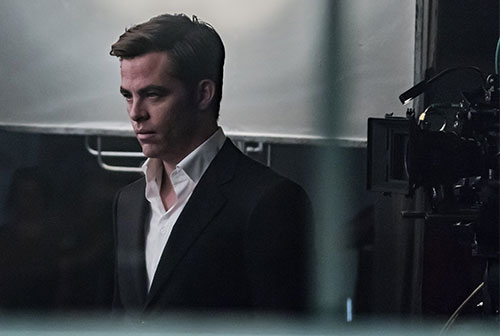 Chris Pine on Armani's New Fragrance Campaign and Life as Hollywood's Go-To Man
[slider_pro id="87″]
Images: Armani.
With a praise-worthy Spring/Summer 2017 runway at Men's Fashion Week, an Olympic-sized campaign (quite literally), and a host of lifestyle enterprises – as Hollywood actor and perennial charmer Chris Pine says it best – "This is Giorgio Armani's universe – as it should be."
And so it is. With the release of the Italian brand's campaign for its latest olfactive offering, dubbed Profumo, Pine reclaims his rightful place among the-man-behind-the-brand's coveted inner circle. "It's not a bad gig," Pine states matter-of-factly. Though once the realization hits: "I get the chance to work with Giorgio Armani, who's been one of the leaders in creating this timeless fashion for a great many years." And just like that, the glitter of Hollywood is peeled away to reveal the Los Angeles native who, when he got his first role, couldn't believe he wouldn't have to wait tables anymore.
Many of Pine's on-screen characters can be outfitted with the same moniker some attribute to the man himself – suave. From Captain Kirk in "Star Trek" to Cinderella's Prince in "Into the Woods," and even Jack Frost himself, an icy bad-boy with a chilly temperament, Pine can easily don a gentleman's character the way one might a light fall jacket – though the real Pine, the one behind the flashing glitterati, is a little more subtle. "I really do like the classic look more than anything else: nice clean lines," says Pine of his personal fashion choices when off red carpet duty. "More often than not I'm a quieter dude than some of the other people out there."
A surprising confession after seeing the sultry, crystalline Armani Code Profumo ad campaign that positively drips with decadence – Pine's character seeking out his dream woman at a party, their eventual kiss shattering lightbulbs in a display of cosmic splendor. "There's a sense of magic," says Pine of the illustrious clip. "A sense of sexuality and sensuality, but it's totally playful." Then, snagging on an elusive memory of Armani himself from last year's star-studded 40th Anniversary event:  "Just like the man who I met in Milan who snuck in the backdoor to meet me to avoid being photographed."
This sentiment, which Pine eloquently reasons as "the big dog doesn't have to bark as loudly," is an ideal that both Armani and Pine share and reflect in the underpinnings of Armani Code Profumo – that of masculinity. "There are certain qualities that do appeal," says Pine. "The idea of a man being capable and strong – being able to take care of his family." Ideals certainly engrained in the scent's packaging – a strong pillar wrapped in a glossy chocolate sheen, housing a sturdy blend with notes of tobacco and wood. Although, as with any Armani venture, taking a project at face value would be almost foolish. "Ideas and definitions of femininity and masculinity are ever-changing," Pine explains. "One can be elegant without putting down the power or strength of a woman."
And there it is, the other side of the proverbial coin. In Armani's world there are usually mirrors, and the duality of one's reflection can be enlightening – the slow curve of the scent's bottle, or perhaps the sweet breaths of vanilla laced into the fragrance breathe tones of mixed masculinity and femininity for a new age man. "It's a very subjective experience," says Pine of Profumo. And just what does Profumo, when applied, make a man? "Complex, elegant, and timeless," Pine says simply – firing off the answer as if a textbook standard.
A proven iconoclast, Pine dismantles the debonair stylings of old and rebuilds a new age of masculinity in his own image, Armani Code Profumo the latest weapon in his arsenal. What would the wide-eyed Pine of 2003, who just scored his first on-screen role in the hit TV show ER, say about the empire current day Pine has cultivated? "I think he'd be pretty happy he's not working in a restaurant," says Pine with a breezy laugh. "I've been really lucky ever since."
Armani Code Profumo is available online now.