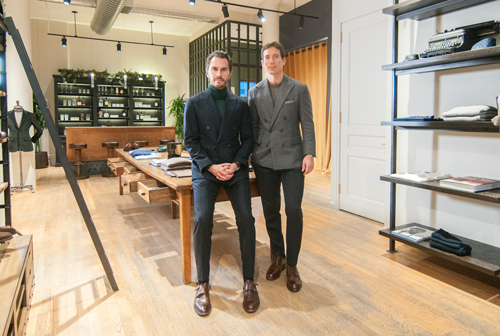 Chatting with Thom Sweeney at Their New Soho Boutique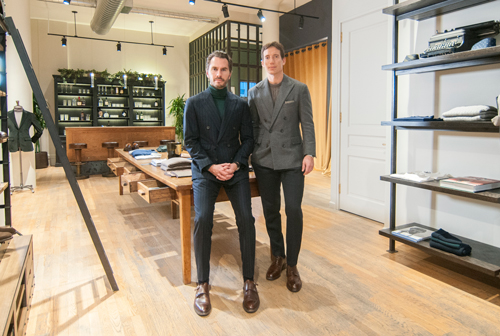 With multiple stores in London and a ready-to-wear line available at Mr. Porter, British tailor Thom Sweeney is at the forefront of the new suit game. We spoke to to the duo behind the label on opening day of their new — and first in the country — store in SoHo.

A little background: the brand started in 2007 by Luke Sweeney and Thom Whiddet. Sweeney learned the tools of the trade working with British tailor Timothy Everest, while Whiddet worked in publishing before co-launching the combined eponymous label. Taking the best design cues from tailors before them, they deconstructed the classic suit — Sweeney recalls literally "ripping apart jackets, tweaking the shoulder lines, working the lapel widths, the sleeve widths, arm hole height," etc — to repurpose it for today, preserving the timelessness of the craft with a sleeker edge. Ten years later, a store in New York seems like a good fit.

The store itself is an open Soho warehouse with a gentleman's charm. There's a classic record player displayed, carefully curated coffee table books placed on various shelves and surfaces, and a decorative motorcycle in the corner — fine decor against a refurbished industrial interior. The space also contains a lounge/fitting room in the store's rear where customers can receive one-on-one consultations to determine their best suit style and fit. I've been to lofts like this. Crack open a beer and listen to Is This It? kind of place.

"We're a little bit more relaxed in the way we operate, we're not too retail-y. I always say to our guys at works, as as soon as someone comes in offer them a drink, make sure they're okay and comfortable," Sweeney tells me. "We don't really talk about the clothes unless we're asked questions on how to put the clothes together."

"You have to build an atmosphere," Whiddet adds. "Getting people down through the door yourself, you have to be apart of it."
Thom Sweeney has established a certain presence in the industry, and its heritage plays a big role in the brand's success at attracting younger audiences. "I think social media and blogs and editorials are very tailoring heavy. As we've grown, a younger audience is really interested in suiting, and I think we've probably become that option, maybe cause we're a little bit more in tune with whats going on," Whiddet says.
But for those who don't always wear the suit, they offer some other essential style advice. "It's about what makes you making comfortable, that's good style," affirms Whiddet "Yeah, definitely," agrees Sweeney. "But for me personally I never wear trainers with a suit."

Thom Sweeney is open now at 362 W Broadway, New York, NY 10013.
[slider_pro id="150″]