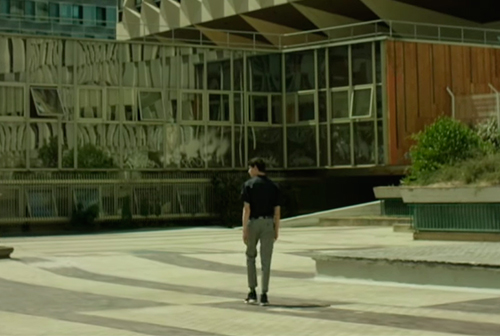 Carven and Barnabé Hardy Introduce SS16 Collection with Short Film
Video: Carven.
In honor of its Spring/Summer 2016 line, French fashion label Carven brings concept and vision to the forefront in a new short film, debuting designer Barnabé Hardy's inaugural menswear line with the fashion brand. Directed by Anton Bialas and starring British model Jester White, the video is an ode to the delicacy and subtle flow of the new collection, following White as he walks through the dreamy, sun-bathed streets of the Parisian district of Beaugrenelle. The warm, almost eerily utopian cinematography lends itself to highlight the lengthened silhouettes and round-c cuts—in homage to the brand's logo—that make up the quantity of the collection.
After the departure of former Creative Director Guillaume Henry last year, who completely revamped Carven with today's trends, and the installation of new creative figureheads Alexis Martial and Adrien Caillaudaud, Hardy—who also helms his own eponymous contemporary line—adds his own unique touch to the brand's men's line and sheds new light on the Carven style almost literally. The collection, as seen in the flares and dewy complexions of the film's styling, focuses on the idea of light and the way it interacts and changes vision. In juxtaposing two simultaneous shots side-by-side, the film begs the viewer to project the masculine architecture of the city onto the soft features of the clothes, similarly the shifting lights and shadows onto the crosscutting prints.
Backed by a breezy score and finalized with a wistful gloss, the film is a warm invitation to the world that Hardy and Carven have crafted together.