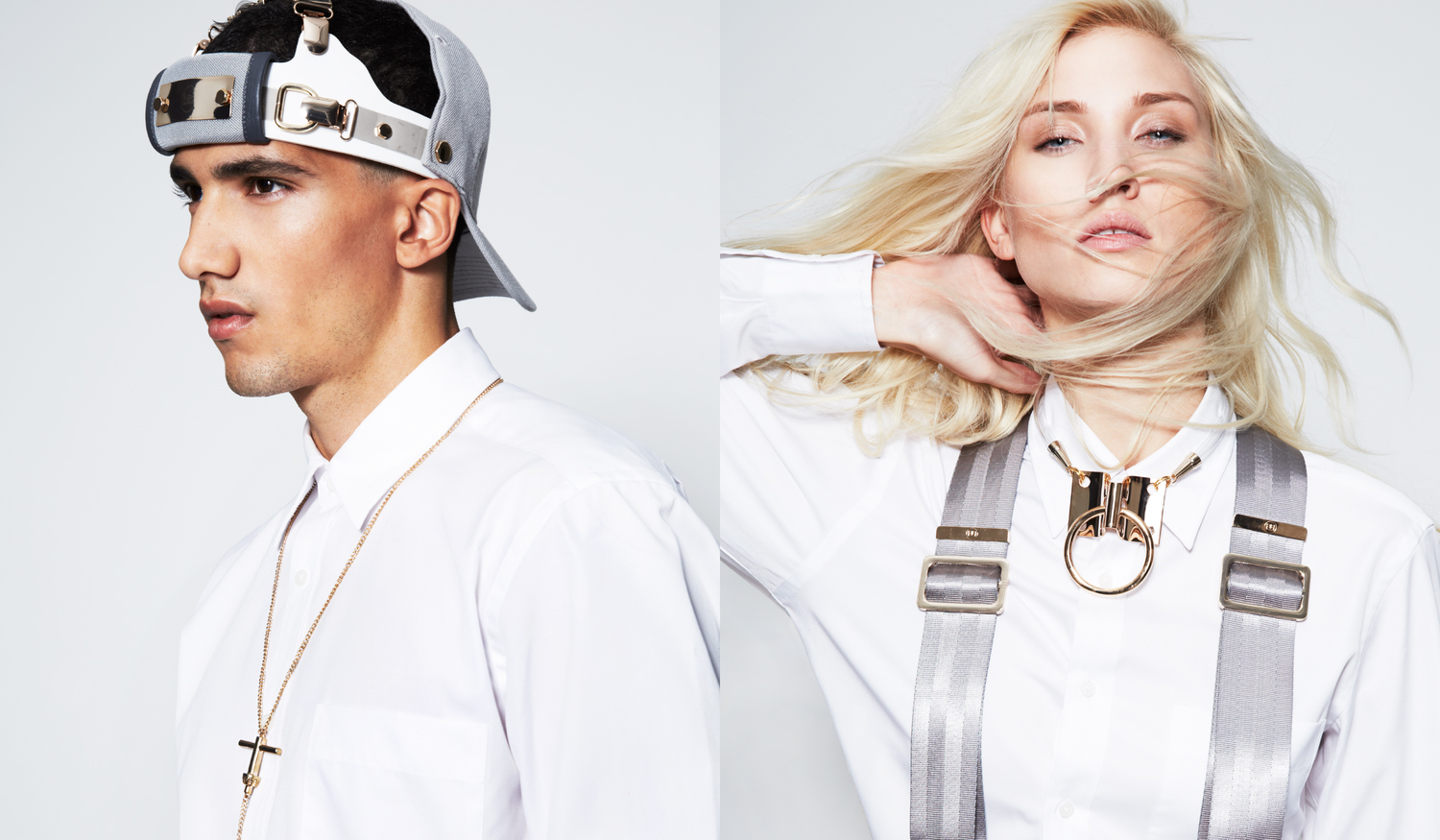 Bond Hardware is Too Hip to be Square, But Still Trying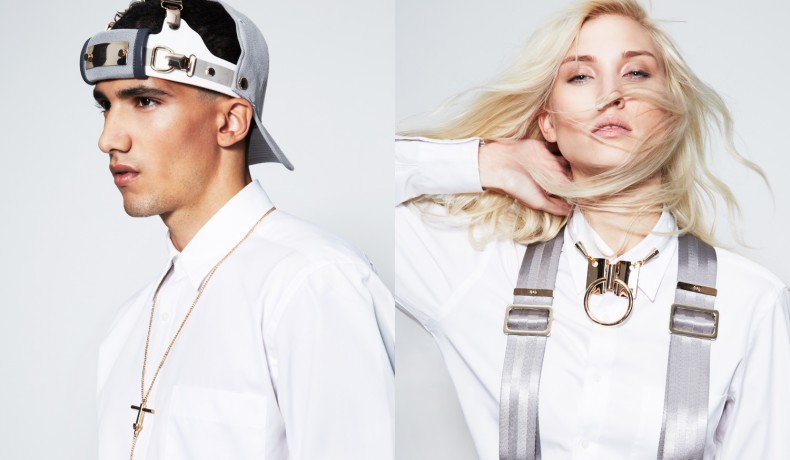 Image: Bond Hardware.
"The world was supposed to end in 2012. But it didn't. We're all still here still, and we're all still kind of laughing about it," says Dana Hurwitz, a somberly polite girl in all black and cascading steel arm cuffs. She does indeed emit a small chuckle. "Now, or so the saying goes, in 2013 you figured out what you want in your life, and in 2014 you figure out how you're going to get it."
And what do the two early-20-somethings behind Bond Hardware—the counter-culture costume jewelry and accessory line that gained showroom representation and club-kid appeal simply because stylists just kept asking for more—want? After their first "official" collection this past season as a brand—including an editorial parade of shoots for VMAN, Fuuucking Young!, BITE and stocklist additions to two of New York City's most trendy stores: VFILES and Nicola Formichetti's Ho Ho Ho pop up—the two are most looking forward to, as Vince Barile, the other co-founder, surprisingly puts it, "appealing to the mainstream." It should also be mentioned that Barile is bare-legged under his skirt—the same sour shade of midnight black as his partner—and that it is currently 35 degrees outside.
We're sitting in Bond's workspace at the Brooklyn Navy Yard. For the past year and a half the unisex brand has been operating out of Pratt Institute's Design Incubator: a program that gives a home as well as mentorship to fashion and design brands that work under the lens of sustainable innovation—essentially Brooklyn's green version of the CFDA. In the same area is Chromat, Degen, and Gerlan Jeans, so we're in good company, be it niché. And niché is something the two know very well.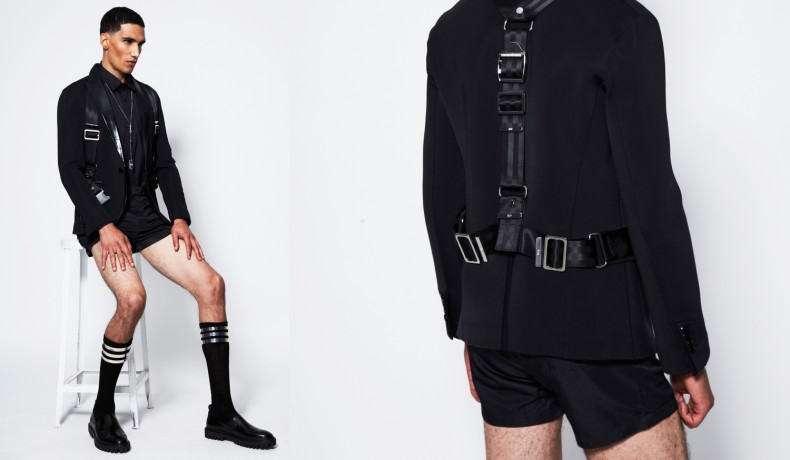 Image: Bond Hardware.
Friends through friends—and then even roommates at one point—Barile and Hurwitz have been working on accessory pieces together on and off since 2011. Initially little nick-nacks for themselves and then one-offs for friends, it all really began as play. The first night they designed an accessory together, it was purely on the fly. Barile, on his way out for the evening, felt naked in his white oxford ("we're both just such accessories people, that it felt necessary to want to put something on a collared shirt," he remembers). Hurwitz, then still at Pratt, suggested a stray double clip that she had in her production materials, and after some DIY maneuvering and ball chain from Barile's supply, they had their first collar detail. It was only natural for them to continue from there.
Years later, after brief success on the now-defunct I Don't Like Mondays e-tailer and a big season after season turn out at LadyFag's Pop Souk, the duo is still designing for themselves. "We're so our customer" they both reiterate, even going as far to style their newest look book with their own personal clothes—but there is a clear evolution: a recognition of the obstacles for long-term growth."When we first started, we wanted to make things we would wear," says Barile. Now, after a series of well-recieved pieces, the audience is expanding and their new threshold for taste is, well, their moms. "We would really love to bridge the gap between the conceptual and mass market," says Hurwitz, who takes much of her production knowledge from her day job at a corporate fashion group. "[At work], I design things for department stores, private labels, and branded opportunities, so I work with people that have different mindsets and different end goals. I get to see how the down the line, an efficient vertical integrated company would work, and goals that we should have at Bond."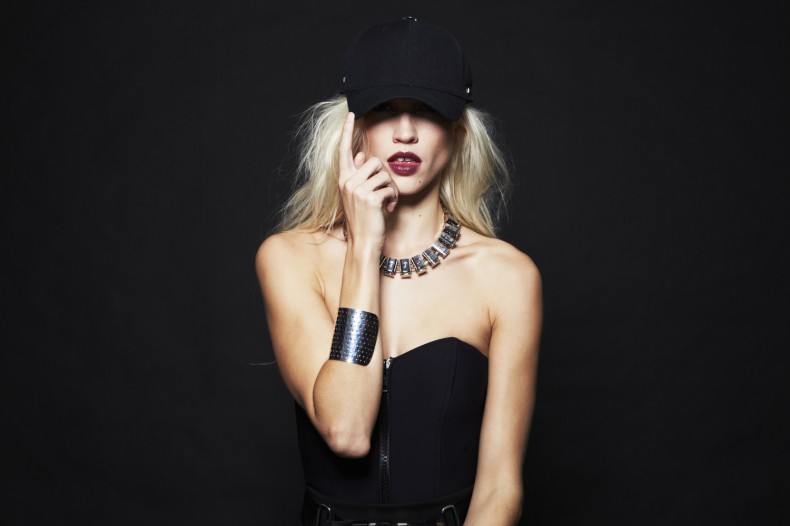 Image: Bond Hardware.
But maybe change is better reserved for down the road. The new collection draws inspiration directly from American Psycho; 20 statement pieces and 20 "dainty pendants," it combines tongue-and-cheek humor with aggressive sportswear. There is the suspension hat—a baseball cap in the front, with a hardware detailed cut-out back, hand painted by the same sample maker that produces Ghurka luggage, and the around-the-mouth BDSM-inspired chin guard strap in contrasting gun metal grey and steel. Perhaps it's quite not at that point of mère-à-porter, but it's a process.
"Bond is very extravagant," says Barile, "To us more is more and less is less." Agreeing with her partner Hurwitz adds, "The Bond Hardware language is something we're still developing. We want it to stick in people's mind as a concrete thing." And somehow forgetting the brand, with its mix of lightness and intensity, does not seem like an easy thing.