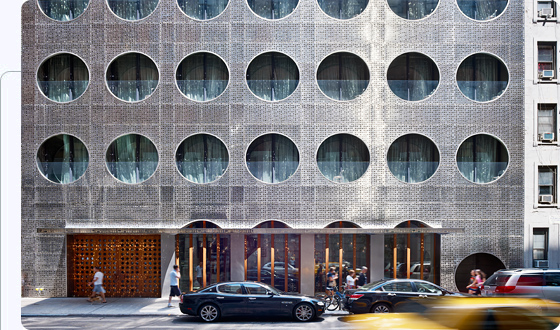 Art, Design and Style at NYC's Dream Downtown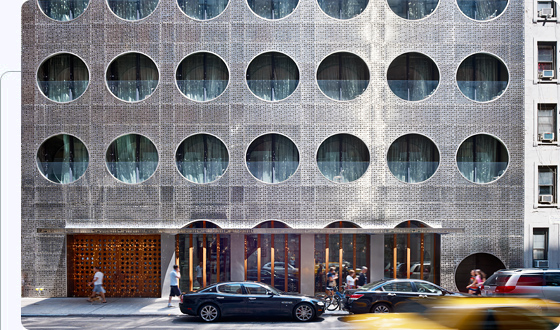 The Dream Downtown is centered in Manhattan's Meatpacking district and surrounded by some of the leading art galleries on the NYC art scene. So basically, The Dream Downtown is located smack, dab right in one the epicenters of the art world. So it only makes sense that the neighborhood's creative flare would seep right though the walls of the Dream—and that's exactly what's happening thanks to a new partnership between the luxe hotel and a company called IndieWalls which specializes in curating rotating art exhibitions in non-traditional spaces. Like a hotel. We love the place and would reco that any one of you stay there while in the city (and actually, just an FYI, but their South Beach property just won the Gold Key Award for Best Designed Guest Room) but you're also invited to come inside and peruse the design elements and art exhibits displayed throughout the hotel. It's like that. After the jump, there's a full description of what's happening at the hotel through December.
From the Dream + IndieWalls people:
Staircase Installation
Hasty's and Grazi's collaboration, the Hostage series, adorns the cascading stairwell of the Dream Downtown. White rope entangles the subject of every composition; this creates an illusion of control, as each figure or object is physically restrained from her true identity and original form. Regardless of whether the subject is natural or manufactured, the rope appears to overpower it, rendering it immobile and functionless. There is an aspect of bondage in works involving figures, where partially clothed or otherwise nude bodies are tied up with ropes; their faces masked in white paint, wearing black goggles, unrecognizable except in exposed portions of flesh and hair.
About the Artists-
Joseph Grazi – Joseph Grazi was born in 1983 and graduated the School of Visual Arts in 2006. He has exhibited widely throughout New York art galleries including Melody Weir Gallery, Dash Gallery, and Lambert Fine Arts, as well as museums such as the Chelsea Art Museum and the Metropolitan Museum of Art. His most recent show was a solo show called "The Fountain of Youth" at (Art) Amalgamated in NYC in March 2012. Grazi currently lives and works in Brooklyn, NY.
Allan Hasty – Allan D. Hasty is a New York City-based artist that caricatures life to create a hyper reality, where fact and fiction are made indistinguishable via documentation and stage. Through excessive manipulation Hasty captures and presents scenes that may entertain, shock or even seduce the viewer with visual ambiguity. His work creates a dialogue that may touch on violence, sexuality, identity, insecurity, fear and power.
Gallery Entrance Installations
Debrincat's work explores bodies in flux, bodies departing from expected norms of appearance, shape, and form. She does this by adopting a pungent and saturated color palette accompanied by numerous hypnotizing, spectral superimpositions. Debrincat's work seeks to subvert our normative social conditions and dynamics.
About Artist-
            Alicia Debrincat – Alicia was born in San Francisco, California and received her undergraduate degree from the University of Oregon in 2001.  She has shown her work nationally and internationally, and has received funding from the George Sugarman Foundation, the Arts Commission of Berkeley, California, and Parsons the New School for Design, where she received her MFA in May 2012.  She lives and works in Brooklyn, NY.
PH-D Installation
AVone is one of New York's hottest emerging street artists. His works have been shown in galleries around the world, including Cheryl Hazan Gallery (New York), Gallery 89 (New York), Thinkspace Gallery (Los Angeles), The Fort Gallery (Australia), Hamsun Gallery (Norway), and Pulsmacher Gallery (Germany), amongst others.
His work has also been featured in productions by VH1, HBO, Playstation, the US Open, and the Sun Dance Film Festival, among others.
This series of 4 mixed-media pieces were created, by hand, exclusively for PH-D at the Dream.
Presidential Suite Installation
LJ Lindhurst is a realist painter. She generally works from original photographs of subjects that she finds visually appealing.­ Her philosophy is that photorealism painting should be approached without style or embellishment, and adhere with devotion to reproducing the photographed image as accurately as possible. Form, composition, and style occur naturally as a result of this neutral approach. Lindhurst explores the colors and textures of objects at a macro level. Her paintings typically mfeature close-up views of tiny objects; she is particularly drawn to toys, candies, and other often-overlooked detritus of our popular culture. She has shown in {insert information here}