Absolut Miami – Sweet, Floral and Spicy, Just Like Miami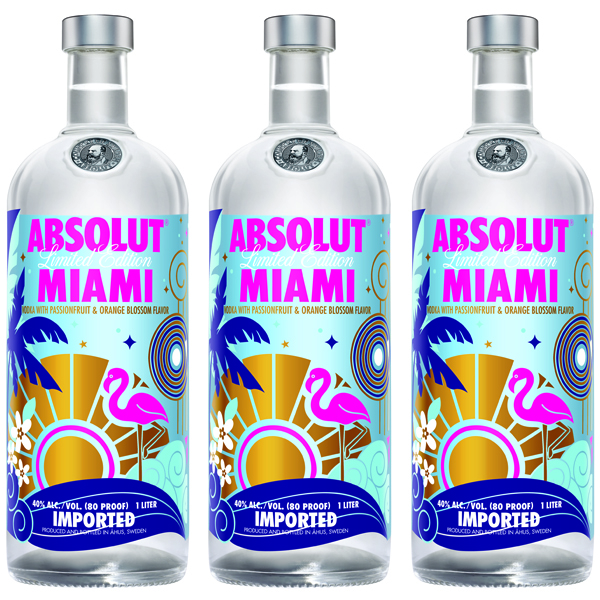 Over the past few years the number of flavored vodkas has exploded. You can find vodka now in almost any flavor, including whipped cream, bubble gum, and purple (which isn't a flavor, but don't tell that to Three Olives). Many of the flavored vodkas have a highly artificial quality to their flavorings, or pull together flavor combinations that simply don't work.
Absolut, which was one of the original vodkas to play with different flavors, has a series of limited edition releases that celebrate the flavors and cultures of different cities. The series so far has included Absolut SF, Absolut Brooklyn, Absolut Boston, Absolut Los Angeles, and Absolut New Orleans.
The latest release in Absolut's Limited Edition series is Absolut Miami, a bright, fun and citrusy mix that combines passionfruit and orange blossom flowers. The nose on Absolut Miami smells a lot like fruit punch (in a good way) with strong passionfruit that is slightly sweet, without being too sweet. The entry is soft and floral as the orange mixes with the passionfruit. The orange here is a really nice mix of slightly bitter orange, lightly sour orange, and floral orange blossom. There's a little spice that develops at the end of the mid palate which pulls all the flavors together for a wonderfully long finish.
Passionfruit is a difficult flavor to work with in spirits, as it can often come off more like Hawaiian Punch mix rather than homemade fruit punch. Here, by combining it with some varied citrus notes, it comes together really nicely. The real turning point is the spice that comes in. It rounds out the taste experience so you get fruity, floral, bitter, sweet, and spice all rolled up into one, which when you think about it captures Miami perfectly.