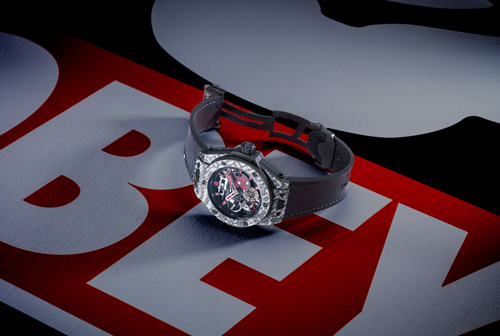 Hublot x Shepard Fairey Discuss New Watch Collaboration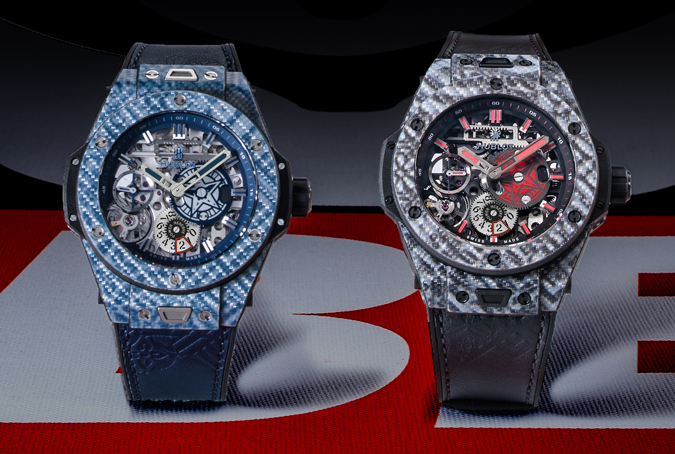 Images: Hublot.
Swiss watch giant Hublot recently announced renowned street artist and founder of OBEY Clothing Shepard Fairey as a brand ambassador, before revealing a new watch in collaboration with the designer. The collaboration is one that skews unprecedented — a luxury watch brand partnering with a label known for its propaganda-inspired graphics — however, both Fairey and Hublot CEO Ricardo Guadalupe found similarities in their design approach despite their differences.
"Hublot is a brand that is really focused on amazing quality. It's very sophisticated and the technical side is so impressive," Fairey told us. "For me, to work with them and be indulged in experimenting with techniques I normally would never be able to experiment with is a real privilege."
The latest pairing in the ongoing "Hublot Loves Art" initiative — which has previously featured French artist Richard Orlinski and  Chinese photographer Chen Man — marks the first time the watchmaker has partnered with a street artist.
"We've collaborated with other artists before in other types of fields," Guadalupe shared. "So with street art, this is the first time we've worked on a product. We must work with the best, which is why we decided to work with Shepard Fairey. It's street art, but there's also a lot of technique behind the art."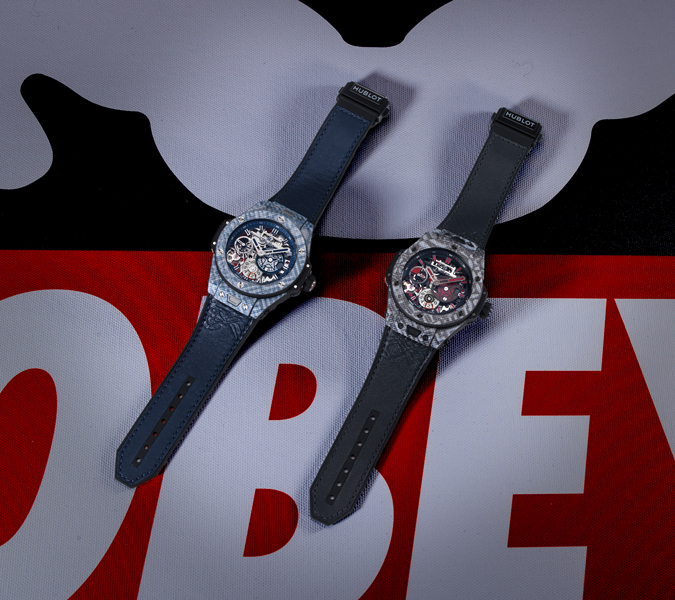 Originating in Switzerland in 1980, Hublot quickly gained recognition among the watch industry before being acquired by LVMH in 2007 — a luxury badge of honor. Conversely, OBEY  Clothing started as an underground project after Fairey started posting graphic stickers featuring a distorted print of Andre the Giant's face. Word of mouth buzz lifted the brand from until it evolved into a skatewear staple.
This fusion of design approaches — mechanical precision with graphic disruption — is evident in the Big Bang Meca-10 Shepard Fairey. Designed over the course of two years, the new model is part of Hublot's Big Bang Meca series, which incorporates state of the art technical design savvy with 10-day power reserve. Fairey's aesthetic is embedded into the design through the placement of a "Star Gear" logo — he refers to the model as "a painting on your wrist."
The pair debuted the design at an intimate launch in Los Angeles, hosted at Mack Sennett Studios in Silver Lake. Attendees, including model Shaun Ross, TV personality and actor Joel McHale, and Scottish band Franz Ferdinand, were treated to a DJ set by Fairey himself.
"This is a luxury timepiece so there's no limitation to the length that Hublot will go to execute something in a beautiful and sophisticated way," Fairey stated at the launch.
"Deliberately thought-provoking and brilliantly controversial, Fairey is an icon and a legend in his field." Guadalupe added. "Once again, Hublot teams with the best of the best."